The iconic Moscow mule copper mug may be poisoning drinkers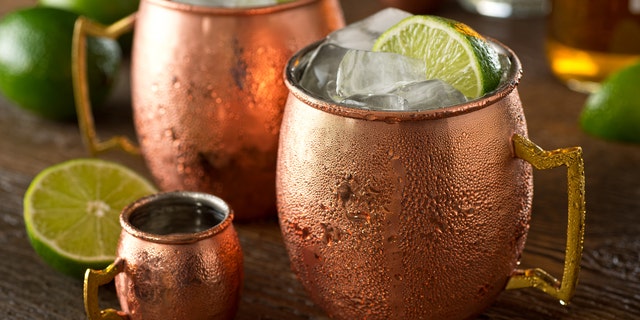 Part of the fun of ordering a Moscow mule is getting to drink out of the cool copper cup. But that fun may come to an end because of health concerns.
Health officials of the Iowa Alcoholic Beverages Division examined what happens when copper mixes with food. The results weren't so great.
DUNKIN' DONUTS MIGHT BE CHANGING ITS NAME, STARTING WITH CALIFORNIA LOCATION
The state health officials concluded that using the signature mug for alcoholic beverages – or any food or liquid with a pH balance of below 6 – could result in food poisoning or copper poisoning, which can cause diarrhea, vomiting, and jaundice.
Going even further, the state of Iowa has declared that they will follow an FDA code on copper mugs, which "prohibits copper from coming into direct contact with foods that have a pH below 6.0."
What falls below a pH of 6.0? Well, wine, for one, as well as vinegar, fruit juice, and pretty much all of the ingredients that make up a Moscow mule – vodka, ginger beer and lime juice.
In a statement from the Iowa Alcoholic Beverages Division, they assert that:
FOLLOW US ON FACEBOOK FOR MORE FOX LIFESTYLE NEWS
"High concentrations of copper are poisonous and have caused foodborne illness. When copper and copper allow surfaces contact acidic foods, copper may be leached into the food."
Fortunately for Moscow mule enthusiasts – there is a way to indulge in the beverage with the unique copper cup. According to the same statement, liquids from copper mugs with an inner lining of nickel, stainless steel or another metal are safe to consume.
Call it a true silver lining.