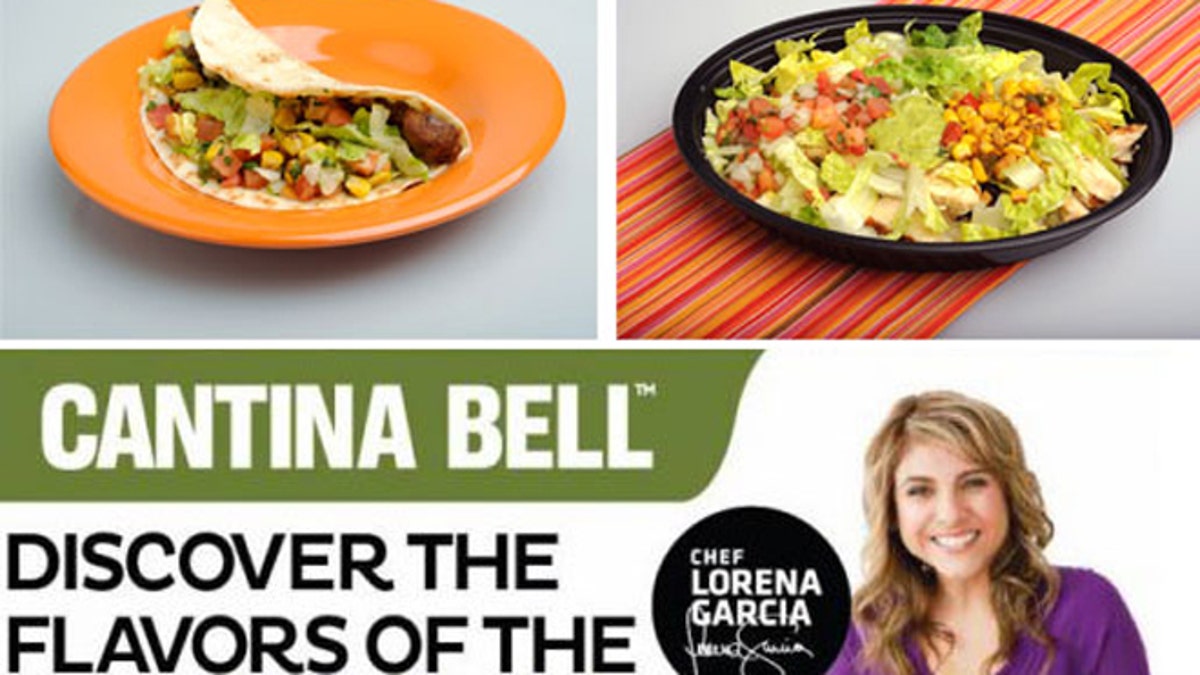 Taco Bell, often a late-night indulgence with its inexpensive fare, is going more upscale.
The chain said Wednesday it plans an early July rollout of a menu addition created by celebrity chef Lorena Garcia for its nearly 5,600 U.S. restaurants. New items feature such ingredients as black beans, cilantro rice, citrus- and herb-marinated chicken and cilantro dressing.
The introduction of items that Taco Bell executive Brian Niccol described as "gourmet Mexican," is a venture onto the turf of casual-dining chains such as Chipotle Mexican Grill and Qdoba Mexican Grill known for higher-quality ingredients.
It's a departure from such standards as tacos, burritos and chalupas that Taco Bell's core young-adult customers crave and that will remain mainstays on menu boards.
Introduction of the Cantina Burrito Bowl and Cantina Burrito is part of the Irvine, Calif.-based chain's transformation as its customers increasingly look for more than a quick bite on the go, said Niccol, Taco Bell's chief marketing and innovation officer.
He credits Garcia, who will appear on Bravo's "Top Chef Masters" show this summer, as the force behind the Cantina Bell menu that the chain expects to eventually expand.
"She brought a lot of new thinking, a lot of fresh approaches to our ingredients that change the flavor profile of the brand," Niccol said.
The additions going nationwide July 5 take a bigger bite out of the wallet, but the newcomers are also bigger than the chain's regular burritos. The Cantina Burrito Bowl and Cantina Burrito, offered with chicken or steak, will sell for nearly $5 apiece. A vegetarian option will be offered, also for nearly $5.
Side dishes include chips and pico de gallo or corn salsa, chips and guacamole, or black beans and rice. Each will sell for $1.49.
The goal is to give regular customers more choices and to lure new business.
Niccol acknowledged that the push for quality will draw some skepticism. So the chain said it will refund customers or offer them replacement items if they don't like the new Cantina Bell dishes. The refund or replacement is a long-standing company policy, but now the chain is publicizing it.
"Our experience has been when they try it, nobody's returning them," he said.
The new items were tested for months in Louisville and Bakersfield and Fresno, Calif. The results included improved lunch and dinner business along with an uptick in women customers, he said.
Mark Kalinowski, an analyst with Janney Capital Markets, said the Cantina Bell line could find a niche between Taco Bell's less-expensive core items and the more-expensive fare at Mexican restaurants such as Chipotle and Qdoba.
"Maybe there's room in the market for that type of positioning to do well," he said. "I would bet this will be a winner."
Garcia, a featured guest on NBC's "Today Show" and "The Biggest Loser," started working with Taco Bell in the fall of 2010.
"They were looking to ... expand their food to offer new flavors with great taste," she said. "I saw this as an opportunity to help create diversity to the Taco Bell experience."
The company will put more than $20 million of TV and digital marketing into the first month or so of the rollout, Niccol said.
The rollout is the latest in a series of big developments for a chain that's been on a roller coaster ride.
In March, Taco Bell introduced its Doritos Locos Tacos, with shells made out of Nacho Cheese Doritos. The chain sold 100 million of the tacos in the first 10 weeks of sales, exceeding its expectations, said Taco Bell spokesman Rob Poetsch.
In January, the chain started offering breakfast at nearly 800 restaurants mostly in the Western U.S. Taco Bell hopes to go nationwide with its breakfast burritos, sausage and egg wraps and hash browns by the end of 2014, Niccol said.
Meanwhile, Taco Bell's sales rebounded in the first three months of the year following a nearly yearlong slump stemming from a short-lived lawsuit that raised questions about its meat filling.
Taco Bell accounts for about 60 percent of U.S. profit for Louisville-based Yum Brands Inc., whose chains also include KFC and Pizza Hut.
In its first-quarter earnings this year, Yum said sales at Taco Bell stores open at least a year – an indicator of a restaurant chain's health – rose 6 percent. Yum executives predicted even more robust gains for the chain in the second quarter.