Stadiums rolling out insane concessions for baseball season
Sports stadiums around the country are stepping up to the plate this spring with some outrageous concessions that may be more fun to eat than watching the big game.
From the outrageous Diamondback's Churro Dog—a deep friend churro sandwiched between a chocolate glazed donut bun-- to a savory waffle cone stuffed with mashed potatoes and fried chicken nuggets at the home of the Houston Astros, and even a Blue Moon beer milkshake at Minnesota Twins' Target Field, baseball fans across the country will certainly be snacking on more than just peanuts and plain old cracker jacks in the stands.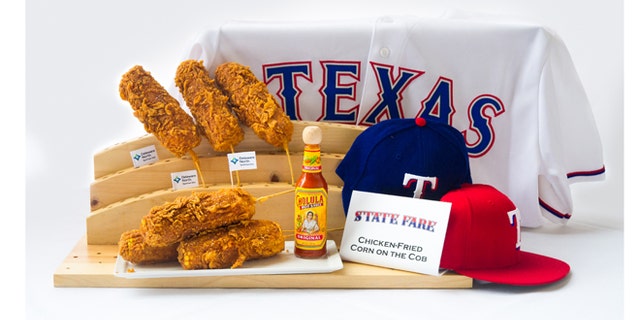 Delaware North, a national food service provider at the helm of many of these creations, has been developing unique items at theme parks and stadiums for years. Some of their past hits include the Big Game Burger available at the Packer's Lambeau Field this winter.
We tried four brand new stadium offerings for this spring and were forced to put our swimsuit-season diets on temporary hiatus for these outrageous foods.
Texas Rangers' fans can now enjoy Chicken Fried Corn on the Cob and Deep Fried Smores. Leave it to Texas to fry up pretty much everything but both of these items were a home run. The corn has a crispy coating very similar to what diners would get on a flour coated fried chicken. It's slightly spicy, the corn is nice and sweet and the whole dish is fresh and surprisingly crunchy.
The Fried Smore is really a shish-kebab dessert with two deep fried Oreos surrounding a puffy fried marshmallow coated in a graham cracker crust. We found the the graham cracker coating to be too sweet-- it tasted like crispy honey-- for our taste buds but loved the gooey marshmallow inside. And if you've never had a fried Oreo, run—do not walk-- to the nearest deep fryer for a taste of state fair heaven.
At Miller Park, Milwaukee fans will be able snack on some delectable Delaware North treats that don't skimp on flavor. For those with an incredible appetite, or friends willing to share, the 18-inch Down Wisconsin bratwurst is an impressive sausage topped with onions, fried jalapenos, shoestring potatoes, cheese curds and gravy. It's spicy, salty and pretty delicious. This mega brat sells for $20 but will likely last you from the first pitch to the bottom of the ninth.
The most surprisingly delicious—and unique—concoction was the Deep Fried Nachos on a Stick. This one had us scratching our heads but it's basically a Doritos chips crusted sausage that's been prepared with refried beans, jalapenos and more—all topped off with sour cream and nacho cheese. It might sound like a mismatched mouthful but it's insanely delicious. It tastes somewhat like a spicier version of chorizo sausage but the cheese and sour cream bring down the heat making it a pretty addictive snack.
So if you're heading out to a game in the next few weeks, you might be lucky enough to snag one of these extreme concessions—just don't forget the napkins.