Singapore restaurants debuting Trump- and Kim-themed foods ahead of historic summit
With all eyes on Singapore for Tuesday's summit between President Trump and North Korean leader Kim Jong Un, local restaurateurs are taking the opportunity to capitalize on the highly publicized historic event.
From marketing stunts to themed dishes named after the two leaders, the city is using its time in the spotlight to promote its culinary creativity, with over 16 food and beverage spots showcasing special items.
KFC Singapore, for example, is advertising a special Four Peace Meal created specifically for the occasion. According to a Facebook post, it includes "four pieces of fried chicken, two whipped potatoes, two coleslaws and two beverages."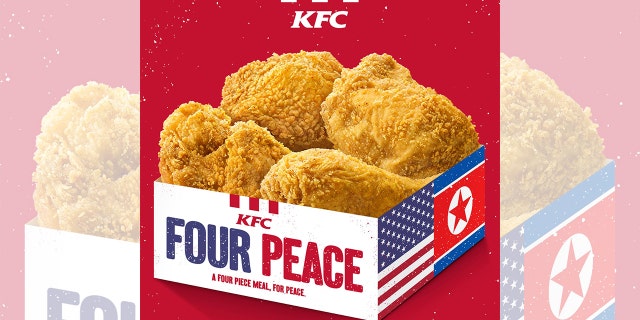 FLAPJACK LOVERS OUTRAGED OVER IHOP'S 'IHOB' ANNOUNCEMENT: 'WHAT AN EPIC FAILURE'
Unfortunately for anyone interested in trying it out, the chicken chain revealed that the meal is not for sale, but is instead a free "exclusive" offer for Trump and Kim.
"Trust me, it tastes unbelievable. Please accept my humble invitation to come down to KFC Sentosa on 12 June for a complimentary box. Let me know if you're keen so I can reserve a table and jazz it up," the post read, signed by Colonel Sanders.
Other venues, however, are actually selling special food and drink items available to the public. Royal Plaza on Scotts, a five-star hotel, is offering the Trump-Kim Burger, made with minced chicken, seaweed and kimchi patty, served with Korean rice rolls and fries, and Summit Iced Tea, according to the Straits Times.
Another restaurant, The Beast Southern Kitchen + Bourbon Bar, is selling a $23 #worldbeast burger crafted as a fusion between North Korean and American foods.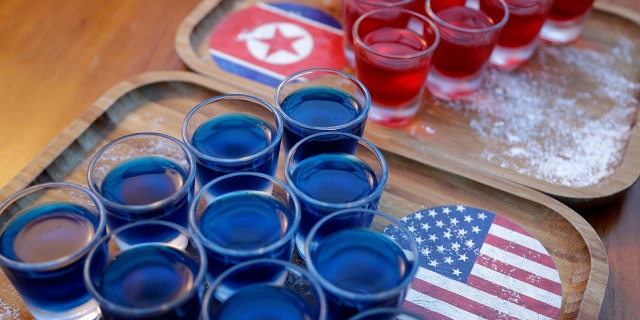 "The American half of the burger includes fried mac and cheese burger 'buns' with a beef patty, bacon jam and barbecue sauce, while the Korean half has deep-fried kimchi rice buns,' bulgogi beef patty, caramelised onions and creamy garlic sauce," according to the Times.
Harmony Nasi Lemak, in central Singapore, has a signboard featuring drawings of Trump and Kim and the phrase, "Let's make HARMONY great again!"
The restaurant is also selling an updated twist on the classic Singaporean dish Nasi Lemak, a rice dish with fish or chicken and chili paste. The "Trump-Kim Chi Nasi Lemak" instead comes with U.S. dry-aged beef and a stack of spicy kimchi, a Korean staple.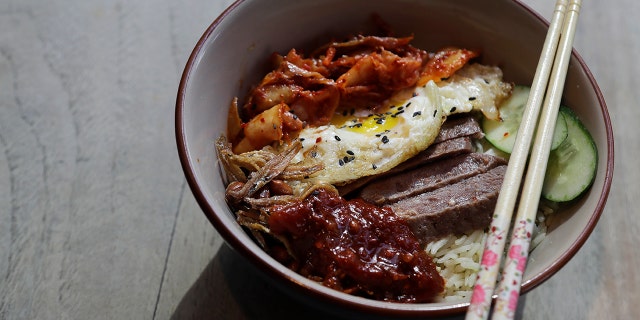 Zach Wen, Harmony's co-founder, told the Associated Press the dish isn't just a gimmick and he hopes it spreads a positive message.
"Some Korean people who came ... love the kimchi a lot and others [are] saying that the portion is so huge. Why so big? I say because it's the American version, it's the American portion," he said.
Mexican restaurant Lucha Loco wants to "make tacos great again" with the "El Gringo" and "El Hombre Cohete," which in Spanish translates to rocket man. The former has ingredients to taste like an American cheeseburger, while the latter is filled with Korean fried chicken.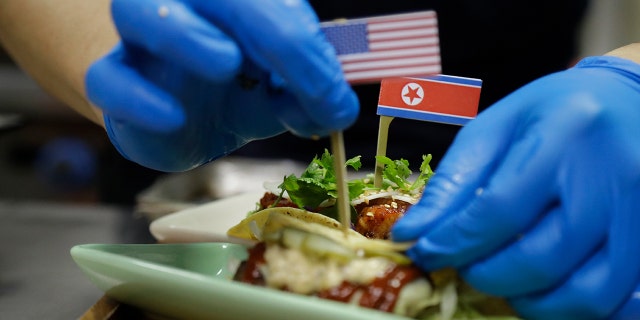 Local bakery Pine Garden Cake created the USA.NK Bread and Cake. The flatbread includes mild cheddar, Spam cubes, spicy Shin Ramyun bits and kimchi pieces, while the sponge cake is made with tart yuja curd, strawberry cheese cake mousse and pop rocks pieces, and is decorated with caricature Trump and Kim accents as well as cartoon nukes and peace signs, the Times reports.
FOLLOW US ON FACEBOOK FOR MORE FOX LIFESTYLE NEWS
Bars are also partaking in the fun, serving up red, white and blue drinks and craft cocktails made in honor of the event.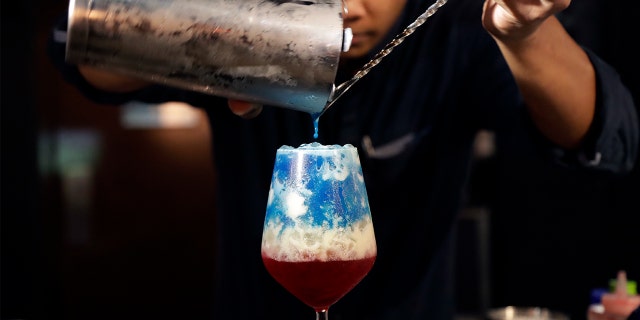 At gastropub Escobar, bar tenders are serving up the "Trump" cocktail with a bourbon base in the color of the American flag, along with the "Kim" a deep red drink shaken with soju, a vodka-like alcohol loved in both Koreas.
The Associated Press contributed to this report.