Rejoice, 'Friends' fans: Central Perk coffee shops may soon become a reality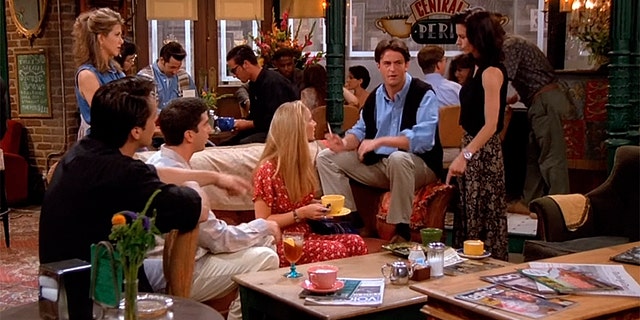 Get your resume ready, Gunther.
Warner Bros. Entertainment has reportedly secured rights to use the name Central Perk — most famous for being the name of the fictional coffee shop featured on "Friends" — for an actual chain of coffee shops and cafés, The Blast reports.
'FRIENDS' FAN DETERMINES WHICH CHARACTER DRANK THE MOST COFFEE AT CENTRAL PERK
Specifically, the legal documents obtained by The Blast stipulate that Warner Bros. Entertainment was seeking to trademark Central Perk for use with "coffee shop and café services; coffee bars; tea bars; snack bars."
If the shops and cafés become a reality, they might resemble Central Perk in more than just name, too: Warner Bros. Entertainment requested to trademark the iconic Central Perk logo as it was seen on the series, complete with the two steaming cups of coffee flanking a banner and oval bearing the words "Central Perk."
It's unclear if Warner Bros. Entertainment currently has plans to open any actual Central Perk locations in the near future, or to license the name to existing or soon-to-be-opening coffee shops. Moreover, The Blast notes that Warner Bros. Entertainment is also seeking to trademark Central Perk for use with "toys, games and slot machines," although those filings are pending.
A representative for Warner Bros. Entertainment was not immediately available to comment.
FOLLOW US ON FACEBOOK FOR MORE FOX LIFESTYLE NEWS
If the company goes ahead and ends up opening an actual Central Perk — or, fingers crossed, a chain — it wouldn't be the first time Central Park opened to the masses. In Sept. 2014, the Warner Bros. Television Group, along with its Consumer Products division, partnered with Eight O'Clock coffee to open a Central Perk pop-up shop in New York City, which featured props from the show and, yes, a special appearance by the guy who played Gunther.