Reese's installing candy-replacing vending machine that swaps out bad Halloween treats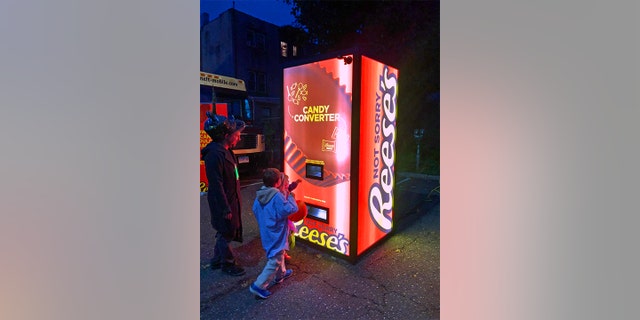 Every Halloween as you eagerly dig through your (or your kid's) trick-or-treating candy, you're bound to come across a few pieces you don't want.
But this year, instead of trying to barter an exchange or fight over the good stuff, you can simply swap it out with Reese's Candy Exchange Vending Machine.
HALLOWEEN CANDY HEIST? MAJORITY OF PARENTS ADMIT TO STEALING SWEETS FROM TRICK-OR-TREATING KIDS
The candy company created a special candy converter machine that allows you to put the "disappointment" in and get a Reese's peanut butter cup instead.
In a survey commissioned by Reese's, 90 percent of Americans said they wish they could trade their unwanted Halloween candy, and four out of five people say they'd like to swap it for a Reese's cup, according to a press release.
Unfortunately, there is a catch. The machine will only be available in New York City for five hours on Halloween night. It will be placed outside Washington Square Park from 4 p.m. to 9 p.m.
FOLLOW US ON FACEBOOK FOR MORE FOX LIFESTYLE NEWS
If you live somewhere else, you'll just have to trade out your unwanted candy the old-fashioned way.