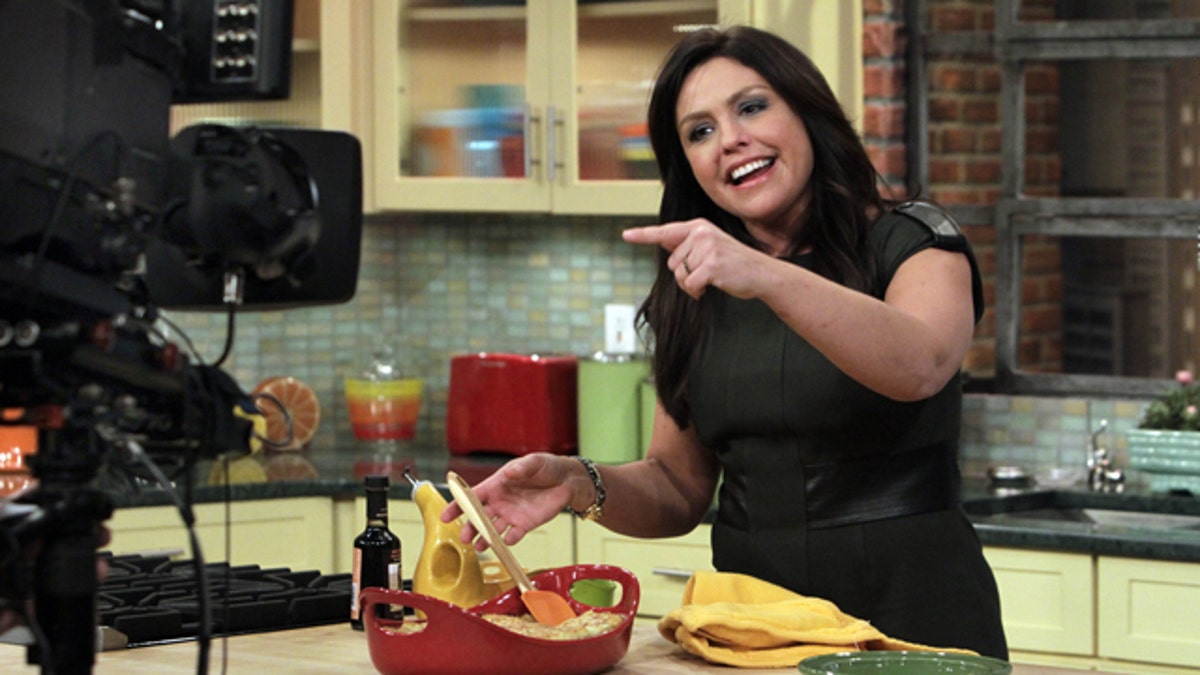 NEW YORK – It's a bit of this and a dash of that making Rachael Ray's daytime talk show.
On a recent day of back-to-back tapings, she cooked up a chicken-and-porcini shepherd's pie, chatted with Harry Hamlin and Lisa Rinna about marriage and squeezed in plugs for other parts of her lifestyle empire: the new cooking show, the new cookbook and the Thanksgiving issue of her magazine.
Nine years after breaking out as a Food Network personality, Ray is an established star who still keeps stirring the pot.
She has 18 cookbooks and an iPhone app. But mostly she has her TV shows. In addition to her talk show, her original "30 Minute Meals" is still in production, as is the new "Rachael Ray's Week in a Day" on the Cooking Channel. It all adds up to more than 1,300 hours of television since 2001 — or almost two months' worth of around-the-clock Rachael and her exclamations of "Yum-O!"
Repetition clearly hasn't dimmed her enthusiasm. On a recent day of filming at a Manhattan studio made to look like an urban loft, she segued breezily from cooking dishes to dishing about "Dancing with the Stars." Young aides in T-shirts printed with "Yum-O" and "EVOO" bustled during breaks to prep the kitchen set. The pace never slowed, even after a broken boot heel forced Ray to hobble around.
"I'm 42 and I feel healthier than I did 10 years ago," she told The Associated Press on set. "Maybe 52, I'll have more energy than 42."
Ray debuted on the Food Network with "30-Minute Meals" in 2001. Viewers warmed to the unpretentious daughter of parents who ran several family-style restaurants on Cape Cod, Mass., before she moved to upstate New York. The self-described "pound puppy" used timesaving ingredients like canned corn. Her food was tasty but not snooty. Her everywoman appeal was fresh for food TV back then, when the biggest stars were professional chefs like Emeril and reality shows based on the perils of cupcake bakers were still a way off.
"You feel like you're watching a sister cooking in the kitchen," said Judy Sacco of Vineland, N.J. She waited in line more than an hour to get into Ray's talk show one gray Manhattan morning.
While Giada De Laurentiis and some other TV chefs have higher "Q scores" — measures of celebrity appeal — none are as well known. Ray is recognized by three out of four Americans, according to The Q Scores Company.
Despite her fame, Ray shows few signs of celebrity-style vanity. She casually tells her studio audience her age and poses with them for pictures ("OK 1-2-3 Cheese!"). She eats one of her on-air creations, a spinach and egg noodle casserole, with her fingers. When Lauren Conrad promotes the benefits of skinny jeans for non-skinny bodies, Ray gamely chimes in:
"I just always thought, 'Well that's not for me. I'm a Sicilian girl. I've got too much of this, or that.'"
The daytime show was launched five years ago, around the same time as her "Every Day With Rachael Ray" magazine, allowing her to branch out as the everywoman niche on food TV grew more crowded. The set has a kitchen, but also an interview couch for when she heads into Oprah territory.
She spent couch time with Conrad and chatted at a faux kitchen table with Rinna and Hamlin. She also had a frank, hand-holding chat with an overweight high school senior trying to lose weight. The show is helping the girl and following her progress.
The audience is overwhelmingly female. When Ray's warm-up comedian asks if there are any moms in the house, hands shoot up. Ray's appeal is strongest among women aged 18 to 34, according to Q Scores, but she is still looking to cultivate the newest generation of foodies.
Her new cookbook, "Rachael Ray's Look + Cook," is loaded with pictures and friendly to visual learners. Buyers of the book also will have access to exclusive Web videos of Ray cooking the dishes. The videos will show that, yes, her meals really can be made in 30 minutes.
Her new show, "Rachael Ray's Week in a Day" on Food Network's sister station, the Cooking Channel, features dishes she says are "a little edgier." The hour-long show has her preparing meals for the week ahead like Moroccan meatloaf and stuffed peppers with lamb and eggplant.
"I'm trying to, like, push my own skill level in writing for that show so I can attract young foodies who really want good food but maybe they only have a day or two a week to dedicate to getting a leg up on home-prepared meals all week long," she said.
Her magazine, whose longtime editorial director left this year, is getting an update. Like many people in media, Ray is pondering how to best integrate print and TV outlets to suit changing times. Also, she resolves to start tweeting more.
"I am going to try to teach myself to be a child of this new age," she said "I am going to try to get good at it. There must be a term for a good tweeter. I don't know, but I'm going to try to make that sucker chirp."
But the real key to any future success likely will be what it always was: Ray's eagerness to keep a frenetic working pace. As she finishes filming her shows for the year, she will head out on a 17-date tour for her new cookbook, And then it's back to TV in January.
She insists that it's not really work for her.
"I get to chat and cook," she said. "I get to do what I would do on a day off from any other job."