Popeyes chicken tenders coated in cookie dough confuses Internet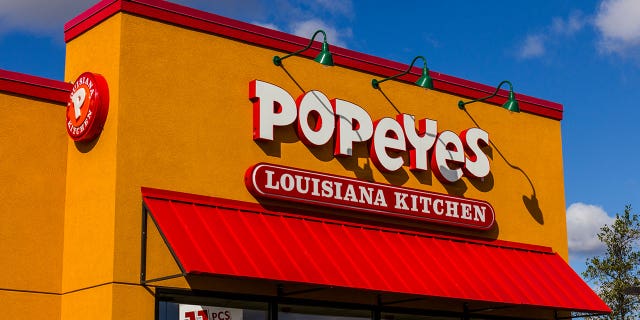 In the latest experiment to create a bizarre, potentially viral fast food sensation with a wacky flavor profile, Popeyes has just released an unusual twist on their classic chicken strips.
This month, the fried chicken chain debuted a new product that combines the savory flavor of chicken... and sweet flavor of cookie dough.
Yup, cookies and chicken.
Despite looking like regular chicken strips, the new Popeyes Sweet & Crunchy Tenders are actually battered and fried in shortbread cookie dough crust, not unlike the Girl Scout Cookie, Delish reports.
EVERYONE EATS FAST FOOD REGARDLESS OF INCOME, STUDY FINDS
People who have tested out the new chicken tenders say, not surprisingly, they start out a little sugary sweet before turning savory. The dish reportedly reminds them of chicken and waffles, minus the syrup.
The chicken tenders come with a biscuit, a side and your choice of sauce, although Popeyes recommends trying it with its Smok'n Pepper Jam, which Delish describes as tasting like a mix between a classic pepper jelly and sweet chili sauce.
While some might be scrambling to get their hands on Popeyes' sweet new creation, reactions across social media have been mixed, to say the least.
FOLLOW US ON FACEBOOK FOR MORE FOX LIFESTYLE NEWS
People on Twitter did not hold back. Responses range from excitement to disbelief to outright disgust.
For anyone looking to try the new Sweet & Crunchy Tenders, Popeyes is selling them for just $5 through June 25.