Panda Express may introduce new hybrid utensil- the 'Chork'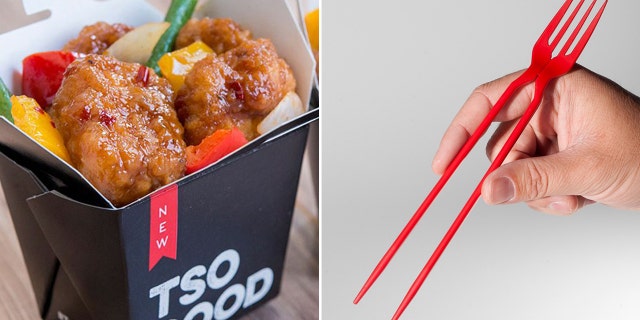 Though hardly representative of authentic Chinese cuisine, General Tso's Chicken is one of the most popular dishes on Chinese restaurant menus in the U.S.
So it may come as a shock that Panda Express, which bills itself as "American Chinese food," has never offered the flash-fried, slightly sweet and tangy chicken dish. Until now.
Earlier this week, the chain revealed that it will start offering General Tso's from now through Dec. 27. According to Panda Express, its version of General Tso's is "made with all-white meat chicken, red and yellow bell peppers, onions and string beans" and is spicier than its biggest seller-- orange chicken.
Many on Twitter were shocked that the restaurant had never actually sold the popular dish until now.
But Panda Express could be taking the concept of hybridization to the next level with a game-changing utensil—the "Chork."
On Wednesday, Lisa Jennings, the West Coast bureau chief of Nation's Restaurant News, tweeted out that the fast food Chinese chain is "considering a move toward the "chork," or the chopsticks/fork:"
Her Tweet was accompanied by pictures of Chorks sticking out of Panda Express General Tso to-go containers.
Panda Express clarified its position on the fork—and the status of their use—in a statement to First We Feast:
"Chorks were introduced to the public during the launch of the dish yesterday," the statement reads. "The tool is a perfect way to illustrate the mashup of American and Chinese cultures—just like Panda Express. Chorks are a unique utensil that elevate the way people experience their food. While Chorks are not currently available at Panda Express locations, there is a possibility that they will make their way into stores in the future."
The plastic tool may a direct ripoff of America's other favorite utensil mashup—the ever handy Spork—but the chork would allow hungry customers to easily stab those big juicy chunks of chicken, or try out their chopstick skills if they have a little patience. According to its website, the chork was invented in 2012 but its inclusion in Panda Express meals across the country could catapult the utensil into the mainstream overnight.
Is the chork headed to strip mall Panda Express near you? Only time will tell.