NYC restaurant owner calls out customers who yelled racist slur at employees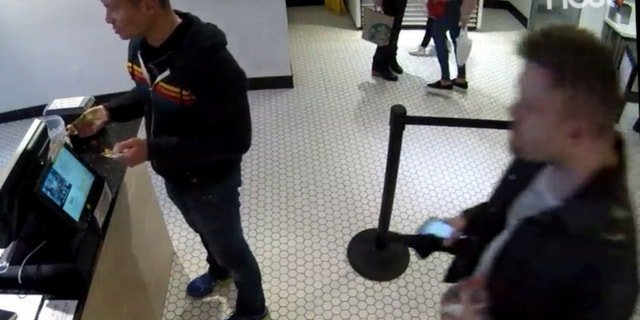 A New York City restaurant chain owner is standing up for his employees after customers were caught on security surveillance camera yelling racial slurs at workers over the weekend.
Jason Wang, the owner of the fast casual chain Xi'an Famous Foods, told Fox News that the incident occurred at a restaurant location in midtown Manhattan, shortly before closing time Sunday. In a video posted to Facebook, two men can be seen at the cashier counter where, according Wang, the customers became agitated when they were asked to pay by card, rather than cash, because the store had already closed the registers for the evening.
As the situation escalated, Wang said the customers started yelling racial slurs and ticking off cultural stereotypes directed toward the African American workers. At one point, someone is heard screaming the N-word.
The customers continued to argue with the Xi'an workers even after receiving their food. Wang posted the video of the men yelling at his employees to the restaurant chain's official Facebook page on Thursday.
"While I'd rather be posting food related things for your enjoyment, this is beyond ridiculous and should be called out. It infuriates me and we need to acknowledge this type of thing still happens in NYC in this day and age," Wang wrote.
Warning: Video contains explicit content.
TEXAS PIZZERIA FIRES EMPLOYEE WHO WROTE ANTI-POLICE NOTE ON RECEIPT
In a statement sent to Fox News via email, Wang recalled how "painful" it was to watch the video.
"I am a minority and have been subject to racist attacks growing up, but there's no way for me to fathom the African-American experience, I can only try to relate to how painful these attacks are," Wang said. "Our company has no tolerance for this type of behavior. It was very shocking and painful for me to review this video and to imagine the what my employees felt at this time."
"Regardless of what the grievances people have, they should have shown more respect for their fellow men and women and be aware of the shameful history of the N-word," Wang added.
The restaurant CEO says the two customers are now banned from all of his restaurant locations.
The video has since been viewed over 18,000 times and dozens of Facebook users have posted supportive comments, applauding Wang's actions to bring a sensitive issue to light.
FOLLOW US ON FACEBOOK FOR MORE FOX LIFESTYLE NEWS
One user said, "While I'm really sad this still happens, I applaud you for posting the raw, unmuted/unbleeped footage."