'Most Interesting Man' returns, but now he's pitching tequila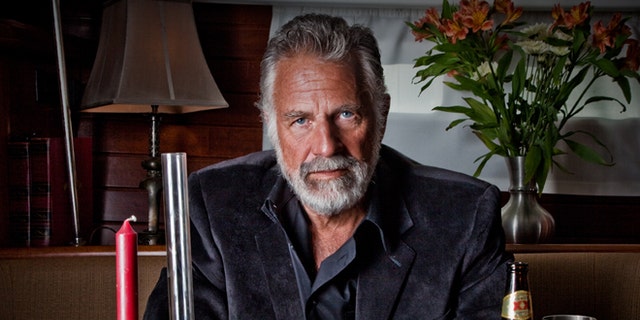 NEWYou can now listen to Fox News articles!
The former "most interesting man in the world" has a brand new job … and maybe a bit of a drinking problem.
Jonathan Goldsmith, the actor who gained fame as the original "most interesting man in the world" in ads for Dos Equis beer, is now lending his persona to a brand of tequila.
As reported by Ad Age, Goldsmith is now appearing in a short commercial for Astral Tequila, and it bears more than a passing resemblance to his old Dos Equis ads. Goldsmith is dressed in largely the same finery as he was seen sporting in his previous spots, and surrounded by beautiful women, just as he was in his Dos Equis days.
MCDONALD'S COMMERCIAL SPARKS SOCIAL MEDIA BACKLASH
To top it off, Goldsmith even paraphrases a famous line from his old campaigns.
"I told you, I don't always drink beer," Goldsmith says into the camera, cleverly referencing his old catchphrase ("I don't always drink beer, but when I do, I prefer Dos Equis").
It should be noted, however, that Astral Tequila is not owned by the same company as Dos Equis — Astral is owned by a company called Davos Brands; Dos Equis by Heineken USA — but a spokesperson for Astral claims the company did its due diligence before hiring Goldsmith.
"Astral Tequila has obliged by all trademark legal requirements," an Astral representative told Ad Age.
MEXICO INVENTED A CLOUD THAT RAINS TEQUILA
Before making the jump to a harder brand of booze, Goldsmith originally served as Dos Equis' "most interesting man" from 2006 to 2016. Over the course of dozens of television and radio commercials, Goldsmith (or an actor portraying Goldsmith as a younger "most interesting man") would be shown adventuring, party-hopping, smooth-talking and holding court, all while a voice-over offered examples of his more fascinating attributes.
"His charm is so contagious, vaccines have been created for it," one ad stated. "He lives vicariously through himself," said another.
Most ads would end with Goldsmith delivering his signature line, but later ads also saw him deliver a secondary, yet equally catchy catchphrase: "Stay thirsty, my friends."
Dos Equis retired Goldsmith from the role in 2016, but not before giving him one last commercial where he departed on a one-way trip to Mars.
Dos Equis replaced Goldsmith later that same year, with French actor Augustin Legrand.
FOLLOW US ON FACEBOOK FOR MORE FOX LIFESTYLE NEWS
Despite Goldsmith's new-yet-extremely-familiar gig, his former employers at Dos Equis have wished him well.
"We thank Jonathan Goldsmith for his long-time contributions to the brand, and wish him the best in his next endeavors," a spokeswoman for Heineken USA told Ad Age.