McDonald's introducing 'Triple Breakfast Stacks,' its first breakfast 'innovation' in 5 years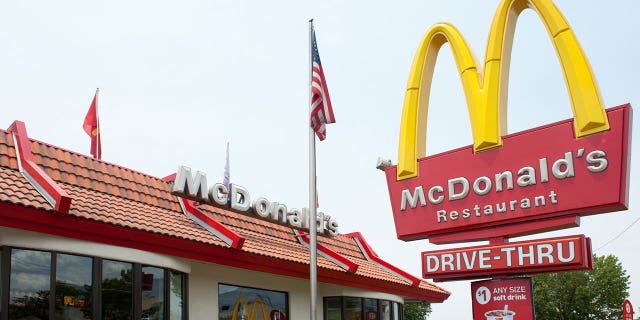 Unless we're counting the time you stuffed hash browns into your McGriddle last month, McDonald's says there have been no new "item innovations" on its breakfast menu since its Egg White Delight McMuffin in 2013.
Starting Nov. 1, however, the chain will be debuting its new "Triple Breakfast Stack" sandwiches, featuring triple the meat, and double the cheese, than its traditional McMuffins, McGriddles or biscuit-based sandwiches.
Each Triple Breakfast Stack will feature two sausage patties and two slices of American cheese, topped by Applewood-smoked bacon and an egg. Guests can choose from English muffins, biscuits, or McGriddle cakes, according to a press release.
MCDONALD'S CUSTOMERS WHO PRANKED TEXAS RESTAURANT EARN $25G EACH FROM COMPANY
The new sandwiches are also said to be inspired by customers who have been "hacking the menu" to create their own unique breakfast items.
"We love seeing the fun ways our customers and McDonald's crew have been creating their own takes on our classics," said Chef Mike Haracz, the manager of culinary innovation for McDonald's, per the release. "We can't wait to see what they come up with next — you never know what might end up on our menu."
Business Insider first reported on news of McDonald's Triple Breakfast Stacks on Tuesday, citing leaked internal documents that appeared to show instructions for constructing, wrapping and serving the sandwiches.
McDonald's has said the Triple Breakfast Stacks will only be available for a limited time starting Nov. 1.
MCDONALD'S EMPLOYEE SAYS CUSTOMER WAS 'TALKING A LOT OF SMACK' BEFORE BRUTAL FIGHT
The company's CEO, Steve Easterbrook, had reportedly also hinted at the new items in an earnings call on Tuesday, saying he hoped to "reenergize" morning sales by doing "better at breakfast," according to CNBC.
In addition to the Triple Breakfast Stacks, McDonald's had previously introduced a French Toast McGriddle in Minnesota markets in August. McDonald's did not confirm if that item, too, would roll out nationwide should it prove successful.
Your idea for a hash-brown McGriddle, meanwhile, remains unrealized.