McDonald's and UberEATS now delivering from over 1,000 locations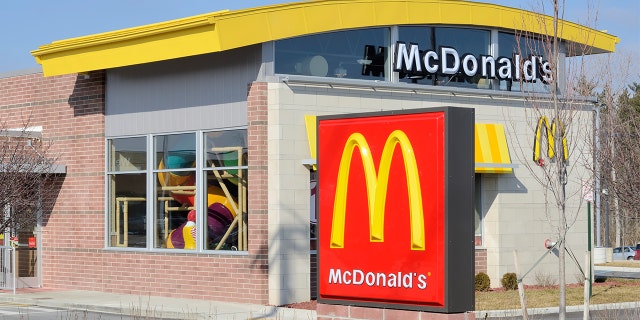 Next time you're craving a Big Mac and fries, depending on where you live, you may be able to skip the drive-thru and order it straight to your door.
McDonald's announced Wednesday it's teaming up with UberEATS, the ride sharing company's food delivery arm, to offer customers "McDelivery" from over 1,000 locations across the US, reports Business Insider. UberEATS generally charges a flat fee of $4.99, depending on the city, so you're definitely paying a premium for that conveniently delivered Big Mac.
Delivery is now available at hundreds of restaurants in Los Angeles, Chicago, Columbus, Ohio, Phoenix, Arizona, and Florida. McDonald's began testing the service in January at 200 locations in Florida, which resulted in "consistent growth and high levels of customer satisfaction," the company told Business Insider.
MCDONALD'S COMMERCIAL SPARKS SOCIAL MEDIA BACKLASH, CONSUMER EXPERT WARNINGS
The move is also aimed at winning over younger customers willing to pay to have food brought to their door, according to the Chicago Tribune.
"We are bringing a new level of convenience to more of our customers as we continue to transform the McDonald's experience," said McDonald's CEO Steve Easterbrook in a statement.
While the wait-times for food delivery services are often high, McDonald's executives told the Tribune that the delivery effort has been successful due in large part to their plentiful locations-- 14,000 nationwide-- resulting in tight delivery times.
But amid stagnant growth of customer visits—which have remained flat from a year ago, according to Business Insider—the company is looking to make other improvements to its customer experience. This includes mobile ordering, ordering kiosks and table service.
On Thursday, the fast food chain announced a big change to its frozen dessert offerings and will be removing artificial flavors from its vanilla soft serve, which will soon make all of vanilla treats (like McFlurries, Cones, shakes and more) free of artificial flavors, colors and preservatives. The change affects 60 percent of McDonald's desserts, according to a release.
FOLLOW US ON FACEBOOK FOR MORE FOX LIFESTYLE NEWS
McDonald's isn't the first fast-food chain to offer delivery. Wendy's recently launched the service at 135 of its Ohio and Texas locations, while Panera Bread announced in January its plan to roll out delivery to 35 percent to 40 percent of its locations this year, according to Business Insider.
But the next time you want McNuggets for dinner, there's a good chance you won't even have to leave your couch.