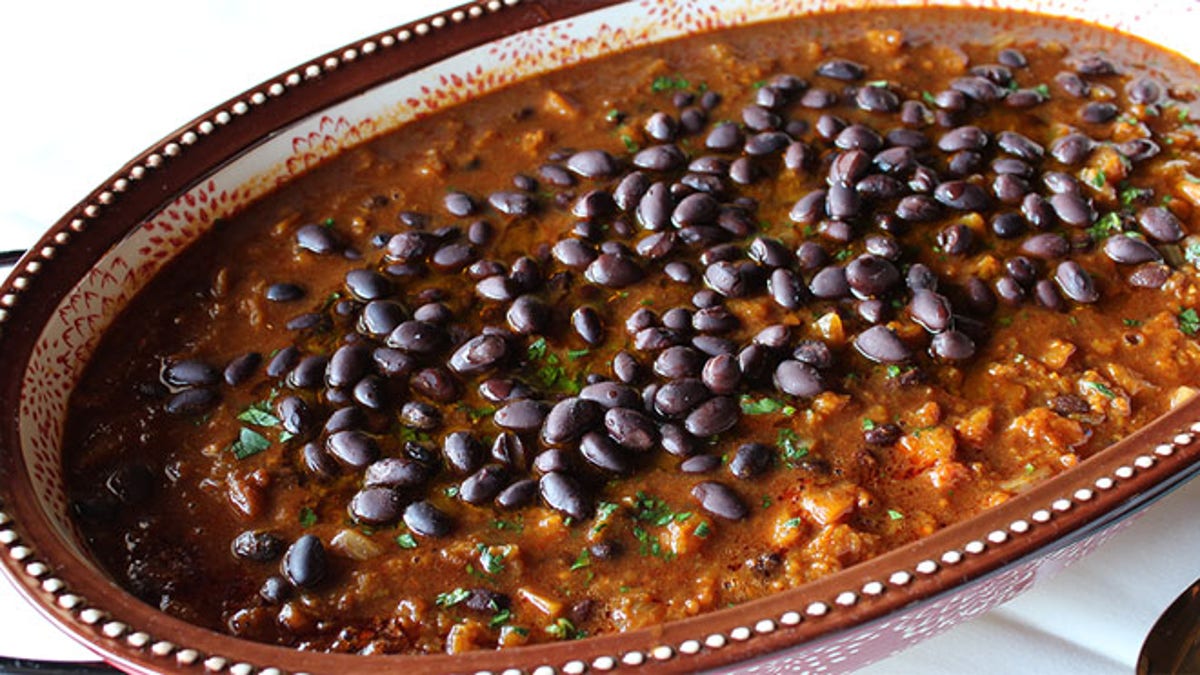 If Friday is payday, Saturday play day and Sunday pray day, Monday is the perfect day to start anew. At least, that's the idea behind Meatless Monday -- a campaign that tries to get carnivores to give up meat for a day to achieve better health.
You've probably heard the phrase; may have read about the latest celebrities jumping on board the movement. Now every Monday FoxNews.com will feature a new recipe to give you delicious ways to make a meal sans meat. Our first is a hearty black bean chili from former Top Chef star Fabio Viviani.
Recipe: Butternut Squash Black Bean Chili:
Meatless Monday isn't just a recent fad. It's roots actually go back to World War I when meat (among other things) was rationed. In 2003, the idea reemerged as part of a public health campaign to encourage healthier eating endorsed by the Johns Hopkins School of Public Health --and helped along by a legendary ad man behind the classic Mr. Whipple commercials who tried to prevent people from squeezing the Charmin toilet paper.
Working with public health experts, Sid Lerner, 81, founded "Meatless Monday," with the aim of helping tackle the problems of cholesterol and heart disease -- two factors closely linked to eating too much of the saturated fat found in meat.
But getting people to cut back on things they love without being a nag or a nanny isn't easy. At the time, the Surgeon General recommended lowering meat consumption by 15 percent in order to cut down on saturated fat. Lerner recognized that 15 percent works out to about one day a week. "You can't take 15 percent of every spoon or every plate or every meal, but up you can take it out of the 21 meals you eat a week, which is one day's meals," Lerner told FoxNews.com.
Ten years later, the "Meatless Monday" movement has slowly built up steam and developed followers in local governments, hospitals, schools and restaurants. Even some big named chefs like Wolfgang Puck, Mario Batalli and John Fraser of the New York City restaurant Dovetail, have pledged to go meat-free in their restaurants on Mondays.
Chef Fraser told FoxNews.com he now eats vegetarian about 95 percent of the time. He says he can see how going entirely meat-free can be hard for people, but "the Meatless Monday message is a great point of entry -- it doesn't demand that much of a person -- it's one day a week."
Fraser said that Meatless Monday helped push him towards creating a vegetarian menu at Dovetail. "I've stopped trying to make a vegetable taste like a piece of meat," he said, adding that he believed people who try Dovetail's vegetarian offerings "leave feeling that if it tasted that good every day they would have no trouble making the switch."
But the movement isn't about getting people to become vegetarian. It is simply promoting meat-free alternatives one day a week.
Still, the movement has seen its share of pushback. Last summer, the U.S. Agriculture Department got flack from the National Cattlemen's Beef Association, as well as a handful of congressmen, after it encouraged employees in a newsletter to go vegetarian once a week. The Los Angeles City Council also met resistance after it passed a resolution declaring every Monday to be "meatless" in hopes of starting a city-wide trend -- neither city officials nor law enforcement are allowed to force residents to go meat-free, however.
For his part, Lerner said passing legislation is not the group's intent, nor does he think it is an effective way to spread the message. "It's not meant to be a hardship, simply an alternative. It's just a sensible suggestion; that's what makes it so popular and attractive."