Maine restaurant responds to 'disturbing' comments and 'hostile' customers angry over french fry change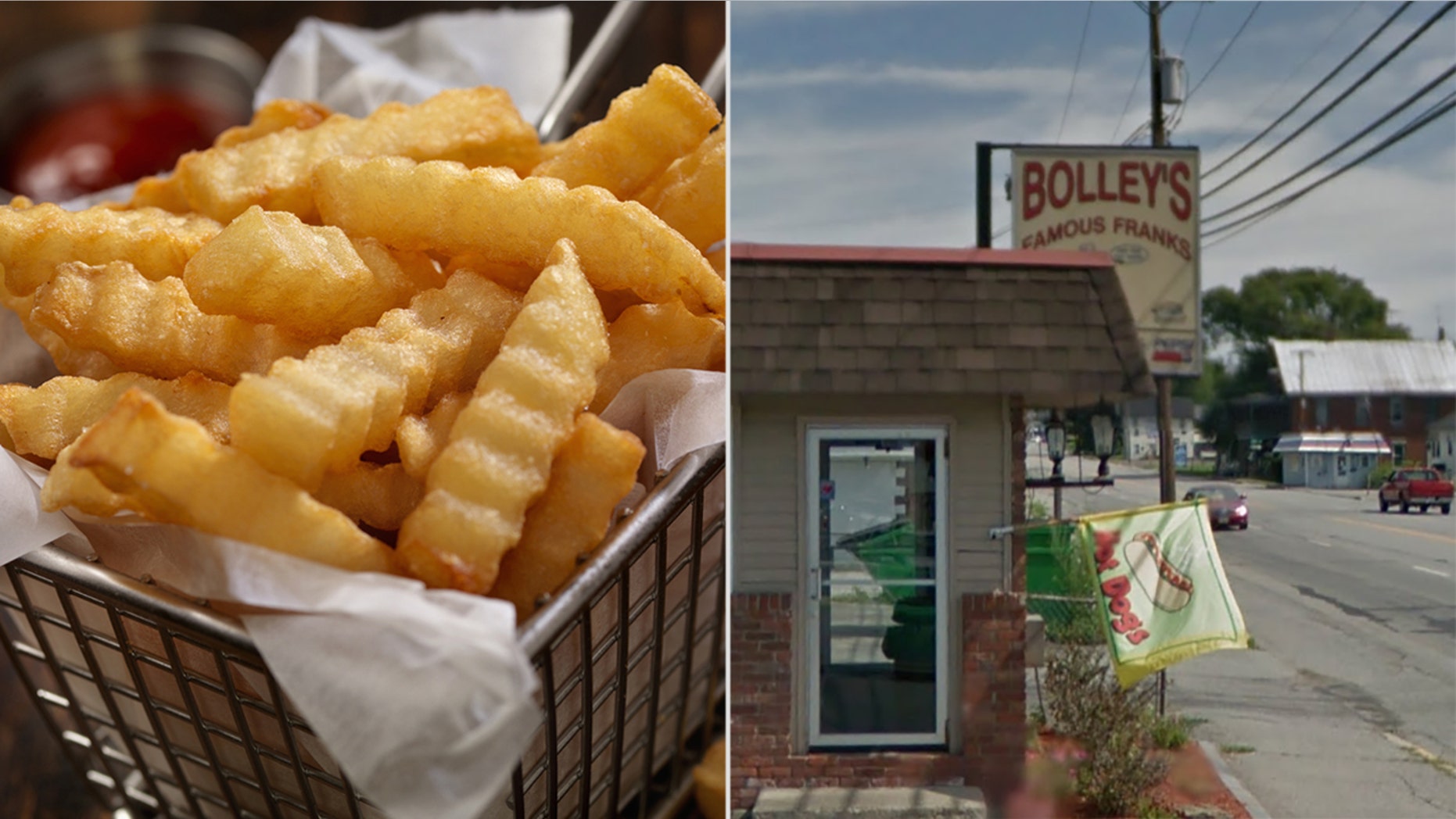 A restaurant in Maine has responded to the harsh backlash they say they have received from customers after changing the shape of their french fries from crinkle cut to straight cut.
Leslie and Jim Parsons, owners of Bolley's Famous Franks in Waterville, made a statement on their restaurant's Facebook page announcing that they have received comments from "disturbing and hostile customers" over the change of their french-fry shape.
"So recently, within the last week, we have encountered some pretty disturbing and hostile customers apparently very unhappy with our straight cut french fries," Leslie wrote on Facebook, saying that customers have "sworn at [them], threatened physical harm" to her, her husband and her children.
'TONE-DEAF' JACK IN THE BOX TERIYAKI BOWL AD SPARKS BACKLASH FOR SEXUAL INNUENDOS
Leslie, who took over the restaurant with her husband in 2017, said the business was forced to make the decision based on finances.
"The blades are ridiculously pricey and flimsy. It takes many blades to operate the cutter and after sinking thousands, yes thousands, I chose to go with an alternative cut. They are still [fresh-cut] daily. We still use the best potato in Maine. It is still a very expensive french fries and our process minus the crinkle cut is still the same," Leslie wrote.
Though the change was made in late June, the backlash over the new shape escalated over the past month.
Jim told the Kennebec Journal that a man threatened to fight him at the store after becoming angry about the new french fries.
"People come in with a negative attitude that the fries aren't going to be the same," Jim Parsons said to the Journal. "That's a tough sale for us."
WENDY'S, DENNY'S AND MORE TROLLING IHOP OVER BURGER ANNOUNCEMENT
Since posting the statement last week, the controversy seems to still be carrying on — though at a much more civilized level.
"I thought the fries were very good. Glad to see Jim after all these years yesterday," Willie Thomas Grenier said, in support of the change.
"Still shouldn't have changed it. You put price over your customers. That would send me to another place for sure. I wouldn't swear at you or be rude. That's just wrong but I as a customer would go elsewhere," Tony Clewley wrote, criticizing the owners' decision.
"I had the new cut fries. Like them better anyway. They were good," a straight-cut enthusiast wrote.
Nathan Belcher argued, "I was a fan of the thick crinkle cut. There is definitely a difference. I came in once and got the new fries and have not been back since. Way too thin. That being said I'm not about to threaten someone over french fries. I just go other places for lunch now."
Almost all agreed that there was no need for violence over a french fry's shape.
"Sworn at? Threatened? Are you KIDDING me? If you don't like the change, go elsewhere. I haven't tried the new fries yet but will gladly check them out," Tammy Jo LaCroix wrote.
"The new fries are delicious, and you can't please everyone, but there is no excuse for harrassment or threats of violence from any customer for any changes you may need to make," Jane Paradis Govostes said.
FOLLOW US ON FACEBOOK FOR MORE FOX LIFESTYLE NEWS
Even the Bangor Maine Police Department weighed in on the issue, imploring citizens to "accept the french fries" and "be kind to one another."
"I am not going to judge the folks who are steeped in the tradition of crinkle-cut, but I will say we all need to get a grip on being angry with changes which displease us. We can argue the benefits, we can whisper quietly amongst ourselves about how we liked the 'old way' better.
"But we really cannot be fighting or throat-punching people over our differences, or the differences between straight and crinkle-cut," the Bangor Police shared on Facebook.
Bolley's Famous Franks has been in Waterville, Maine, since 1962 when the Genest family started the business. The Parsons took over in 2017.
The restaurant did not respond to Fox News' request for comment.