KFC partners with Fred Armisen for some spicy hot Nashville tunes
It's a KFC LP.
Continuing a run of unique marketing ploys, the fried chicken chain has just released a promotional album written, performed and produced by comedian Fred Armisen.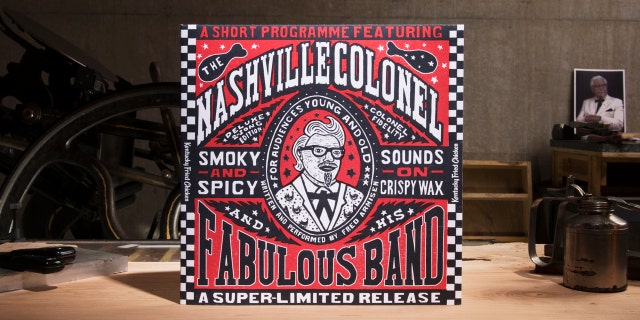 The "Nashville Hot record," which fans can hear at NashvilleHotRecord.com, celebrates the re-release of the chain's spicy Nashville Hot Chicken. 
"Our fans are so passionate about KFC Nashville Hot Chicken, that we've actually set a record for selling the most Nashville Hot Chicken ever," KFC US Chief Marketing Officer Kevin Hochman said in a press release. "So making a lathe-cut record was the next absolutely logical, non-crazy thing to do. Clearly."
KFC'S BIG SECRET REVEALED? COLONEL'S RECIPE MAY HAVE BEEN FOUND IN SCRAPBOOK
Just 125 copies of the record were produced-- although an unspecified amount have been placed in 14 record stores around the country, just waiting for music-loving chicken fans to find. Looking for the real deal record? A list of store locations is available online.
The release of the Nashville Hot record, the restaurant says, pays homage to the Colonel's tradition of producing his own albums while promoting the restaurant's chicken. In the 1960s, KFC released a variety of records featuring an array of genres.
In 2016, the fast-food chain has been on a roll with a spate of unusual marketing campaigns.
In August, KFC released a limited-edition sunscreen to prevent fans from becoming "extra crispy" while taking in rays. That lotion was designed to smell like a mix of the chain's famous 11 herbs and spices, oil and chicken. The SPF 30 cream quickly disappeared from the restaurant's website amid high demand and wound up going for around $80 a pop on eBay.
Seriously.
WOMAN SUES KFC FOR $20 MILLION OVER FALSE ADVERTISING
And in October, the chain unveiled a new campaign featuring "Mad Men" star Vincent Kartheiser as Colonel Sanders. Playing the "heartthrob Nashville Hot Colonel," Kartheiser's promotion also supported the comeback of Nashville Hot Chicken to the chain's menu.
KFC launched its version of the popular regional chicken dish back in January and says it will be on the menu through April due to popular demand.