Kentucky's 'Pie Queen' hopes to bake 1,000 pies this holiday season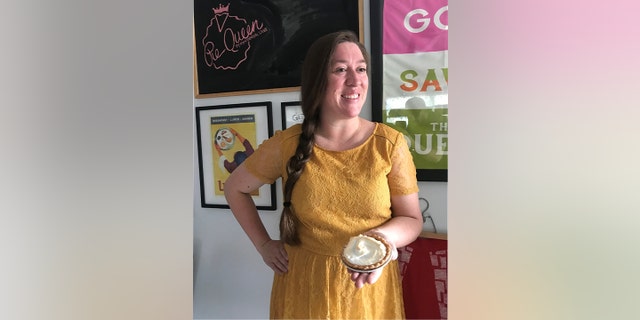 You can't visit Bowling Green, Ky., and not visit the Pie Queen. One step inside the old-fashioned Boyce General Store and you know you're in for an authentic dining experience — one where you can taste the love in each bite.
The store, built in 1869, is filled with antiques, mason jars, old-timey memorabilia, vintage dinnerware and mugs, Coca-Cola collectibles and even a cake stand collection, all owned by Pie Queen, Brie Golliher.
The décor, along with communal seating, is emblematic of what she and husband Brad are trying to do: foster a sense of community and bring people together in the name of delicious food … more specifically, their out-of-this-world pies.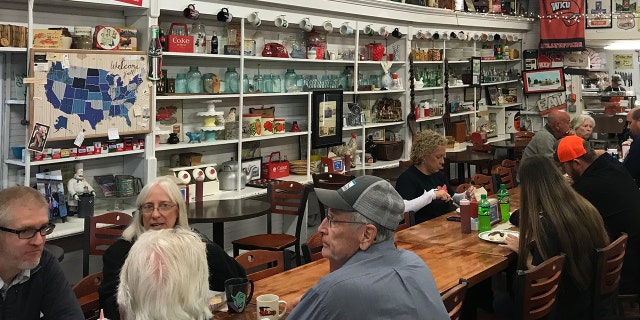 MARTINA MCBRIDE'S SECRETS FOR A SUCCESSFUL THANKSGIVING
When the couple purchased the Boyce General Store in 2012, the place was still operating as a gas station. Brie and Brad had no idea how quickly this little piece of Kentucky history would transform into the popular foodie destination for tourists and locals it is today. But between his expertise in graphic design and advertising and her undeniable passion for baking, alongside her photography skills (she went to school for photojournalism), the couple has succeeded in creating a booming brand.
At the General Store, each day of the week holds something special for customers, aside from freshly baked pies. From Saturday breakfast with Brie's famous Mama Cinnies (enormous cinnamon rolls) and Hungry Man Wednesdays to Sloppy Joe Thursdays and Fish Fry Fridays, tradition is important.
"We're all about traditions here. I want it to be a tradition to come eat breakfast here on Saturdays. I want it to be your family tradition to eat at Friday night Fish Fry. Or to come picnic on the patio," Brie says.
But what's put them on the map is Brie's homemade pies.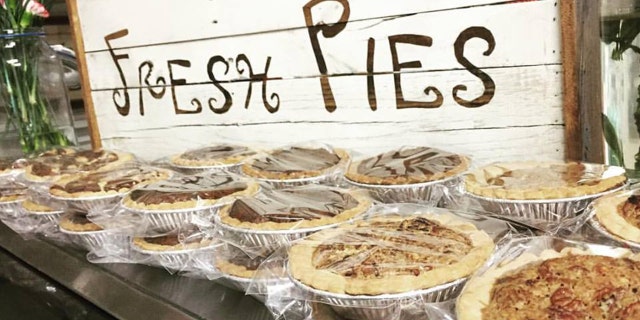 "I've always loved to bake and I always wanted to be a baker," explains Brie. "When we first started the store, we thought it would just be me baking and Brad would sell trinkets in the corner. It grew into this big thing that we never expected."
Brie began baking pies professionally when they purchased the store, because what's a general store without pies?
THIS WILD TURKEY RECIPE FROM 'MEATEATER' HOST STEVEN RINELLA 'IS YOUR BEST PATH TO THE PERFECT THANKSGIVING'
"I was baking cake pops out of our house when we bought the store, but I needed to find something that was forgiving and that I could make in a hot kitchen," she recalls. "Pies have been where I've really found my passion."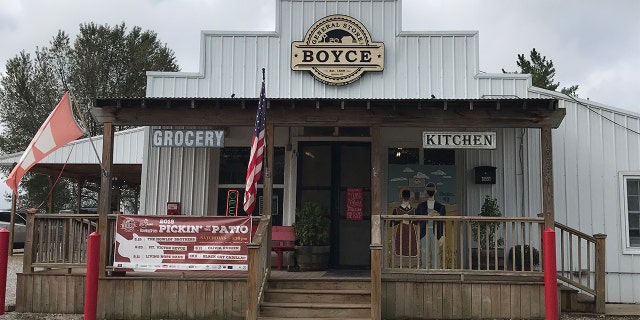 The official Pie Queen brand started in 2015, thanks to her husband who dubbed Brie the Pie Queen and ran with it. "It morphed into this big thing, which I'm happy about. If I could just be in the back baking pies all the time, I'd be the happiest queen around."
On any given week, Brie bakes 100 to 150 pies, with up to 50 pies alone on Fish Fry Fridays. However, come holiday season, it's a whole new ball game. This year she hopes to hit her goal of 1,000 pies. But with just one baking assistant, it seems like a monumental task.
"Preparing for it in the middle of busy season is the hardest part of that," says Brie. Last year she succeeded in making 600 pies and seems quite unfazed by this year's higher target.
FOLLOW US ON FACEBOOK FOR MORE FOX LIFESTYLE NEWS
Her most popular pies? Pumpkin and Kentucky pie, an indulgent pie with chocolate chips, bourbon and pecan. Another top seller is her no-bake cookies, which uses the first recipe she remembers baking with her mother. Other sweet pies include coconut cream, chocolate meringue, pecan and rich peanut butter fudge.
Currently, her pies are sold in Whole Foods stores within Kentucky, in addition to local grocers, Farmers Markets and online.