Martina McBride's secrets for a successful Thanksgiving
How does a busy country music star like Martina McBride — who is currently touring, releasing her second cookbook, and wrapping up the filming on her first cooking show — like to celebrate Thanksgiving?
"We spend our Thanksgiving at home," McBride tells Fox News. "We have also gone to family in Kansas, back to my husband's brother's house, so we've done a little bit of both."
WILD TURKEY RECIPE IS 'BEST PATH TO A PERFECT THANKSGIVING'
McBride tells Fox News that when she has extended family over, her table can sometimes be set for fifteen people, but she keeps her menu organized by keeping plenty of lists.
"The biggest mistake people make is underestimating how much time everything takes. It always seems to take more time than it says it takes," McBride said. "So I make a lot of lists. I think planning ahead is the key to success for any kind of party."
In her new cookbook, "Marina's Kitchen Mix: My Recipe Playlist for Real Life," Martina shares samples of her favorite dishes, like chicken braised in sun-dried tomato cream sauce, or smashed new potatoes with lemon.
And on Turkey Day, McBride said mashed potatoes are one of her favorite sides.
"The little secret that I have for mashed potatoes came from my mother-in-law, who told me to put nutmeg in the potatoes right as your finishing them up," McBride said, adding that she likes to blend and then mash by hand before she whips everything up with one big spoon.
TACO BELL OFFERS UP HOLIDAY SWEATERS, THANKSGIVING RECIPE
McBride also tells Fox News that her current Thanksgiving celebrations are a bit different from the ones she remembers as a kid, but they still center on family.
"We lived out in the country on a farm. [My grandparents] lived about a mile down the road. So all the cousins would come in and my grandma would cook a huge Thanksgiving dinner," she said.
But McBride, a mother of three daughters — Delaney, 23, Emma, 20 and Ava, 13 — said her oldest daughter is the only one who likes to join her in the kitchen.
"I've got one [Delaney] out of the three that really loves to cook," McBride said. "She's a really good baker. I'm not that great of a baker so I usually give that duty to her."
When it comes to passing down advice or recipes to her daughters, she said she'd hand down her mother's pot roast, which was always a staple in her family growing up.
"My biggest advice I ever gave all my kids was to read the recipes all the way through before you start cooking it, make sure you have everything and have time to get it done."
FOLLOW US ON FACEBOOK FOR MORE FOX LIFESTYLE NEWS
To help keep your Thanksgiving stress-free, McBride shared one of her go-to dinner dessert recipes that any baker — novice or expert — can perfect.
Chocolate Flourless Cake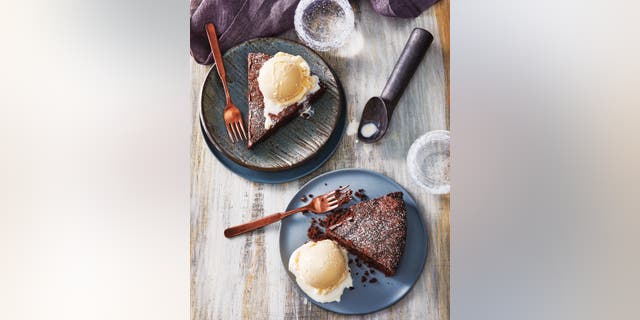 Ingredients:
1 cup unsweetened cocoa, plus more for dusting
8 ounces bittersweet chocolate, chopped
1 cup unsalted butter
1½ cups sugar
1/8  teaspoon ground cinnamon (optional)
6 large eggs
Vanilla ice cream or sweetened whipped cream, for serving
Instructions:
Preheat oven to 350 F.
Lightly butter the bottom and sides of a 9-inch cake pan with cocoa, shaking to remove excess.
Combine the bittersweet chocolate and butter in a large bowl. Microwave for 1 minute or until completely melted and smooth, stirring at 30-second intervals. Let cool slightly.
Whisk in the sugar, and cinnamon if desired. Whisk in the eggs, 1 at a time, whisking well after each addition. Sift the remaining 1-cup cocoa over the mixture, and whisk until just combined.
Pour the batter into the prepared pan and bake for 30–35 minutes.
When done, transfer to a wire rack; let cool for 10 minutes.
Run a knife around the edges to loosen, and remove sides. Remove to a serving platter, and let cool completely.
Dust with additional cocoa or powdered sugar. Serve with ice cream or sweetened whipped cream, if desired.
Recipe excerpted from "Martina's Kitchen Mix" by Martina McBride. Copyright © 2018 Oxmoor House. Reprinted with permission from Time Inc. Books, a division of Meredith Corporation. New York, NY. All rights reserved.