IHOP offering 60-cent pancake deal following 'IHOB' burger debacle
IHOP's latest deal might go a long way toward making amends for the recent "IHOB" debacle.
In honor of the pancake chain's 60th anniversary, participating IHOP restaurants are offering dine-in guests a single stack of original buttermilk pancakes for only 60 cents between the hours of 7 a.m. to 7 p.m. on July 17.
WENDY'S, BURGER KING TROLLING IHOP FOLLOWING 'IHOB' NEWS
"To celebrate six decades of pancakin' and the love our guests have shown us since we first opened our doors back in 1958, we're treating folks to a 60-cent short stack of our world-famous Buttermilk pancakes – the pancake that started it all – on Tuesday, July 17," said Brad Haley, the chief marketing officer of IHOP, in a press release issued last week.
IHOP has also been promoting its deal on Twitter, where the news is largely being met with positive reactions. Some, however, appear that they haven't forgiven the chain for its "IHOB" announcement last month.
Others, meanwhile, were more concerned with asking how many of these 60-cent buttermilk pancakes they would be allowed to order in one sitting.
FLAPJACK LOVERS OUTRAGED OVER IHOP'S 'IHOB' ANNOUNCEMENT: 'INCREDIBLY STUPID'
IHOP also announced on Tuesday that the chain was partnering with DoorDash to introduce a new delivery option at select restaurants nationwide, in "proprietary packaging" that is designed to keep pancakes "hot, fresh and fluffy" and its controversial "Steakburgers" hot while in transit.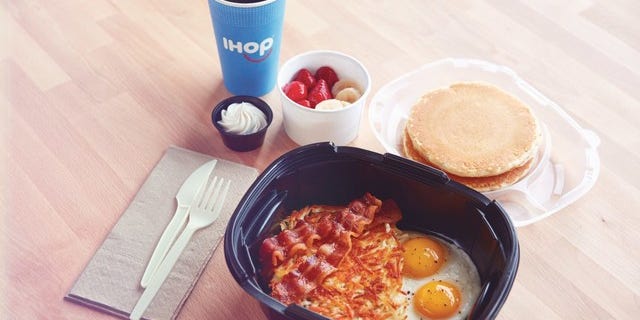 IHOP first began promoting its new burger offerings in early June, after hinting that the chain would be changing its name to "IHOB," but remaining mum on what the "B" would stand for until June 11. Following the announcement, social media users slammed IHOP's marketing strategy as an "epic failure," and called for the people responsible to be fired "ASAP."
Fellow restaurant chains responded by mocking IHOP on Twitter, with places like White Castle promising to never change its name to "Pancake Castle," and Burger King officially changing its Twitter handle to "Pancake King" for the day.
FOLLOW US ON FACEBOOK FOR MORE FOX LIFESTYLE NEWS
Just last week, the pancake chain also admitted to having "faked" their name change, but told Fox News the publicity was "exactly" what they intended.