Hardee's distancing itself from Carl's Jr. and its raunchier ad campaigns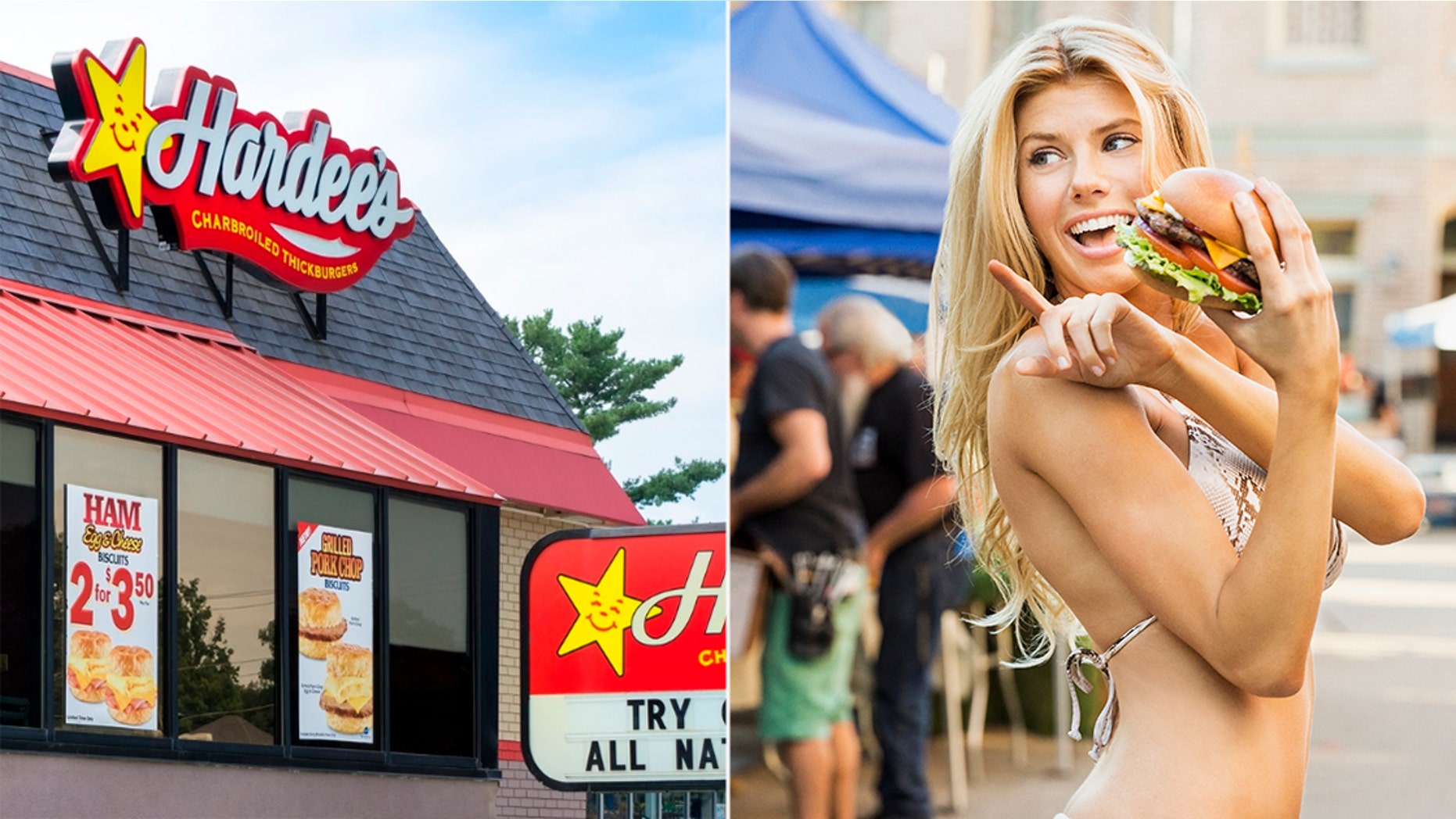 The parent company of Carl's Jr. and Hardee's announced in February that the closely related restaurants would be embarking on "solo careers" in order to distinguish the brands — now it seems Hardee's has taken another step to distance itself from Carl's Jr. and its historically raunchy ad campaigns.
Hardee's, which is headquartered in Franklin, Tenn., recently opened its first redesigned restaurant in nearby Bellevue featuring patriotic touches such as a flag made from license plates, license-plate table markers, and a drive-in counter inspired by a Nascar stock car, USA Today is reporting.
BURGER KING SORRY FOR PROMO PROMISING FOOD TO WOMEN IMPREGNATED BY WORLD CUP ATHLETES
The outlet added that the rebranding is just the first of many, with Hardee's aiming to invoke a "more wholesome image" than previous Carl's Jr. commercials — which featured bikini-clad models caressing Thickburgers — would suggest.
To that end, Hardee's has also began a new, separate marketing strategy focusing more on celebrating "America's heartland," per a press release.
"Basically everything we looked at said these two brands need to be separated," said Jason Marker, CEO of CKE Restaurants, which owns both Hardee's and Carl's Jr.
Marker further told USA Today that Hardee's "is far more authentic and proud" than its sister restaurant Carl's Jr., which he sees as "West Coast cool, bold, aggressive, impossible to ignore" and "famous for very disruptive advertising strategies."
Owen Klein, the vice president of global product development at CKE, added that Hardee's menu will also aim to attract a different audience, focusing more on breakfast (which accounts for 47 percent of sales) as well as freshly made biscuits, hand-breaded chicken and milkshakes.
WENDY'S, DENNY'S AND MORE TROLLING IHOP OVER 'IHOB' ANNOUNCEMENT
"With Hardee's in particular, embracing Midwestern and Southern roots is something we're going after very adamantly right now," said Klein.
Marker added that the current plan for Hardee's is more focused on "celebrating our American heritage and our great food quality."
Carl's Jr., meanwhile, has also moved away from putting supermodels front-and-center in its national ad campaigns. In March 2017, the brand put out a commercial featuring a fictitious Carl's Jr. founder named "Carl Hardee," who had returned to the company after allowing his aloof son to put near-naked women in its commercials.
Later, in February 2018, the chain rolled out a series of short commercials featuring voiceover work by Matthew McConaughey, who uttered such phrases as "sweet tang-a-lang" or "deeelishy-lishy-lishy."
FOLLOW US ON FACEBOOK FOR MORE FOX LIFESTYLE NEWS
CKE currently operates more than 3,300 restaurants — including Carl's Jr., Hardee's, Green Burrito and Red Burrito — in 28 countries, according to the company's official site.