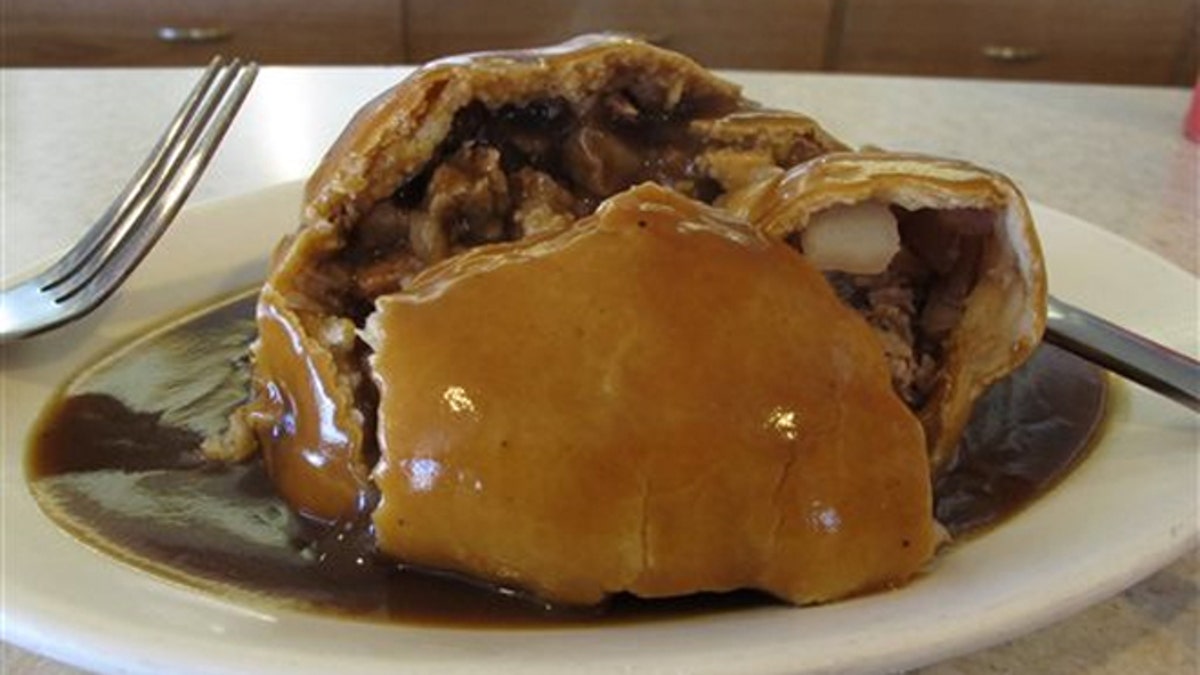 First things first: Pasties, pronounced PASS'-tees, are the meat and potato pies introduced to Butte by immigrant miners more than a century ago. Pasties, pronounced PASTE-tees, are the nipple-concealing patches that one might have found in the city's notorious red-light district during its heyday.
Like its racier homograph, the pasty has stuck.
The adopted Cornish and Welsh pasty has come to be identified with this blue-collar Montana city as much as native son Evel Knievel and the Berkeley Pit, the abandoned open-pit mine that once killed a flock of 342 migrating snow geese that landed in its toxic waters.
The mix of nationalities drawn to Butte during the mining boom of the late 1800s and early 1900s spurred an eclectic array of cheap eats tailored for the poor workers, from the proliferation of Chinese noodle parlors to the invention of the pork-chop sandwich.
But no culinary experience is as intertwined in the mining history of the Copper City as the simple pasty.
Its meat, onions and potatoes are enveloped in a golden-baked pie that resembles a brick in both shape and weight. They come dry, smothered or injected with gravy and even covered with chili. A shot of whiskey or a pint of beer is optional.
The perfectly cooked pasty will have tender chunks of beef, sauteed onions and diced potatoes spilling out of its flaky enclosure with the first bite. It was standard fare of the Cornish and Welsh immigrant miners, who brought the recipe with them and toted them in lunchboxes thousands of feet below the earth's surface.
Other miners saw the convenience and nourishment the packed pies provided, so they adopted them. Some added their own ingredients, such as the Finns spicing up their pasties with rutabaga, according to Montana Historical Society researcher Brian Shovers.
The boom times when Butte was the largest city between Minneapolis and Seattle are gone, but its rich history and raucous reputation draw droves each year for the Montana Folk Festival, daredevils gathering for Evel Knievel Days and the street-spilling parties of St. Patrick's Day.
No small number of visitors arrive in pursuit of an authentic Butte pasty. The city known as the Richest Hill on Earth is happy to oblige, with pasty shops dotted across the city like the giant steel head frames that mark the old mine shafts and define the skyline today.
One of the most popular spots is Joe's Pasty Shop on Grand Avenue, which has been operating since 1947. The pasty with gravy is by far the most popular choice, and one will set you back a mere $6.50 at a size that is enough to feed two people.
Another favorite is Nancy McLaughlin's Pasty Shop on the edge of town near the Berkeley Pit. Nancy's has a walk-up window for a quick pasty to go and a small dining area for those who want to savor the savory meal.
Other pasty purveyors across town include the old-time soda fountain Gamer's Cafe and Park Street Pasties.
But a visitor is best advised to pace himself when sampling Butte's gastronomic delights. As the old miner's saying still popular in Butte goes, "Tap 'er light."
___
If You Go...
JOE'S PASTY SHOP: 1641 Grand Ave, Butte, Mont., 406-723-9071.
NANCY McLAUGHLIN'S PASTY SHOP: 2810 Pine St., Butte, Mont., 406-782-7410.
GAMER'S CAFE: 15 W. Park St., Butte, Mont., 406-723-5453.
PARK STREET PASTIES: 800 W. Park St., 406-782-6400.