Food Network Star Justin Warner's rebellious Thanksgiving menu
It's time to break with tradition this Thanksgiving. At least that's what Season 8 winner of the Food Network series "Food Network Star" Justin Warner wants you to do.
"I think we eat turkey just because it's tradition," Warner told FoxNews.com. "Do something a little bit more fun and exciting."
Warner, who is the chef and owner of Do or Dine in Brooklyn, New York shares his rebel-inspired holiday menu that includes jellyfish, turkey sushi rolls and bagel stuffing.
"I get in trouble for saying the holidays can be a drag, but holidays can actually be a drag when you have to cook a lot of food for a lot of people," he said. His menu is perfect for those dining in big groups or for the "lonely bros" looking for smaller portioned recipes.
"Blow some minds and be thankful that you have the ability to blow some minds," says Warner.
Let his menu inspire you to shake up your dinner table this year.
1. Bagels and Lox Breakfast Stuffing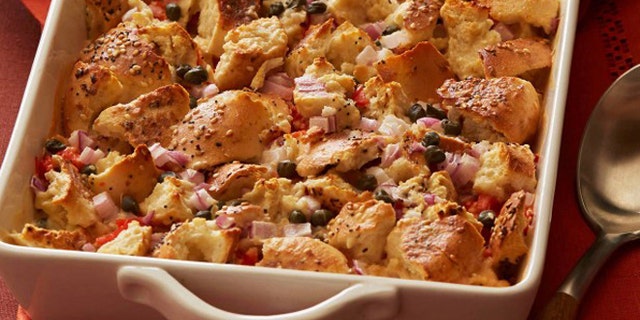 "Stuffing is generally pretty boring so I thought, 'how do you trick out stuffing?'" Warner asked.
Easy. Use bagels instead of bread and throw in some smoked salmon (lox). "I thought, 'bagels and lox, that sounds great.'"
The recipe yields a lot of stuffing and "if you're smart about it, you will use the prospect of such grand left overtures to lure someone in to your company."
This stuffing can be enjoyed for breakfast, lunch or dinner.
Recipe: Bagels and Lox Breakfast Stuffing
2. Lonely Bros' Thanksgiving Dinner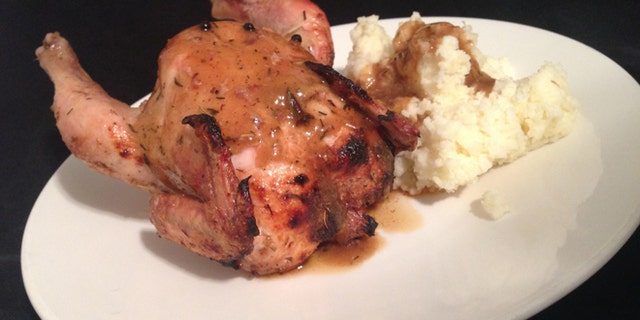 Hosting a small Thanksgiving meal this year or just want to switch things up a bit? Try making a Cornish hen instead of a traditional turkey.
"I'm obsessed with Cornish hens because I think it's cool to eat an entire hen at once and not feel like a glutton," Warner told FoxNews.com.
"To even the most seasoned home cooks, the task of preparing a 30 pound bird can be daunting," says Warner. "By substituting the humble Cornish Hen, one can get the delightful visual of a whole golden-roasted bird."
Plus, there's the risk of roasting an entire turkey and messing it up, not to mention, this recipe let's you enjoy a beer while you cook it.
Recipe: Lonely Bros' Thanksgiving Dinner
3. Thanksgiving Jellyfish Salad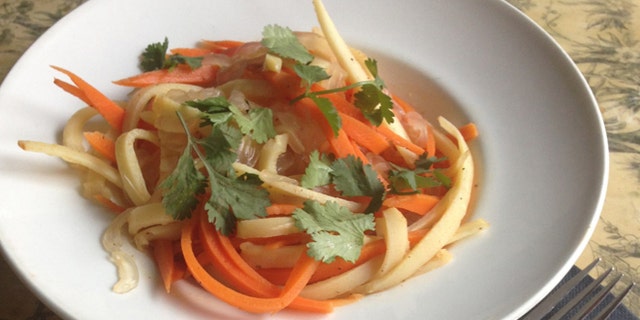 It can be a big bummer when you can't make the trip home for the holidays --and Warner says he had holidays like that too. But finding a place to eat for his first Thanksgiving in New York City proved difficult for Warner and his friends.
"I was in New York for my first lonely orphan Thanksgiving," Warner said. "We ended up at a Chinese joint and they had jellyfish on the menu. We all tried it for the first time there together and it was freaking delicious."
That memory inspired Warner to create his own jellyfish fish dish, and ever since then "jellyfish" means Thanksgiving for the Food Network star.
"Don't tell anyone it's jellyfish," he advised. "They'll think it is rice noodles. Something to be thankful for, the ability to eat jellyfish."
Recipe: Thanksgiving Jellyfish Salad
4. Turkey Dinner "Sushi Roll"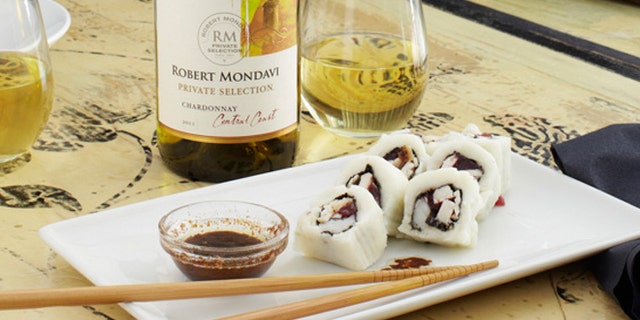 Instead of making yourself a boring, leftover turkey sandwich, try a turkey sushi roll.
"Leftovers are some of my favorite ingredients," Warner says. "They are already made, and the fact that they were worth saving guarantees they taste great."
Swap out the raw fish for cooked turkey and rice for mashed potatoes. Warner even created a soy gravy to dip your roll into.
Recipe: Turkey Dinner "Sushi Roll"