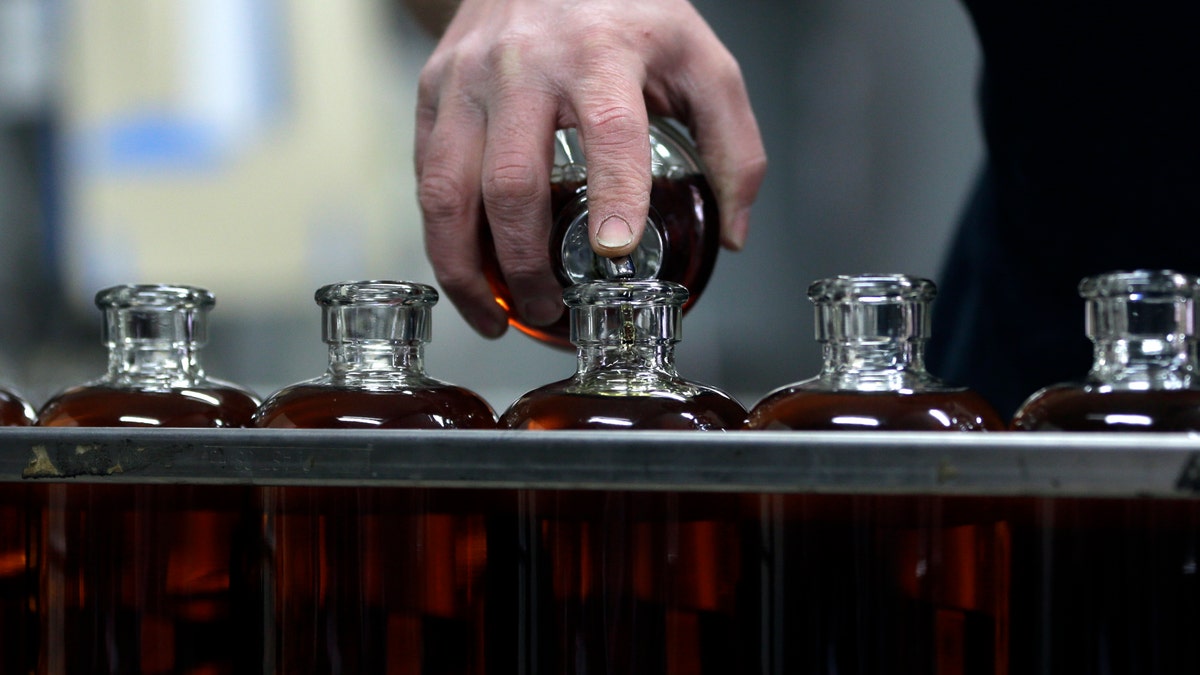 With all the orchards and corn fields that dot the Hudson Valley landscape, Tuthilltown Spirits doesn't have to look far for the grains and apples to make their whiskey, vodka and gin.
The 10-year-old company crafts many of their liquors from ingredients grown no more than a few minutes away, the bounty of the rolling hills that surround it.
"The people who come to our distillery and visit us and see our operation can then drive down the road to the local orchard or the local farm and actually see the materials we've used in the ground," Tuthilltown co-founder Ralph Erenzo said. "Buy a basket of the apples that we've made vodka or gin from, and maybe get a couple of ears of corn."
The process is sometimes referred to as "grain to glass" — the beer-and-whiskey version of the foodie slogan "farm to table." Both phrases imply a connection to fresh, local ingredients. Tuthilltown is part of a larger hand-crafted booze movement that has Wood Creek Distillers in Colorado growing its own potatoes for high-end vodka and Wigle Whiskey in Pittsburgh using local, organic heirloom rye.
"These local distilleries are going to do things again based on the local culture," said Bill Owens, founder and president of the American Distilling Institute. He said the dizzying growth in craft distilleries to about 500 now from around 200 five years ago is driven in part by the desire to connect to local crops and customs.
And he's not talking about farmers making corn mash in a shed.
Tuthilltown is busy operation based in a converted barn packed with three stills, including one with a towering copper silo with portals that makes it look part nautical, part steampunk. On a recent day, a worker hoisted heavy bags of New York-grown corn into a mill next to giant stainless steel fermentation tanks. Oak barrels used for aging were stacked nearby.
Erenzo said their vodkas are distilled from apples grown at local orchards and the whiskeys typically start with local grain. The arrangements not only lend Tuthilltown some of the Hudson Valley's cachet, but makes business sense: it's a lot cheaper to move a couple of tons of grain across town than in from Indiana.
It's also good for farmer Leonard Tantillo, who sells the hometown distillers corn, rye and apples he grows at his family farm nearby. Tantillo, who runs a farm market in Gardiner, said it gives him yet another market to sell what he grows.
And there are other side benefits.
"They give me product at Christmastime or whenever I'm down there," Tantillo said. "'Taste this. See how this is. This is from your farm!' And that's very nice."
Erenzo and Brian Lee started Tuthilltown in 2003 in the shadow of the rocky Shawangunk Ridge about 60 miles north of New York City. They took advantage of a change in state law that created a new, inexpensive license for small producers.
Their first product didn't hit the shelves until 2006, and early sales were from the trunk of Erenzo's car. But they had already made inroads to Europe and Australia when they reached a deal in 2009 with William Grant & Sons, which distills Glenfiddich Scotch, to distribute its Hudson whiskeys in the United States and Europe.
A loosening of longstanding state restrictions also has allowed Tuthilltown to open a store and conduct tastings on site, letting it to take advantage of the tourist trade much like a winery. With its staff of 18, Tuthilltown can produce 700 gallons of product a day.
Tuthilltown is now taking steps to make their sourcing even more local with the planting this spring of 1,500 apple trees on a hill overlooking the distillery.
"Our goal is to have an estate grown apple brandy," Erenzo said.