Dine like the US President on the road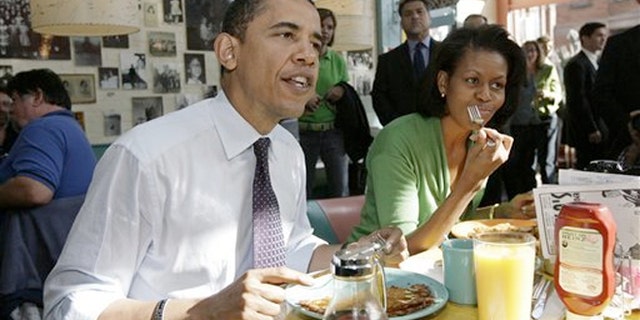 While you may not be able to follow President Barack Obama on the campaign trail, you can travel and eat like he does when he's crisscrossing the U.S.
Ross Babbit, senior vice president of programming at the Travel Channel, shared some of Obama's and former presidents Bill Clinton, George H.W. Bush, and George W. Bush's favorite restaurants, which are featured on the Travel Channel's new special Travel Like a President, airing Tuesday, Oct. 2 at 8 p.m.
Hosted by NBC News correspondent Peter Alexander, Travel Like a President gives an insider look at how the commander in chief travels and what he eats. Planning a weekend away or a simple night out involves as many as 200 hotel rooms, two jumbo 747s, two passenger jets, five helicopters, 35 motorcade vehicles, charter flights for the press, and a cast of hundreds of people involved in the preparation.
Part of the Travel Channel's Travel Like… series, "Travel Like the President" follows Obama to the Waldorf-Astoria in New York City (where every president has stayed since Herbert Hoover), to his homecoming in Hawaii, and to an impromptu trip to Five Guys, but The Daily Meal has the scoop on nine of the presidential palate-pleasing restaurants favored by the first family.
Here are a few presidential haunts worth checking out.
Five Guys (Washington, D.C.)
President Barack Obama enjoys an occasional burger and fries from hamburger chain Five Guys. Obama likes to order a cheeseburger with lettuce, tomato, jalapeño peppers, and mustard.
Corner Kitchen (Asheville, N.C.)
Before President Barack Obama visited Corner Kitchen in Asheville, N.C., an "advance team" called ahead to make a reservation for six. An aide told the restaurant he was going to ask his girlfriend to marry him and requested a private room. The party of six that arrived was Mr. and Mrs. Obama and four of their friends. After ordering corn and crab chowder, mahimahi, baby arugula salad, a fried oyster appetizer, lobster tail, pork chops, and a soufflé, a member of the president's staff went to the kitchen to watch the cook prepare the meal and tasted the food before it was served.
12 Bones Smokehouse (Asheville, N.C.)
When President Barack Obama visited 12 Bones Smokehouse with his wife Michelle, he insisted on going unannounced, standing in line, and paying cash. He ordered barbecue ribs with blueberry chipotle barbecue sauce.
Tex-Mex-Chex
While former President George W. Bush enjoyed eating out, his aides always had a stash of his favorite snack, Tex-Mex Chex. His aides joke that there were always two things within 10 feet of the president at all times: the nuclear football and a bag of Tex-Mex Chex. White House chef Walter Scheib prepared the snack of Chex cereal with hot sauce, pretzels, pistachios, and Mexican pumpkin seeds.
Check out more presidential eateries.
More from The Daily Meal:
Halloween Tricks and Treats Around the World
Best Places to Celebrate Halloween
An Apple's Journey From Orchard to Table