Christian Dairy Queen owner hangs 'politically incorrect' sign in restaurant, sparks controversy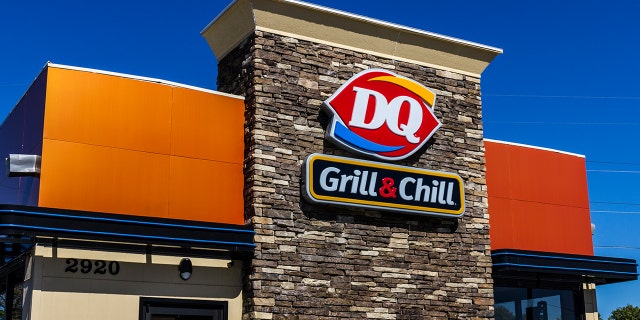 A "politically incorrect" sign at a Dairy Queen in Wisconsin has sparked a controversy, but the owner stands by his decision to display it.
The poster hanging outside the Kewaskum franchise location warns customers that this restaurant is "politically incorrect" and has been known to use phrases such as "Merry Christmas" and "Happy Easter," as well as offering free ice cream to veterans.
It also reads in large letters at the bottom, "In God we trust" and notes that if this information "offends you, you are welcome to contact the owner" so he may "arrange a dedicated 'snowflake safe space' a minimum 24 hours in advance."
"I felt the sign was appropriate to hang in terms of being transparent about the views of the owner and staff supporting God and country," owner Kevin Scheunemann told CBS 58. "It just seems that those kinds of values and principles are becoming controversial in society," he said.
RESTAURANT WORKER CLAIMS JASON ALDEAN'S CREW LEFT A MEAGER TIP, GETS FIRED FOR IT
The sign was hung about four years ago after a customer was upset the restaurant was playing Christian music. After that, Scheunemann decided to post the warning for customers to see before coming inside.
However, the "politically incorrect" sign has gained new attention recently after someone posted a photo of it on the official Dairy Queen Facebook page, writing: "I find this extremely offensive. Please speak with the franchise owner." The post has since been removed, but sparked thousands of likes and shares, according to an NBC affiliate in Chicago.
Since then, Dairy Queen has received comments from people speaking in support of the franchise owner and his right to run his business as he sees fit.
"Corporate. Please do not make a statement that goes against Freedom of Speech and Religion. The 1st Amendment is what makes this country great," wrote one Facebook user.
But not everyone is on Scheunemann's side.
A national spokesperson for Dairy Queen responded to the situation, saying the company "does not encourage our independently owned and operated franchisees to post non-business related messages in their locations or on their external reader boards. The sign expresses the views of this independent owner only and does not speak for ADQ [American Dairy Queen] Corporation or any of our other independent franchise owners. We expect our franchisees and employees to treat every person who walks through our doors with the utmost dignity and respect. Nothing less is acceptable."
FOLLOW US ON FACEBOOK FOR MORE FOX LIFESTYLE NEWS
Despite the seemingly controversial nature of the sign, it has reportedly been great for business, becoming a "huge tourist landmark," according to GoMN.
"I got people driving hours to take a picture with (the) sign," Scheunemann told GoMN.
Scheunemann says he has no plans to take it down.