Blaze a trail through BBQ country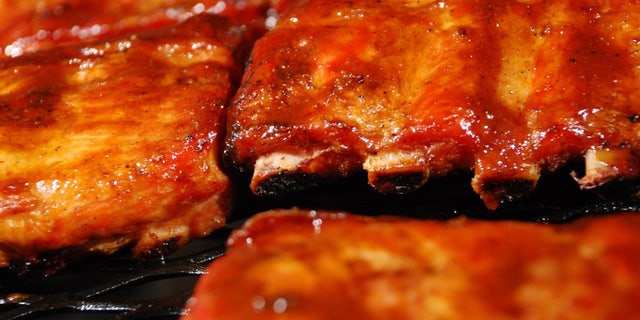 While Americans didn't invent barbecue, we've definitely made it our own. The styles of smoked meats available throughout the American South are as varied as the regions that can claim their own indigenous styles. This summer, blaze a trail through America's barbecue capitals with a road trip as American as bacon-wrapped apple pie.
On this trip, we start in Kansas City, Mo., and travel through St. Louis down to Memphis and Nashville. Then we head east through North Carolina to Charlotte and Raleigh.
Other cities and states are also known for their specialties, but this trail hits on all the big'uns. (Except Texas. We'll get to Texas later.)
Kansas City
Kansas City is a cross-country catch-all of our favorite smoked meats, so you can find everything from beef brisket (typically Texas' domain) to pork ribs (Memphis) and pulled pork (the Carolinas), but the region is best known for its distinctive emphasis on burnt ends – the crusty tips of beef or pork brisket. The sauce of note here is rusty red in color, sweet and spicy with a tomato-and-molasses base, and french fries are a mandatory side with every dish.
Arthur Bryant's BBQ, 1727 Brooklyn Ave., Kansas City
Kansas City is all about brisket, and barbecue aficionados far and wide agree that Arthur Bryant's is the place to get it. This barbecue institution dates back to the 1920s and is often credited with putting Kansas City on the map of American 'cue capitals. Come here for whole brisket smoked in hickory and oak, sliced up and heaped onto Wonder bread sandwiches – or order a pile of meat and loaf of bread separately to build your own. Don't skimp on their signature sauce; dried spice and vinegar give it a nice sting. Also try the pork ribs and burnt ends.
Gates Bar B.Q. 1221 Brooklyn Ave., Kansas City
It is said that a person is either a Gates fan or an Arthur Bryant's fan. But this is America, and it's 2014. You can be a fan of BOTH. While many swear by the burnt ends, the enormous mixed plate platter is enough food for two people for two meals and offers a nice sampling of the menu.
Fiorella's Jack Stack Barbecue, 13441 Holmes Road, Kansas City
Fiorella's is a bit fancier than most of the other barbecue joints on this list, and while some swear that the divier the restaurant the better the 'cue, Fiorella's is up for the challenge. Get the brisket, ribs or burnt ends, and enjoy them with a beer from their excellent craft beer list, or even a glass of wine. Yes, wine! With BBQ!
Honorable mention: Oklahoma Joe's Bar-B-Que, Kansas City
Yes, Oklahoma Joe's is legendary in barbecue circles. And yes, it's in Kansas City – KANSAS. Not Missouri. This is a mistake that gets made quite a bit. With all due respect to you, State of Kansas and Oklahoma Joe's, you're just not a plot point on this particular road trip.
St. Louis
St. Louis-style barbecue refers to the varieties of pork served in the area, typically grilled instead of smoked (which explains why it is not considered an "official" American BBQ region). The eponymous cuts of St. Louis spare ribs, pork steak and pig snouts are big here, and the locals love their thick, sweet, tomato-based liquid smoke sauce.
Sugarfire Smoke House, 9200 Olive Blvd., St. Louis
Sugarfire offers traditional styles of St. Louis barbecue to satisfy purists, but this isn't the kind of BBQ restaurant that's frozen in time or tradition (not that we don't have love for those places that haven't changed a micron since the 1950s). The menu is as chef-driven as it is pitmaster-driven, and serves up "artisan BBQ" and sides that include brisket cheesesteak sandwiches, balsamic smoked onions, smoked fried artichokes with lemon aioli, with a variety of housemade condiments and decadent desserts like their chocolate peanut butter bourbon shake. This is American Barbecue 2.0.
Roper's Ribs, 6929 W. Florissant Ave., St. Louis
For St. Louis-style ribs, head to Roper's. Since 1976 this family-owned restaurant has served St. Louis-cut pork ribs hand-rubbed with their own blend of spices and slow-smoked for 12 hours over hickory wood. They also serve baby back ribs, beef ribs, riblets, rib tips and crispy pig snoots, a St. Louis specialty.
C&K Barbecue, 4390 Jennings Station Rd., St. Louis
C&K Barbecue is take-out only, which just adds to its down-and-dirty charm. And when we say down-and-dirty, we mean you'd better be on board with less "popular" pig cuts before you even bother seeking this place out. They've got pork ribs, beef ribs and pulled pork, but they're known best for serving pig snouts, ears and tripe. Their hot link sandwiches served with potato salad on top are also a specialty. (Barbecue purists will balk over the fact that the meats aren't wood-smoked, so maybe save your rib real estate for somewhere else.)
Strawberry's BBQ, 107 Main St., Holcomb
As you make your way out of Missouri and head into Memphis, Strawberry's is a must-stop for pork steak prepped with a flavorful dry rub and cooked low and slow until the meat is so tender it falls apart under your fork.
Memphis
You can do some serious crash-coursing in Memphis 'cue without ever leaving downtown. In fact, much of it can be done as a walking tour – and you'll welcome the opportunity to work off some of that pork. Memphis is known for pork ribs, wet or dry, and pulled pork. If it's a pulled pork sandwich, it's topped with coleslaw. If it's ribs, they're "Memphis-style" – dry-rubbed baby backs. The "sauce" of choice here is dry rub, but for those who like it wet, the regional preference is a sweet tomato-based sauce.
Charlie Vergo's Rendezvous, 52 S 2nd St., Memphis
Full disclosure: the ribs at Charlie Vergo's Rendezvous are not smoked, but roasted in a coal-fired oven. Rendezvous also uses a dry rub, with sauces available on the side for those who like their ribs doused (more the standard in Memphis). And for those who like a little bit of "atmosphere" with their BBQ, a trip to Charlie Vergo's also requires a walk through an alley past the dumpsters, though that hasn't curbed its tourist appeal. Also try the lamb riblets, and pick up a few bottles of sauces and seasoning to take home.
Jim Neely's Interstate BBQ, 2265 S 3rd St., Memphis
Memphis-style ribs means baby back pork ribs, dry or wet, and Jim Neely's Interstate BBQ is one of the best-known BBQ joints in Memphis. They're also known for two other Memphis barbecue specialties – pulled pork sandwiches and barbecue spaghetti. When in Memphis!
A&R Bar-b-Que, 24 N. 3rd St., Memphis
Some enthusiasts name this the most quintessentially Memphis of all Memphis BBQ joints. Order the succulent, smoky Memphis-style ribs (dry, preferably), the rib tip sandwich or the Memphis classic pulled pork shoulder sandwich served with a pile of slaw on top. (And yes, they also have barbecue spaghetti.) Finish it all off with a slice of caramel cake, a Southern specialty.
Cozy Corner, 745 North Pkwy, Memphis
An order-at-the-counter joint located in a strip mall in uptown Memphis, Cozy Corner is a local favorite. Their specialties are rib tips and smoked Cornish hen, crispy and slathered in tangy barbecue sauce on the outside and tender and juicy on the inside. You can also get a fried bologna sandwich and even more barbecue spaghetti.
Payne's BBQ, 1762 Lamar Avenue, Memphis
If Memphis is the city of pulled pork, Payne's is a house of worship – as barebones as it gets, with little else but the fire pit where they smoke their ribs, sausage and pork shoulder. Get the pulled pork sandwich, piled high with chopped pork, filled with crispy bits and topped with electric yellow mustard-based slaw.
Also check out:
The Bar-B-Q Shop, Central BBQ, Corky's Robs & BBQ, Leonard's Pit Barbecue, Tops Bar-B-Q
Nashville
Between Memphis and Nashville, there are a few stops worth making along the way. Stop by Siler's Old Time BBQ, which cooks whole hogs on-site; Jerry's Barbecue, a true roadside "pit" stop; and Scott's-Parker's Barbecue for a stellar pulled pork sandwich doused with a spicy vinegar-based sauce.
In the city, Nashville is making a name for itself on the national culinary scene for its hipster-approved craft cocktail bars and farm-to-table restaurants. But there still are several places worth visiting on your barbecue pilgrimage across the South. Hit up Jack's BBQ for a side of honky-tonk and rockabilly with your brisket and pork ribs; Mary's Old-Fashioned Pit Bar-B-Que for more Memphis-style 'cue if you're already going through withdrawal; Puckett's Grocery & Restaurant for gourmet grocery BBQ with craft beer and live music (stop by for breakfast and order the "Southern Stack" – a new twist on a traditional BBQ favorite); and Hog Heaven BBQ for "Kickin' Chicken" slathered in their unique white barbecue sauce.
Charlotte, Raleigh and other North Carolina hot spots
Carolina 'cue is pork barbecue, whether pork ribs, chopped or pulled pork shoulder, or whole hog. There are two different styles within the region, "Lexington style" (also called Piedmont style) and "Eastern style." Both use a vinegar-based sauce.
Midwood Smokehouse, 1401 Central Ave, Charlotte
Midwood Smokehouse is another BBQ 2.0 place, with a larger menu serving classic BBQ plates as well as more mainstream barbecue-fusion fare like their "Barnyard Burger" and "Stockyard Tacos." Sauces include South Carolina mustard sauce and Eastern-style vinegar sauce. One of the best things about Midwood, though, is its selection of regional craft beers, because sometimes you need a beer to wash down all that barbecue.
The Pit, 328 W Davie St, Raleigh
The Pit serves authentic whole-hog, pit-cooked barbecue. The hogs used at The Pit are all raised on North Carolina farms using free-range farming practices. The house specialty is the region's classic chopped pork, but the white-tablecloth restaurant also serves items like Texas-style beef brisket and barbecued tofu. Top your meat off with their house-made Eastern-style vinegar sauce or their Western version, made with a little tomato and sugar.
Wilber's Barbecue, 4172 Highway 70 East, Goldsboro
Another whole-hog, pit-cooked North Carolina institution is Wilber's, in operation since whole-hog 1962. The hogs cook for 12 hours, and the pork is then pulled by hand, chopped, moistened with apple cider vinegar and seasoned with red chili flakes. If you get there too early, the hog might not be ready yet; console yourself with breakfast starting at 6 a.m. instead.
Skylight Inn, 4617 Lee Street, Ayden
If you're going to make the whole hog rounds through North Carolina, you need to swing through the Skylight Inn, where it's finely chopped with crispy bits of skin mixed in and served with cornbread and coleslaw.
Lexington Barbecue No.1, 10 Highway 29-70 South, Lexington
Unsurprisingly, Lexington Barbecue No. 1, open since 1962, specializes in Lexington-style BBQ. They only cook pork shoulders and only over oak or hickory coals, and they serve the meat with their vinegary slaw.