Arby's customer helps state trooper fight off attacker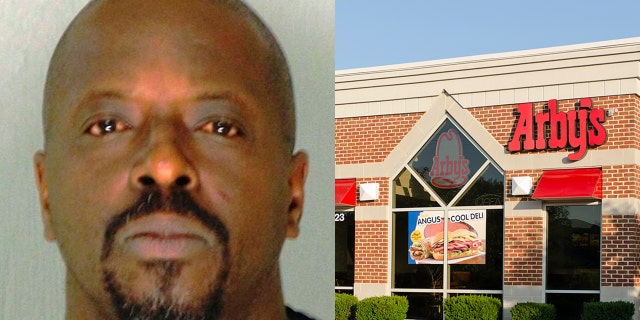 When a Georgia state trooper pulled over a speeding driver and the man turned violent, one brave Arby's customer intervened.
It happened this past Monday in Macon, according to The Telegraph.
Trooper First Class 3 William Schwab stopped Derrick Dewayne Hopkins just after 4 p.m., for driving 59 mph in a 45 mph speed zone. Hopkins, a 47-year-old Macon resident, initially gave Schwab a false name. After the trooper completed a mobile fingersprint scan on him, he realized his true identity and found an active warrant for a parole violation.
CARJACKER MAKES VICTIM DRIVE TO WENDY'S ON WAY TO DRUG DEAL: POLICE
"Schwab removed the driver from the vehicle and placed the right handcuff on, at which point Mr. Hopkins pushed away from him and tried to strike him in the face," Georgia State Patrol Cpl. Michael Burns told the Telegraph. Hopkins tried to run and the trooper deployed his Taser twice, but Burns said the weapon was "ineffective."
As the two men continued to fight on the ground, a man eating at a nearby Arby's rushed to Schwab's side. Passersby also called 911, and Hopkins was soon arrested.
SHAMROCK SHAKE RETURNS TO MCDONALD'S
Charged for aggravated assault against a law enforcement officer, interfering with government property and making false statements, Officer.com reports that Hopkins was transported to Bibb County jail. Hopkins was soon moved to Coliseum Northside Hospital for high blood pressure, and later to the Law Enforcement Center.
FOLLOW US ON FACEBOOK FOR MORE FOX LIFESTYLE NEWS
After the brawl, Schwab's uniform was ripped and bloodied. His whistle chain was also broken, and his hat bent in the process of attempting to handcuff Hopkins. Burns said that Schwab was treated by EMS at the scene for injuries sustained to his hands, knee and scrapes on his arms.
"He is still very sore and his hands are swollen," Burns said.