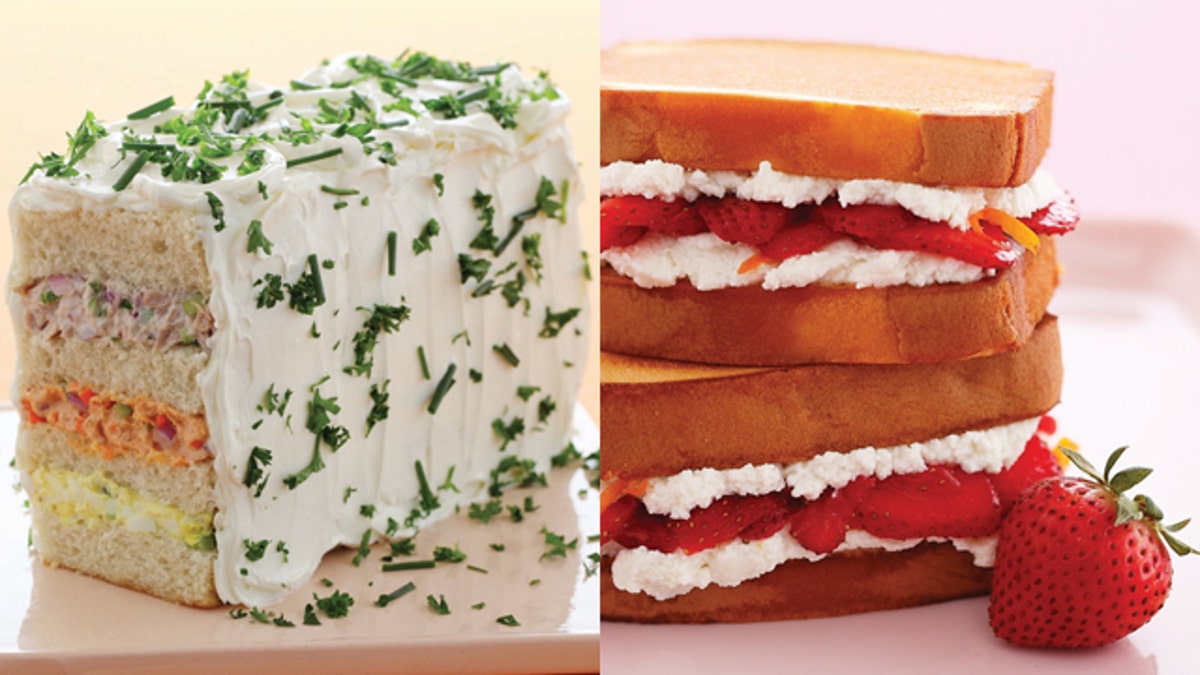 In 1762, the fourth Earl of Sandwich demanded a handheld meal so he could simultaneously gamble and eat. He received a slab of meat between two slices of bread, creating the first "sandwich." Americans owe the Earl additional thanks, as his incompetence as First Lord of the Admiralty (1771-1782) contributed greatly to America's victory in the Revolutionary War.
Although they're named for English nobility, many of today's most popular sandwiches started as hearty, inexpensive ways to sustain America's working-class men. What we now call "submarine" sandwiches originated as a way to feed early 20th century shipyard workers. "These hefty, meaty, muscular sandwiches originated with Italian-Americans," says The Encyclopedia of Sandwiches author, Susan Russo, of the long, tubular rolls filled with basic Italian cold cuts, cheese and condiments. They're known as "heroes" in New York, "hoagies" in Philly, "grinders" in Rhode Island, "muffalettas" in New Orleans and "Italian sandwiches" in Maine. The evolution of the long-crusty-roll-with-substantial-filling continues with things like Chicken Parm, Po' Boys, Meatball Heroes and Philly Cheesesteaks, among others.
Russo also points out new creations like the Spaghetti Sandwich, a carb-bomb of leftover spaghetti and sauce piled on a roll; the Japanese top it with corn. In the availability-is-the-mother-of-invention category, Fall River, Massachusetts' Oriental Chow Mein Company created the Chow Mein Sandwich, chow mein ladled over noodles on a hamburger bun. Russo points out that every Doughnut Sandwich, including Paula Deen's gross-tastic bacon-and-fried-egg-topped burger, uses a glazed doughnut base. Russo's recipe calls for ham, American or Swiss cheese, fruit preserves or spicy mustard and one glazed doughnut, halved lengthwise. The fries-inside concept may have started with England's Chip Butty, a hot wad of fries slipped between two thickly-buttered slices of white bread. And though it sounds like something your third-grader made up, the Toasted Chocolate Sandwich actually appeared in a 1938 recipe collection from an Idaho ladies auxiliary group: it's a broken-up Hershey Bar between two slices of warm, crunchy toast.
Napoleon once said that geography is destiny. The same goes for sandwiches. Where we live determines what we eat. The Chicken-Fried Steak sandwich, "Texas on a Bun" is rooted in wiener schnitzel, the breaded veal brought by the German immigrants to the Lone Star State. The Hot Brown, a broiled open-faced turkey and bacon sandwich with Mornay sauce (a cheese sauce, lightened here with whipped cream) is Kentucky's signature sandwich. Minneapolis' Jucy Lucy is an inside-out cheeseburger, and the "pride and joy of the Midwest," the unappetizingly dubbed Loose Meat Sandwich, is a sauce-less Sloppy Joe. Pittsburgh's Primanti, a pile of pastrami, turkey, roast beef or corned beef or a ground beef patty with provolone, fries, and coleslaw on thick-cut Italian bread must have inspired the fries/meat/cheese sauce gut-bombs of Portland, Oregon's Big A** sandwich cart.
There are seasonal sandwich variations, too. Lobster Rolls just scream summer says Russo, "like a baseball game, they're a rite of summer and the best place to get them is a seaside shack." Typically it's lobster salad made with mayo, lemon juice, celery, scallions, and a few dashes of hot sauce on a toasted, buttered hot dog roll. There's also the hot version: warm lobster meat heaped on a toasted, buttered bun served with melted butter on the side.
Because they're the iconic food of Italian Street Fairs and East Coast baseball parks, says Russo, Grilled Sausage and Peppers are always associated with summer fun, going down well with a Narragansett Beer or a Sam Adams. The Fried Green Tomato BLT swaps out beefsteak tomatoes for that Southern staple, green tomatoes dredged in cornmeal and fried. "You eat this on your porch with a glass of sweet tea and it transports you to somewhere in the South," says Russo.
Prosciutto and Fig is the ultimate gourmet summer sandwich. The dry, salty, rich smoked Italian ham contrasts perfectly with sweet, soft, succulent figs. The Poundcake Sandwich lets kids make something they'll actually eat. Set out cake slices, bowls of whipped cream and macerated berries, fresh berries sprinkled with sugar and refrigerated for a few hours until a little syrupy.)
Perhaps best is the Sandwich Loaf, a sandwich masquerading as a layer cake. It's an entire loaf of bread that's been cut into four horizontal slices that are buttered then filled with layers of egg salad, deviled ham and pimento cheese. After stacking, you "frost" it thickly with cream cheese. It gets better—daring 60s housewives sometimes tinted the cream cheese green, blue or red.
----------
Sandwich Loaf
This large multitiered party sandwich masquerades as a cake and makes more than enough to feed a crowd. It consists of an entire loaf of bread that is horizontally sliced and filled with creamy spreads such as tuna salad, egg salad, deviled ham, and pimiento cheese. The finished sandwich is—no kidding—frosted like a cake with cream cheese that is typically tinted a festive
shade of green, blue, or red. Like a party cake, the loaf is decorated with colorful garnishes,
including radish roses, fresh herbs, and olives. It became a popular party dish in the 1950s but
generally fell out of favor after the 1970s. Is it a garish monster of a sandwich or a charmingly
kitschy party snack? You decide.
INGREDIENTS
1 (1-pound) loaf white bread, preferably day-old
1⁄2 cup (1 stick) softened butter,
or more as needed
6 cups total creamy salads and/or spreads
(use 2 cups of each)
FROSTING
2 (8-ounce) packages cream cheese
3 to 4 tablespoons milk, or as much as needed
A couple drops of green, blue, or red food
coloring, optional
Your choice of garnishes, optional
1. Using a serrated knife, trim crust from bread. Slice loaf lengthwise into 4 equal slices. Generously butter 1 side of each slice. Place the bottom bread slice on a serving platter, buttered side up. Spread a filling evenly on the slice.
2. Top with the second bread slice, buttered side up, and spread an even layer of the next filling. Top with the third slice, buttered side up. Spread the last filling evenly on the slice and top with remaining bread slice.
3. Stir together cream cheese and milk until mixture is thick yet spreadable. Stir in food coloring (if using). Frost sides and top of loaf and decorate with garnishes (if using). Chill until frosting is set, about 30 minutes. Slice, serve, and party! Makes 14 to 16 slices
Pound Cake Sandwich
The ultimate dessert sandwich
A pound cake is a buttery white cake with a golden crust. Its name was derived from the measurement of ingredients traditionally used: one pound each of flour, butter, sugar, and eggs, according to British and American cookbooks dating back to the 1750s. As for the Pound Cake Sandwich, it was most likely invented by ingenious moms and grandmas looking for ways to use up leftover slices of cake. It is currently back in vogue thanks to celebrity chefs such as
Gale Gand and Martha Stewart, who have offered their own sweet versions. This delightful
snack is made by buttering and grilling two thick slabs of cake and sandwiching sweet ingredients, including whipped cream, fruity cream cheese, and melted chocolate
MACERATED STRAWBERRIES
2 to 21⁄2 cups fresh ripe strawberries, thinly sliced
1⁄4 cup sugar, or to taste
3 tablespoons orange juice
Zest of 1 small orange
1⁄4 teaspoon pure vanilla extract
About 2 tablespoons butter, divided
1 pound cake, sliced thin
1 (8-ounce) container whole-milk ricotta
or mascarpone
1. A few hours beforehand, prepare strawberries: In a glass bowl, combine all ingredients for macerated strawberries. Toss well. let rest at room temperature at least 2 hours.
2. Butter both sides of cake slices. Place on a hot buttered griddle; cook 2 minutes per side, or until golden. Remove from heat. For each sandwich, spread 2 tablespoons ricotta on 1 slice of grilled cake, top with a spoonful of berries, and close sandwich. Serve warm. Makes 4 to 6, depending on the thickness of the bread.
Frozen strawberries can be substituted for fresh; just reduce the amount of orange juice since frozen berries will release more liquid.
Fried Green Tomato BLT
Secret's in the sauce
Of all the variations of a BLT, perhaps the most famous is the Fried Green Tomato BLT. An
iconic Southern twist on the original, this combination swaps ripe juicy beefsteak tomatoes for
tangy unripe green tomatoes, which are dredged in cornmeal and fried until golden and crisp.
In addition to the bacon and lettuce, many Fried Green Tomato BLTs are served with herb
mayonnaise and melted mozzarella cheese.
Ask most folks and they'll tell you that fried green tomatoes are as richly Southern as collard
greens, black-eyed peas, and sweet potato pie. So it may come as a surprise to learn from
respected food author and historian Andrew F. Smith that the first published reference to them
appeared in an 1835 issue of New England Farmer. Whatever their birthplace, these tart fried
treats have become a gem of Southern cuisine, one whose popularity grew with the 1991 film
Fried Green Tomatoes. Today Southern eateries are still the best places to get authentic versions of this regional specialty, served up with charm.
1. In a small bowl, combine mayo and basil; set aside. In a medium bowl, whisk egg and milk; set aside. Place flour in a shallow bowl; in a separate shallow bowl combine cornmeal, salt, and pepper. One at a time, dredge tomato slices in flour, coating both sides, then dip in milk-egg mixture, allowing excess to drip back into the bowl. Coat evenly with cornmeal.
2. In a small pan, fry tomatoes in canola oil at 350ÅãF until golden brown. Place on a papertowel-lined plate.
3. Spread basil mayo on both bread slices. Place lettuce on 2 bread slices and cover each with a tomato slice. Add cooked bacon to both sandwiches and close. Cut sandwiches in half on the diagonal. Y'all make sure to serve your fried green tomato BlT with a tall glass of cold sweet tea. Makes 2
INGREDIENTS
2 tablespoons mayonnaise
1 tablespoon fresh basil, minced
1 egg
2 to 3 tablespoons whole milk or buttermilk
1⁄4 cup all-purpose flour
1⁄4 cup cornmeal
1⁄4 teaspoon salt
1⁄2 teaspoon freshly ground black pepper
1 large green tomato, sliced into 1/2-inch-thick
rounds
1⁄2 cup canola oil
4 slices white or wheat berry bread, toasted
4 lettuce leaves
8 cooked bacon slices
For variety, try adding a few slices of mozzarella or substituting regular bacon with Canadian or applewood-smoked bacon.