4 deliciously different organic meal delivery services
There are so many meal prep services that claim to take the hassle out of planning, shopping and cooking a meal, it's hard to figure out which one is the best.
I picked four companies to find out which ones worked for me: a single woman, working in New York, living in New Jersey.
All claim to have carefully crafted menus that change regularly and most meals that don't need additional prep. (That sounded great for easy work-week lunches.)
While most of them were carefully packaged -- ready to eat or heat-- and easy to order, each had their own distinct qualities. Find out which ones could work for you.
1. Sakara Life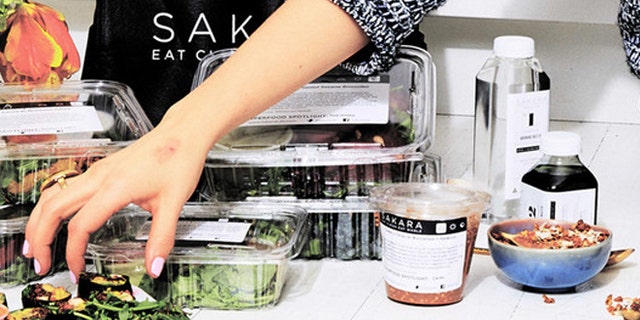 Best for: A person who is conscious about gluten-free eating.
Price: Starting at approx. $99 per day, ordered in 1,5, or 20 day increments (the price decreases when you order longer program packages)
Delivery locations: All five NYC boroughs, select N.Y., N.J. and Connecticut counties, Boston, Providence, R.I., Washington D.C., Philadelphia, Los Angeles, Orange County, Calif., San Diego, and Santa Barbara.
Most of us struggle with balance, especially in our diets. Danielle Duboise, and Whitney Tingle, both 29, co-founders of the Gwyneyth Paltrow-endorsed, organic, vegetarian food delivery service, Sakara Life, set out to help people find that balance. With their beautiful packaging to their delicious detox tea and meals, I got the chance to try their meals out for five days. One of the things that impressed me was how lovely each meal looked after traveling to my front door. The menu changes weekly, but my favorites were the hand-crafted salads and the Superfood Sweet Potato Bowl. I am also a huge fan of the detox tea that you receive with each delivery. But it would be pretty pricey to use this on a regular basis.
2. Provenance Meals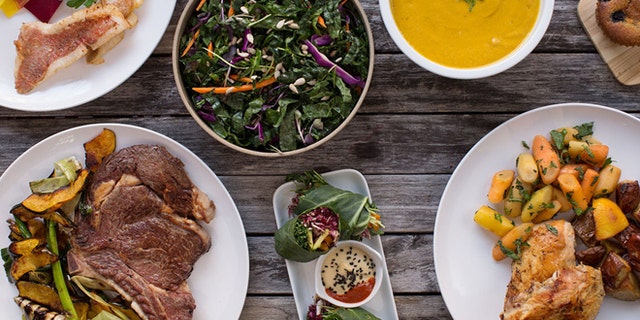 Best for: A person who prefers smaller portions. Paleo, vegan, and gluten free options available.
Price: Meals range from $6.00-$28, but if you purchase a bundle, you will save.
Delivery locations: Delivery only to select New York City locations: All of Manhattan, and to Brooklyn and Queens (within a 4 mile range of the East River bridges.)
Provenance Meals crafts organic gluten-free meals and I tried out Meal Box for One, which includes four single-serving dinner dinners, one breakfast item and one lunch item. After my box arrived to my New York City office (they don't deliver to NJ as of yet), I first noticed how beautifully packaged the food looked. I then noticed the fresh baked box of Zucchini Carrot Muffins (that was breakfast) sitting right on top. I couldn't wait until, so I dug in for my afternoon snack. So moist, and flavorful, this muffin was one to brag about. The other meals in the box looked fresh and green. I ate the dinner portions for lunch because they were not any larger than my usual lunch. All of the food, especially the Turkey Burger, and the Kale Salad were great. My one of many favorite things about these meals were the salad dressings, which add a nice touch of spice. Now if they could just deliver to New Jersey, and beyond. What really distinguishes them from other services, is that their food is organic, 100% gluten and dairy free, and locally and sustainably sourced from local farms and purveyors.
3. Factor 75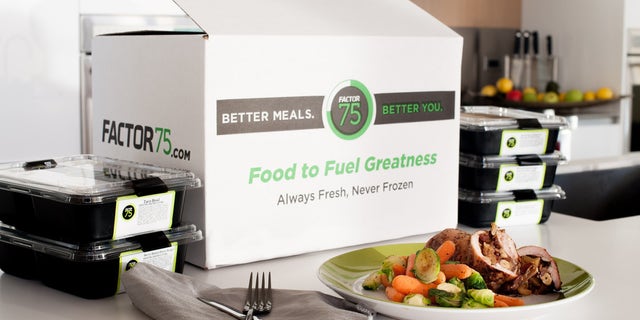 Best for: A person who might be on a regimented diet, workout plan, or counting their macronutrients.
Price: Meals range from $6.95 to $13.95
Delivery locations: They deliver to all 48 continental states
Factor 75, named for the fact that 75 percent of our personal fitness comes from what we eat- is similar to the other meal delivery services in that the ingredients are fresh and never frozen. But this service stands out from the rest for its macronutrient counting labels on the top of each meal box. Macronutrients are the three major things that the human body needs to function properly: carbohydrates, proteins, and fats. If you are into fitness, or are looking to keep within a "macro" diet, this plan is perfect for you. I do not follow this type of regimen, but I found it really helpful to know what was going into my body with each meal. When I received my large Factor 75 meal box, I was impressed to see that the food, packed in ice, was still cold after sitting outside my apartment door all day. Once I emptied the box, I was struck by how approachable the dishes were. If I had to choose, my favorite meals were the lamb meatballs, and the artichoke salad, but I enjoyed trying them all.
4. Munchery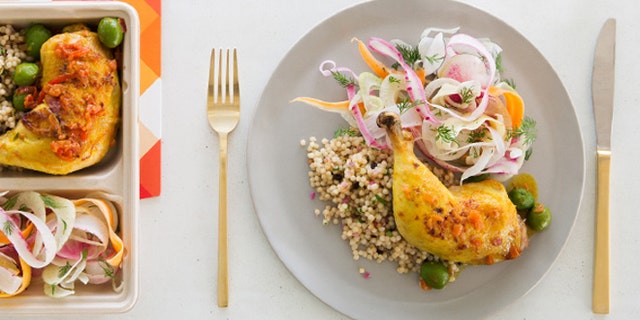 Best for: A person who enjoys a more hearty meal, but still wants to be conscious of calories.
Price: Meals range from $9.95 to $15.95
Delivery locations: San Francisco Bay Area, Seattle, Los Angeles, New York
Munchery is an organic meal delivery service with a social conscious. Every time you order, they donate to a local food bank with their Order a Dinner, Give a Dinner plan.
Dishes are designed by top local chefs, who often come from Michelin-rated restaurants, like Le Bernadin and Daniel, who incorporate user feedback into their cuisine. There are more than 40 items available for each day's selection, including a kids' menu for families, sides, desserts and beverages (such as wine, beer, Champagne and coffee). There are vegan, vegetarian, gluten-free, paleo and dairy-free options to allow you cater to your entire group, and menu items change weekly.
Munchery was not able to deliver to New Jersey, so I received two meals at my office. I immediately noticed the cookie on top of the brown bag, which I had to taste. The Ancho Chili Sloppy Joe and the Atlantic Salmon Burger were beautifully prepared and came with all of the trimmings. Munchery understands quality ingredients. This is the closest thing to fine dining at home, but you may not want to eat it every night.