Zoe Saldaña Talks Going Green For Marvel Comics' 'Guardians Of The Galaxy'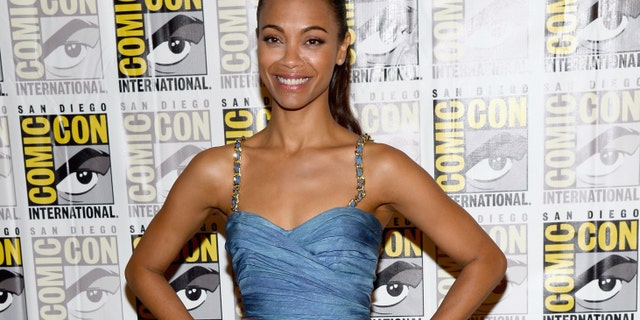 Zoe Saldaña is no longer feeling blue. Instead she is embracing a new color of the rainbow for her role in "Guardians of the Galaxy."
While at Comic-Con, a comic book convention in San Diego, the actress spoke about portraying green-skinned alien Gamora in the new Marvel Comic film after going blue in James Cameron's "Avatar," a role she's expected to return to for sequels.
"Well, the rainbow has a lot of colors," Saldaña said. "I dig it. I like being in space. I get to play less girlfriends, more female parts, more women. So I find it meaty."
"It's a testament to how creative the people that conceive supernatural and science-fiction kind of stories," Saldaña, 35, said of her love for the genre. "They're able to build something out of nothing by just imagining it. I have a huge fascination with that."
"You need to be really, really special to do that. So I like being with special people," Saldaña added, referencing filmmakers JJ Abrams, who created "Star Trek Into Darkness" in which she also starred, along with "Guardians" director James Gunn and Cameron.
Chris Pratt is among Saldaña's co-stars in "Guardians," which had been filming for just a few weeks in the U.K. before its actors dropped in to show fans footage at Comic-Con.
Pratt plays Peter Quill, an interplanetary gunslinger known as Star-Lord who assembles a team of aliens to do battle. His character's wit and rebellious spirit has been compared to another planet-hopper, Han Solo.
"You can make the comparison, that's for sure," Pratt said, acknowledging that like "Star Wars," ''Guardians" — set for release next summer — is "a big space opera."
Saldaña was more emphatic: "It's an awesome comparison. Are you kidding me? Harrison Ford!"
But Pratt, 34, said he has more pressing concerns as he returns to set.
"I just feel like, I'm hoping every day that they're not going to fire me," he said. "I'm like, 'So you saw dailies yesterday and I still have my job?' They say 'Yeah!' So for now I do."
Based on reporting by The Associated Press.
Follow us on twitter.com/foxnewslatino
Like us at facebook.com/foxnewslatino