Zara Tindall makes herself comfortable at royal wedding, Twitter notices her bored look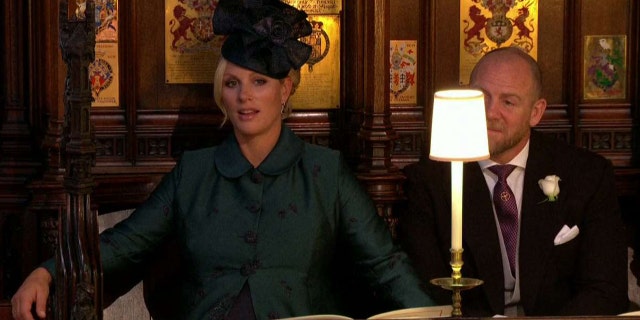 NEWYou can now listen to Fox News articles!
While Meghan Markle was surely the star of her royal wedding day, there was another royal who seemed to have stolen the show.
Zara Tindall, a British equestrian and the daughter of Princess Anne -- the daughter of Queen Elizabeth -- and the queen's second-eldest grandchild, made headlines at the royal ceremony after making a royally bored face.
The young royal attended Prince Harry and Markle's wedding with her husband, Mike Tindall, and the couple made a scene in the chapel seats.
Tindall, who donned an embellished green outfit with matching hat, seemed to be somewhat uninterested during the ceremony. Tindall and her husband were snapped looking less than pleased during Bishop Michael Curry's wedding sermon.
The viral footage of the equestrian's expression made waves on social media.
One user wrote, "That's it. Zara Tindall wins best facial for 'WTF is going on y'all.'"
Another said, "We're all Zara Phillips."
Some Twitter users argued that she was making the face at the Bishop.
Other's just thought the face was Tindall being Tindall.
Also during the ceremony, Tindall's husband used the time to show some affection toward his pregnant wife. The former rugby player was caught rubbing his wife's stomach on camera.
According to the Daily Mail, the 37-year-old is now eight months pregnant and joked that she required a 'few fittings' for her royal wedding ensemble.
But despite being a month away from giving birth, Tindall was still able to deliver a fierce wedding ceremony face.