Yvonne Strahovski bares almost all in Sobe campaign, reveals unique talent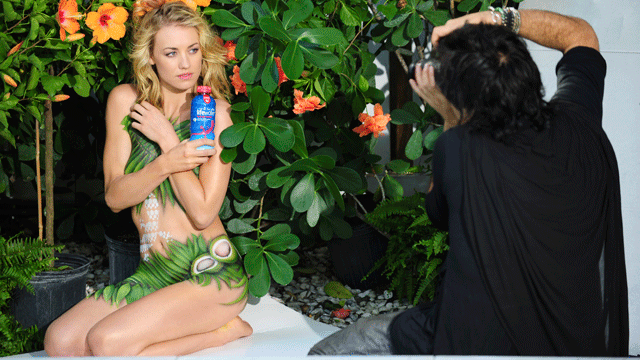 Yvonne Strahovski's usual occupation involves kicking butt as a CIA agent on NBC's "Chuck," but now that the Australian-born actress has wrapped the fifth and final season of the action/comedy/drama series, she celebrated by baring (almost) all in a daring photo shoot for SoBe Lifewater with Coconut Water.
"It was a fun shoot," Strahovski told Fox411.com of being photographed in the nude, save for some strategically applied paint. "It really felt like a bit of a mini holiday."
Strahovski, who spent six hours getting painted by artist Rodrigo Piedra, said that the shoot was the most revealing of her career. "I've never had palm fronds and coconuts painted on my body, but it was pretty cool," she said. "It felt like I was wearing something anyway, because the paint covers all of the important bits – it's just a little breezier than wear a regular suit."
HOT SHOTS: Behind the Scenes at Strahovski's Sobe Campaign.
The blonde bombshell had to prepare her body for the one-of-a-kind paint job. "You have to get waxed–because the paint brings up everything on your skin, including hair, so you have to remove everything–all of the peach fuzzy bits," she said.
And to insure that there was no hanky-panky in the painting studio, Strahovski had a very capable chaperone.
"(Piedra) brought his mother along with him to make me feel more comfortable while he painted me," Strahovski explained. "It was pretty funny – she didn't actually speak English, but she was telling me all of these stories, and I was just nodding and laughing. It was a good distraction!"
The two-day shoot, which was photographed by Raphael Mazzucco on Isla Morada in the Florida Keys and at the Shore Club in Miami's South Beach, required that Strahovski sleep overnight in her unique skinsuit. "It got a little messed up, the paint got a little crumbly," she confessed. "But then the artist went over it the next day to make it look fresh, beautiful and realistic. It really looks like coconuts and palm fronds on my body–it's crazy!"
Strahovski's photo spread is the third installment of the SoBe skinsuit series, and will appear exclusively in the 2012 Sports Illustrated Swimsuit edition, hitting newsstands on February 14.
Naturally, Strahovski is a huge fan of the new SoBe Lifewater with Coconut Water. "Pomegranate Nectarine is one of the flavors, then there's Mango Mandarin, which is my favorite, and Pacific Coconut," said Strahovski. "I've tried coconut water straight up before, and to me, it's a little funky. I like that SoBe has come up with these new flavors and made it taste really good."
Strahovski, who just finished shooting "I, Frankenstein" with Arron Eckhart and is awaiting the November release of "My Mother's Curse," costarring Barbara Streisand and Seth Rogan, can't quite believe that she gets to work with Hollywood's heavy hitters.
"I was pretty nervous when I met Robert DeNiro," Strahovski said of working on "The Killer Elite" with the acting legend. "I kind of felt like a kid in a candy store for the first time. I couldn't wipe the grin off of my face. But Bobby DeNiro was really, really sweet and made me feel very comfortable. He's very low-key and just a superstar professional, and totally someone to be admired."
Along with her impressive acting skills, Strahovski admitted to another unique talent. "I can put my legs behind my head," she said. "That's a fun fact that not a lot of people know!"
They do now.
You can join in the #sobeskinsuit conversation at @sobe on Twitter.