Will Ferrell Awakens Latino Side in "Casa de mi Padre"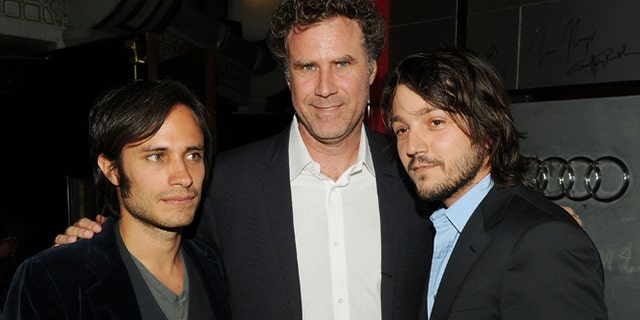 "No señor, no hablo Americano" is one of the many lines comedian Will Ferrell has in his new comedy "Casa De Mi Padre" where he speaks Spanish on-screen throughout the entire movie.
Ferrell, who is one of the most popular comedians of our time, is known for taking risks with his larger- than-life characters such as Ron Burgundy in "Anchorman" and Ricky Bobby in "Talladega Nights."
Partying in Miami's Calle Ocho Carnival
It was not surprising to imagine Ferrell as Mexican rancher Armando Alvarez, facing financial strains and a heated sibling rivalry with on-screen brother, his hermano Diego Luna.

Fox News Latino talked to the cast of "Casa de mi Padre" including funnyman Will Ferrell, who not only came up with the movie idea, put also produced and starred in a role that required him to speak Spanish.
The first thing Ferrell did was hire a dialogue coach.
San Diego Latino Film Festival Buzzing Flicks
"We started working a month before filming and meeting three to four times a week," Ferrell said. "We would drive to set together and drive home together."
During the movie's press tour, Ferrell told us he got the idea for the flick from watching telenovelas when he would flip channels at two o'clock in the morning.
"It's such a heightened funny world," Ferrell said. "You never see an American comic in a foreign language film and have them commit to it in a way that's believable."
Celebrities Who Once Were Undocumented
Never taking himself too seriously, Ferrell confesses that "the movie is an homage to Mexican spaghetti westerns," and "an homage to bad movie-making."
"It's an homage to bad over-acting," he added.

For Luna filming "Casa de mi Padre" has been a wild ride.
"This is the craziest film ever," Luna told Fox News Latino. "[It is] the weirdest project and the most unique one," he added.
"When I read it, I didn't think this was really happening."
The comedy, a satire on telenovelas, also has a slight political message.
Rio's Spectacular Carnival Parade
It makes a lot of fun of the American culture," Luna continued. "It talks a lot of the perception that we Mexicans have sometimes of Americans, and that Americans sometimes have of Mexicans."
Ferrell agreed with Luna saying the film has "a strong point of view."
"To comment on Mexicans perceptions of us and vice versa, was a fun thing to get to do," said Ferrell. "It sneaks up on you in a movie like this amidst all the fun."
The movie also provides plenty of shootouts, a sexy, romantic love scene, and lots of stuffed wild animals. Filmed entirely in Spanish with English subtitles, the flick translates to lots of laughs.
"I needed something like this to relax," said Luna. "Some of the films I've worked on have been a painful process but this was fun."
As for Ferrell, this was an exciting project.
Playboy Feud Divides Mexicana Flight Attendants Turned Calendar Girls
"This ranks up there as one of the craziest things I've gotten to do, so you can only be so lucky to be in a position to take risks like this."

"Casa de mi Padre hits theaters March 16.
Naibe Reynoso is a freelance reporter in Los Angeles, California.
Follow us on twitter.com/foxnewslatino
Like us at facebook.com/foxnewslatino