Why doesn't Hollywood want a Wonder Woman film?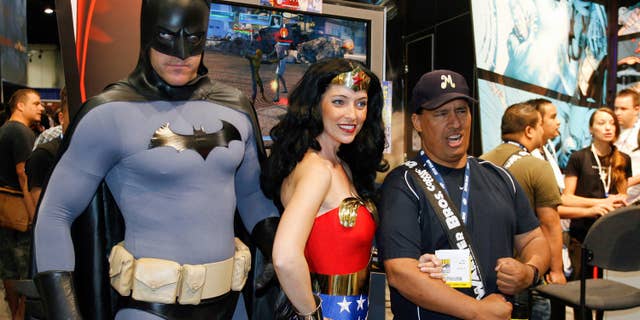 LOS ANGELES – We've seen lots of Spiderman in recent years, plenty of Iron Man, as well as Thor, Captain America, Wolverine, Superman and Batman. We're even going to see Superman and Batman together.
So where is Wonder Woman? And why hasn't the most famous female super hero (sorry Catwoman) gotten her own Hollywood blockbuster?
DC Entertainment Chief Diane Nelson recently said that a Wonder Woman movie has been one of the "top three priorities" at the Warner Bros.-owned filmmaking division for some time, but so far she's gone nowhere.
"She doesn't have the single, clear, compelling story that everyone knows and recognizes," Nelson told the Hollywood Reporter. "There are lots of facets to Wonder Woman, and I think the key is, how do you get the right facet for that right medium? What you do in TV has to be different than what you do in features…We are still trying right now, but she's tricky."
There has been an array of failed attempts to bring her to the big screen in recent years. None other than 'The Avengers' director Joss Whedon was hired to write a screenplay for Wonder Woman and possibly direct, but the studio later chose to not move forward. In 2007, Warner Bros. bought a spec script for a Wonder Woman film that set during World War II but it failed to advance. They instead gave David E. Kelley the green light to produce a pilot for a Wonder Woman TV series that was not picked up. More recently, a "Smallville" style Wonder Woman series was shelved at the CW, and on the DC Universe Animation side, a critically-acclaimed, straight-to-DVD Wonder Woman movie voiced by Keri Russell was released in 2009. But despite critical acclaim, it ended up faring poorly in the sales department.
The instantly recognizable red, white, and blue costume donning brunette remains one of the most successful comic characters of all-time. Not only did Wonder Woman manage to survive the super-hero crash of the 1950's when many comics went belly up, she still manages to sell more than $1 million a year in comic book sales, and ranks within the top 30 titles per month. So what gives?
"A Wonder Woman movie has the potential to be huge thanks to the comic books and a deep, nostalgic fondness generated by the Lynda Carter TV show," said entertainment and pop culture expert Scott Huver. "But the wrong approach could be disastrous. The character carries a lot of goodwill, and is more than just a super hero property – she brings with her feelings about female empowerment and even feminism, which become even more difficult given the conflicted issues regarding her highly-sexualized visual image."
Indeed experts say one of the biggest problems surrounding a modern day Wonder Woman rests in the wardrobe department.
"Her costume is dated in a way that makes new audiences reject her ,and traditional audiences get angry if it is changed. DC tried to change it with one of its top creator/artists, Jim Lee, but fans had mixed feelings… She just doesn't have a fresh coolness," said film producer Madison Jones. "Females would be her biggest target audience and girls traditionally are not the largest market for super heroes. There aren't a lot of guys who will rush to see a Wonder Woman movie."
That may be true.
"No superhero film based on a comic book with a lead female character has done well at the box office with the possible exception of 'Kick-Ass' and 'The Avengers,' but a case can be made that neither Hit-Girl or Black Widow (from those two movies, respectively) are the lead characters," said Jami Philbrick, managing editor of movie news site iamROGUE.com. "The same can be said for Invisible Woman in the 'Fantastic Four' franchise, and the female characters in the X-Men. Both Electra and Catwoman were huge bombs, and for this reason I think DC has been weary to move forward with Wonder Woman."
But according to writer and former casting director, Mirren Lee, the reason we are yet to see Wonder Woman take a title role is pretty simple.
"I think they have never solved the casting problem (so many people to please) and more importantly, they haven't been able to decide on which Wonder Woman to portray," she explained. "The one I grew up with whose slogan 'Bullets and Bracelets' is unknown to today's generation, and then theirs is the one from the current comics."
Some say its misogyny that is stopping her release, others claim its laziness, but DC Comics writer Grant Morrison said people "have just convinced themselves" that she's too hard to develop.
"There are certain attitudes that have been around for a while, and I think people just don't question them anymore, and things like Wonder Woman always fall prey to it," he told USA Today last month. "I think you could have easily made an amazing Wonder Woman film if you had Angelina Jolie in her prime doing it."
There are however rampant rumors that a Justice League movie is in the Warner Bros. pipeline for a 2017 release, which would place Wonder Woman alongside Superman, Batman, Aquaman, Flash and Green Lantern. Although it would be a long time coming, that could be the best bet for a Wonder Woman blockbuster.
"If that film is successful, and done right, then you can make franchises for the characters that audiences respond to," added Philbrick. "And hopefully, Wonder Woman will be one of them."
A rep for Warners Bros./DC Entertainment declined to comment on the future of Wonder Woman related films.