Travis Barker reportedly suing bus driver, doctors for forcing him to miss drumming gigs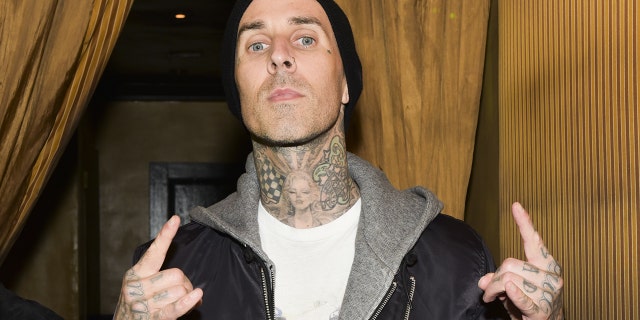 Travis Barker is reportedly suing those responsible for recent medical issues that have prevented him from touring and drumming with his band, Blink-182.
The 42-year-old has targeted a bus driver that struck his SUV in California in July as well as a medical office for allegedly giving him a staph infection.
TMZ reports that Barker is suing a school bus driver and bus company after its driver allegedly made an illegal left turn that caused a collision with his car in Calabasas this summer. It's unclear how much the star is asking for in either lawsuit, but the outlet reports the amount will likely be a lot given that the injuries suffered have caused him to miss shows with the band and turn down numerous others.
As previously reported, Barker suffered a staph infection this summer, which he claims happened when he visited the Medical Imaging Center in Santa Monica. He came in for a routine checkup and MRI prior to his upcoming tour. However, when technicians had difficulty finding a vein, they reportedly stuck him more than 40 times before they got it right. Barker's lawsuit allegedly claims that a dirty needle was used, leading to the infection.
"Drumming is my life and it kills me that I can't perform for you guys this weekend. I hope to be back as soon as I can," Barker said in a statement accompanying a show cancellation at the time.
Representatives for Barker had no additional comment when reached by Fox News.