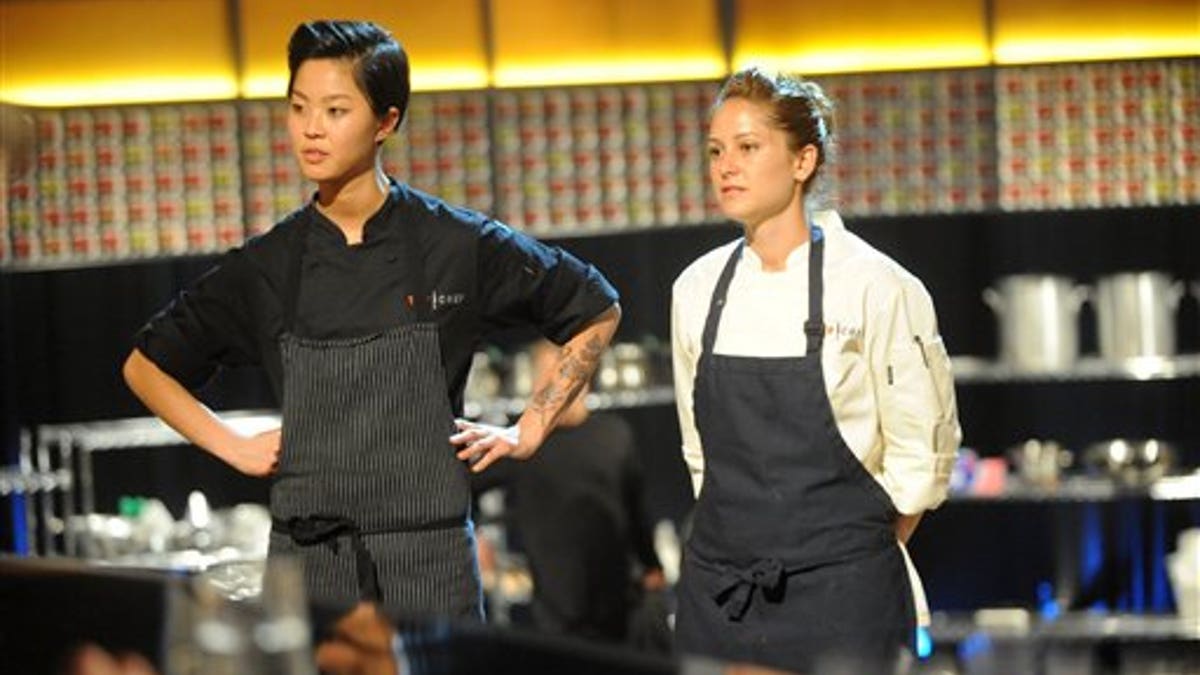 Kristen Kish made winning the "Top Chef: Seattle" finale look easy.
In reality, preparing her five-course meal on the fly as the Bravo cooking competition's judges and a crowd of diners spectated from the sidelines was a non-stop endeavor requiring several hours of preparation — and some phony silverware.
The 28-year-old chef de cuisine at Boston restaurant Stir was crowned champion of the 10th season Wednesday and took home the $125,000 grand prize after facing off against Brooke Williamson, the 34-year-old co-executive chef of Los Angeles restaurants Hudson House and The Tripel.
Kish's winning menu consisted of chicken liver mousse, citrus and lavender cured scallop, bone marrow and red snapper with leeks, Little Gem lettuce, tarragon, uni and shellfish nage.
"At the end of the day, my cooking is not super complicated," Kish said after winning. "My goal for this menu was just to do simple, good, elegant food with precision and excellence, taking simple things like chicken liver mousse, bone marrow or a piece of fish and executing them well."
Here's a taste from behind the scenes of Kish's win at the "Top Chef" finale filmed earlier this month:
— Kish and Williamson's finale battle played out in less than an hour on TV, but it actually lasted more like eight hours. The chef'testants each had a set amount of time to prepare each course, and an audio snafu delayed production by an hour. However, the clock — and the cooking — never stopped during the ongoing "Iron Chef"-like showdown. Even when Kish and Williamson faced critiques from the judges, their sous chefs were behind them readying the next courses.
— The portions for diners were much smaller than those the judges devoured, and most of the crowd wasn't able to taste both finalists' dishes. Also, despite the presence of each winner from the previous nine seasons, they didn't have a say on who would join their ranks. ("That was more intimidating than anything," Kish later said. "It was kind of comforting because they knew what we were going through, but it was very intimidating because they can be some of the harshest critics.")
— While the massive kitchen stadium erected inside a Van Nuys soundstage was impressive, the dining experience itself was more like a picnic. That's mostly because eaters had to taste the finalists' dishes with plastic flatware. "Top Chef" executive producer Dave Serwatka said they often use silver-toned plasticware instead of the real thing during filming because it doesn't make clanging and scratching noises that can be picked up by microphones.
— Kish was selected as the winner before the final course, but she still managed to serve her dessert: a lemony olive oil cake.