Tim McGraw is no fan of Twitter and Facebook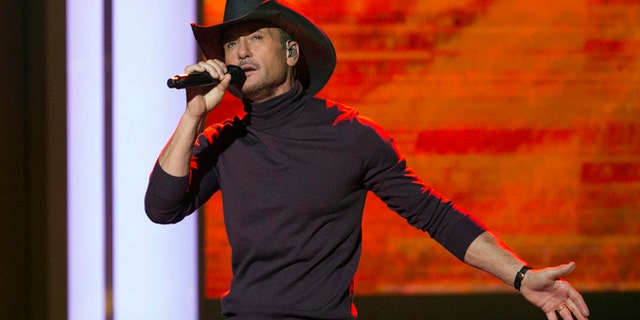 NEWYou can now listen to Fox News articles!
Tim McGraw hates Facebook and Twitter, and he doesn't care who knows it.
The country superstar took part in a career-spanning panel interview at the 2016 Country Radio Seminar in Nashville and when an audience member asked him whether he ran his own social media accounts, McGraw didn't hold back.
Click here to subscribe to FOX411's YouTube channel
"Social media," he began, in a voice that implied what was coming as the assembled industry-only audience laughed. "I can be honest I hate social media," McGraw stated emphatically, as the crowd burst into cheers and applause.
"I understand it, and it's certainly a big part of our business and what we do," he added. "I'm coming along … when it's fun and I think I have something to say, then I say something. But for the most part, I don't want to do it every day … I don't think it means as much if you do. I was telling [Big Machine head] Scott Borchetta earlier, I'm an analog guy in a digital world. I don't quite get it."
That said, McGraw acknowledged that he knows it's the new reality for artists, and he's trying to embrace it more.
"I don't know if I'm ever gonna be a social media animal," he stated. "I don't know if that's ever gonna happen."
McGraw addressed a number of wide-ranging topics in the interview, including his film career, his past struggles with alcohol and obliquely his lawsuit against his former label, Curb Records, which resulted in him winning his independence and being able to sign with Big Machine. That move revitalized his career, and McGraw recently released "Humble and Kind," a soaring, inspirational ballad written by Lori McKenna that he held onto for years before cutting it for his current album, "Damn Country Music." She sent him a rough recording the night she wrote it, and McGraw was so taken with her rendition that he wasn't sure how he could make it his own.
He finally got a line on how to record the track while on a joint family vacation with Byron Gallimore, his longtime producer. The two men sat around a piano and developed a structure for the track, which may very well be destined to be a career single for McGraw along the lines of "Live Like You Were Dying."
"I think in the time we live in … I just thought it was a song that needed to be heard, and I wasn't sure if I was the one that was going to be able to sing it," McGraw said. "But luckily, we came away making a record that spoke to the song."