Tim McGraw giving away 25 homes to wounded military, one on each tour stop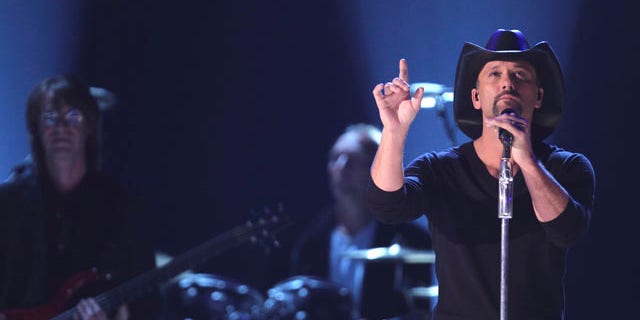 Tim McGraw will be saluting veterans in a big way while on tour this summer.
The country music superstar is giving away 25 mortgage-free houses — one for each stop on his upcoming "Brothers of the Sun" tour with Kenny Chesney — to wounded or needy service members.
McGraw will kick off the campaign with a Memorial Day concert for military members at New York City's Beacon Theatre during Fleet Week.
"My sister's a veteran, my uncle's a veteran, my grandfather was a veteran, one of my best friends is a veteran," McGraw said in an interview. "I've known people my whole life who are in service to America. And I think in my position to be able to do something like that is probably the ultimate thing. So to be able to go on tour and provide sort of a stable foundation for a veteran and their family is something I really look forward to."
Fans can watch a live stream of the show on YouTube and it also will be available to military bases around the world via The Pentagon Channel website.
McGraw is partnering with the charity Operation Homefront and Chase on the program, dubbed HomeFront, with contributions from the Academy of Country Music's ACM Lifting Lives program and The Premier Group on behalf of the North Carolina Furniture Manufacturers.
The "Brothers of the Sun" tour kicks off June 2 in Tampa, Fla., and runs into August with stops in many of the nation's largest cities. It's expected to be one of the biggest tours of the summer and in a historic run for the genre.