Around nation, gravesites of veterans in shocking disrepair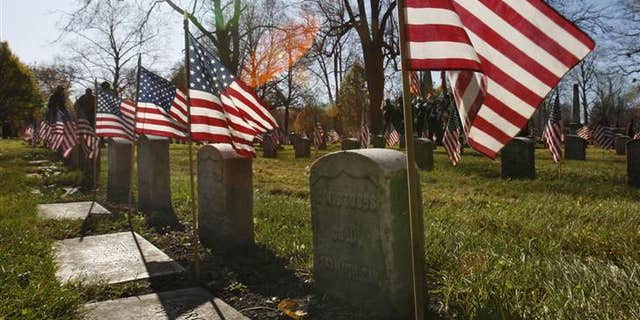 NEWYou can now listen to Fox News articles!
The final resting places for many of the men and women who fought America's wars have fallen into shocking disrepair, with neglect, theft and vandalism prompting veterans groups to question the nation's commitment to honoring its dead soldiers.
Advocates say smaller federal, state, county and private cemeteries that contain the graves of service members are often poorly kept, marked by crumbling headstones, overgrown with weeds and littered with debris. Perhaps even worse, many veterans' gravesites have been targets of vandalism and theft.
[pullquote]
"It's a pattern that you're seeing across the country right now," said Tim Tetz, national legislative director for the American Legion. "You have cemeteries being expanded or added to with less or the same number of people caring for the grounds."
Vietnam veteran and retired Army Capt. Ronald Rulon told FoxNews.com he felt his heart drop when he heard that 200 bronze flag stands had been stolen from a local veterans' cemetery where many of his friends and fellow soldiers are buried.
"It's terrible," said Rulon, 70, of Mullica Township, N.J. "It's an affront to the veterans who gave their lives so the very people who stole from their graves could have their freedom, and all the niceties they enjoy in their day-to-day life."
Startling accounts of theft, vandalism and neglect at smaller veterans' graveyards across the nation have become too common, as cemeteries face budget and staffing shortfalls in a struggling economy.
- A supervisor at one New Jersey county veterans cemetery told FoxNews.com his facility cut half its groundskeeping positions over the past decade, even as the population of those interred rose from 3,000 to 5,000 vets.
- Last year, a maintenance supervisor at the Southern Wisconsin Veterans Memorial Cemetery, just outside of Milwaukee, was arrested after allegedly using the veterans cemetery as his private dump, burying everything from cans of paint thinner to television sets, according to The Associated Press.
- A Catholic cemetery outside Boston, the burial site of some 4,000 vets, recently made news when thieves stole 200 brass flag stands to sell for scrap -- a phenomenon so common many are turning to plastic flag holders. A supervisor told FoxNews.com his facility has suffered deep staffing and budget cuts over the last decade, even as the number of graves has risen by 15,000.
- In April, a local utility shut off power to a small cemetery in Jersey City, N.J., where thousands of veterans of wars ranging from the Revolutionary War to World War II are buried after the facility fell behind on its bills. Power was eventually restored to Jersey City & Harsimus Cemetery, home to soldiers from the Civil War.
"We used to have 15 full-time people and now there's only 10," said Paul Guillou, superintendent of St. Joseph's Cemetery in Pittsfield, Mass. "There's more work and less equipment for a greater number of graves. We're asked to do more with less."
Guillou said he regrets that caring for veterans' graves is a casualty of budget shortfalls.
"These guys and gals served their country, World War I, World War II, Vietnam, Korea," he said. "They deserve, at the least, a peaceful interment."
The graves of veterans can be found in virtually every cemetery in the nation, and private operators owe no more care to their graves than anyone else's. But some exclusively veterans' cemeteries do receive taxpayer funds, including the 131 run by the National Cemetery Association for the Department of Veterans' Affairs. Funding to those cemeteries has remained roughly static at $250 million over the last decade, even as more veterans of World War II and the Korean and Vietnam wars have passed on, according to Tetz.
A spokesman for the NCA insisted the federally funded veterans' cemeteries are well kept.
"There really isn't problem on the federal level," said Darrin White, who oversees three national cemeteries, as well as a military section of a fourth facility, in the Philadelphia and New Jersey area. "We've kept up with the pace."
But advocates say no matter where veterans are buried, their memory and resting places deserve the respect of a a grateful nation.
"These are people who have defended our ideals …the way we treat and ultimately revere them in perpetuity is a message for tomorrow's generation about what it means to sacrifice," said Tetz. " If we aren't revering or honoring these people, it begets the question of what tomorrow will bring for our country."