"The Voice: Christina Aguilera Fights to Coach Tarralyn Ramsey, Vicci Martinez and Javier Colon"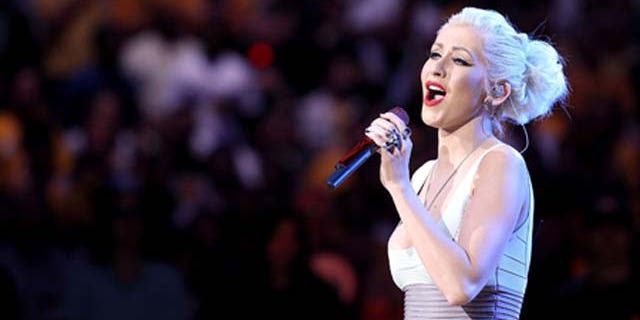 She may have fumbled her way through the Star spangled banner during Super Bowl XLV, but Christina Aguilera showed on the premiere of "The Voice" that she hasn't lost her swagger.
Showing old flashes of professionalism and humor, Aguilera debuted as a judge with some of the top talent in the music industry – Cee Lo Green, Adam Levine from Maroon 5 and country star Blake Shelton. The contestants on the show started in the competition's semifinals, and sang for the right to choose one of the judges as their voice coach.
The grand prize is a record deal with Universal Republic, which is part of the Universal Music Group.
American Idol, "The Voice" is not. The judges hear the singers as they perform with their backs turned – as a way to judge the contestants based solely on their singing ability. If the judges turn around, it signifies that they'd like to work with the performer.
If none of the judges turn around then the contestant is eliminated. If, however, one or more judges spins around, the judge must make a case for the performer to select them as a coach.
This is, after all, a competition for the judges, too.
"Everyone needs a support team," Aguilera about what the show gives to the contenders. "I couldn't do that on my own."
Aguilera wasted no time in convincing the first contestant, Tarralyn Ramsey, to be on her team.
"I feel that having the coaches not see me is an advantage," said Ramsey, 31, who sang Faith Hill's "Breathe." "I'm going to sing like it's my last chance."
Aguilera made it clear right away, how "bluesy voices with raw emotion" raise the hair on her skin. It seems as though she heard that in Ramsey.
"At first I felt the nerves in your voice, but you kept going," said Aguilera. "I will do everything to build you up and make you stronger."
This was an offer that Ramsey couldn't pass up.
"I love Christina. She is a singer-singer," Ramsey said. "I even sing the [songs] in Spanish, even though I don't get it right."
Like Ramsey, Vicci Martínez, 26, from Tacoma, Washington, and Javier Colón, 33, from Stratford, Connecticut, impressed Aguilera.
Martínez sang Adele's "Rolling in the Deep," and triggered an instant curiosity in Aguilera.
"I find you interesting, and I love the rasp of your voice," Aguilera said. "You really sang."
"That's a high octave to hit," Green added. "You inspired me."
Aguilera's enthusiasm wasn't enough for Martínez, though, who chose to work with Green.
"You're like the goddess of all goddesses," Martínez told Aguilera. "But Cee Lo, you said something really important to me, that it's about 'coming from the heart.'"
The "Dirty" singer also couldn't convince Colón to be on her team, either. Despite bribing him with "people that I can introduce you too," Colón chose Levine as his music coach.
Colón performed "Time after Time" by Cyndi Lauper, one of Aguilera's favorite songs.
"I personally love that song," Aguilera said. "You made it your own, which is unique and amazing…and you are a seller."
Colón challenged Aguilera before his final decision by asking her what took her so long to push her button and turn around.
"I wanted to get lost and see where you could take it," said Aguilera. "I wanted to feel you."
The "Burlesque" star, who was flirting with male and female contestants, didn't hide whom she found hot.
"You are cute!" Aguilera told Kelsey Rey, who wanted to be recognized for her singing abilities not only her good looks. "You have the type of voice that would be great for radio. You were really great."
She even teased Nashville native Patrick Thomas into taking off his clothes.
"Take off your shirt! Take of your pants," she joked.
As the night came to a close, Aguilera and the other judges each had three contenders on their team.
Next week, they will have to endure the "battle round" leaving the coaches with four artists out of the eight chosen. Then it will be up to America to decide who has "The Voice."
You can reach Alexandra Gratereaux at: Alexandra.Gratereaux@foxnewslatino.com
or via Twitter: @GalexLatino
Follow us on twitter.com/foxnewslatino
Like us at facebook.com/foxnewslatino