'The Real's' Adrienne Bailon explains how she went from Disney kid to reality TV star to talk show host
Adrienne Bailon first made a name for herself as a Disney star, known for her role in the "Cheetah Girls" franchise and her singing group 3LW. She then transitioned into a reality star and became staple on "Keeping Up with the Kardashians," as her relationship with Rob Kardashian was put on display for the world to pick apart. Now, she sits comfortably as a host "The Real."
But the 34-year-old host said that career changes weren't as rocky as people may think.
"I think the easiest part about it is just learning to be yourself and owning who you are --whether it was about being in front of the camera for a reality show or not," she told Fox News. "You just have to be authentic, sometimes I even forget that the cameras are running. That's how it is on my talk show – the girls and I will get to talking about something and I'm like 'This might as well be a reality show.' So I don't even remember that the cameras are on, which I love."
As one of the hosts of the Emmy-winning talk show "The Real," the star explained, she learned how to be vulnerable, open and honest with her viewers.
"I think we all live our lives like open books," she admitted. "I think they cast girls who were willing to be open and not guarded, honest and real and I think that was the whole concept of the show. I'm blessed I get to do something that never feels uncomfortable to me or awkward."
Bailon let fans into her personal life when she dated Kim, Kourtney and Khloe Kardashian's younger brother Rob. Bailon insisted she kept it real while E! cameras were rolling.
"I don't think there was a persona [for reality TV] I've always been exactly who I am," she said.
And though the star has moved on from her early millennium romance with Kardashian, recently marrying mogul, Israel Houghton, she said she does, at times, see the famed reality TV family around Hollywood.
"We're all cool with each other and we see each other out and about but that's about it," she said. "I'm married now."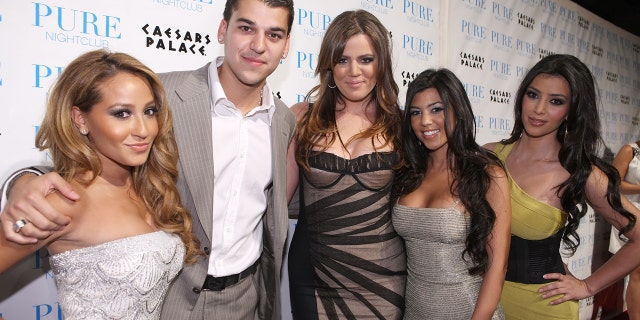 READ MORE ABOUT THE KARDASHIANS 
Bailon's big break can't be attributed to her stint on reality TV. The star broke onto the scene as singer and dancer in Disney Channel's "The Cheetah Girls." The popular franchise created albums, films and concert tours, which helped the young Disney stars gain early fame.
"I loved it," Bailon said of her Disney days. "I honestly was so inspired to be a part of something that I used to watch on TV. Growing up I watched 'Kids Incorporated,' 'Mikey Mouse Club,' so many shows on Disney Channel, so when I got the chance to be a part of that I was like 'Oh my God this is so awesome.'"
Bailon said she owes her acting career to the network, noting she played school bully Alana on "Cheetah Girls" co-star Raven Symone's series, "That's So Raven."
"I love, love Raven. She's awesome," the host said. "We definitely keep in touch and we've actually had her before on 'The Real' and we continue to hang out and be friends."
Bailon said her musical roots go much deeper than Disney Channel.
"I grew up in a household where there was always music playing, my mom on Saturday mornings would blast salsa music," the singer and dancer said as she went on to detail her current partnership with Pine-Sol's "My Clean Moves" contest, which celebrates music and cleaning going "hand in hand."
"I love, love, love, the fact that people are recognizing the power of music," she said of the Pine-Sol "My Clean Moves" contest.  "Definitely, when you have to do the mundane things in life like cleaning, it's important to make it fun."
In addition to her partnership with Pine Sol, Bailon is getting ready to film "The Real's" fifth season, and she is launching her own YouTube channel called "All Things Adrienne." Bailon also serves as what she called a "motivational speaker" for contestants on "Showtime At The Apollo" with Steve Harvey.
At this rate, it doesn't seem like this former Cheetah Girl is slowing down.