'The Purge' shocks with $36.4 million opening at box office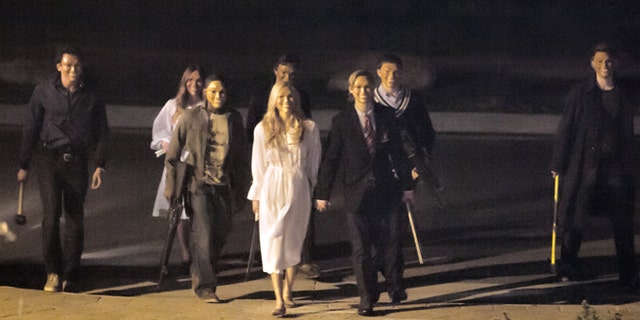 NEW YORK – The suspense thriller "The Purge" topped the weekend box office with a shocking $36.4 million that doubled industry expectations, according to studio estimates Sunday.
Audiences starved for a horror option flocked to the micro-budget Universal film starring Ethan Hawke. The film's strong opening performance minted another box-office hit for "Paranormal Activity" producer Jason Blum.
Like that horror franchise, "The Purge" was made for relative peanuts — just $3 million — making it an extremely lucrative release for Universal. The studio had expected it to open in the high teens.
"Never did we expect it to open at this level," said Nikki Rocco, head of distribution for Universal. "This result could not have been forecasted by anybody."
There has been a dearth of horror films at the multiplex in recent weeks, which Rocco acknowledged was a major factor for "The Purge." Written and directed by James DeMonaco, "The Purge" is set in a utopic United States in the year 2022, where crime has been eradicated except for one violently cathartic day a year when nearly all mayhem is legal.
The film opened strong with late night screenings Thursday night that alone took in $3.4 million.
"This is exactly the kind of film that stumps all the analysts," said Paul Dergarabedian, an analyst for box-office tracker Hollywood.com. "It proves that R-rated horror films, no matter the budget, always have a place with audiences."
Universal also claimed the second spot at the box office, as the Vin Diesel action flick "Fast & Furious 6" earned $19.8 million in its third week of release. The sixth installment of the street racing series has now earned a total of $202.3 million domestically and $381.7 million internationally.
The Google-promoting comedy "The Internship" opened with $18.1 million, a decent debut for the Fox comedy that reteams "Wedding Crashers" stars Owen Wilson and Vince Vaughn.
But that was good enough only for fourth place behind two hold-overs: "Fast & Furious 6" and Lionsgate's "Now You See Me." The illusionist heist film held strong, earning $19.5 million over the weekend, bringing its cumulative haul to $61.4 million.
After Will Smith's sci-fi adventure "After Earth" bombed in its domestic opening last weekend, coming in third with $27.5 million for Sony, the film found a warmer reception overseas this weekend. It took in $45.5 million internationally after opening in some 60 overseas markets. Domestically, it continued to fare poorly, adding $11.2 million in its second week.
Even with the unexpected success of "The Purge," the box office was still down from last year, when "Madagascar 3" and "Prometheus" both opened. But Superman comes to the rescue next weekend with the debut of Zac Snyder's highly anticipated "Man of Steel" for Warner Bros. Dergarabedian expects the film to open above $100 million.
Estimated ticket sales for Friday through Sunday at U.S. and Canadian theaters, according to Hollywood.com. Where available, latest international numbers are also included. Final domestic figures will be released on Monday.
1. "The Purge," $36.4 million.
2. "Fast & Furious 6," $19.8 million.
3. "Now You See Me," $19.5 million.
4. "The Internship," $18.1 million.
5. "Epic," $12.1 million.
6. "Star Trek Into Darkness," $11.7 million.
7. "After Earth," $11.2 million ($45.5 million international).
8. "The Hangover Part III," $7.4 million.
9. "Iron Man 3," $5.8 million.
10. "The Great Gatsby," $4.2 million.