'The Bachelor': Sean faces AshLee as ladies try to talk to Tierra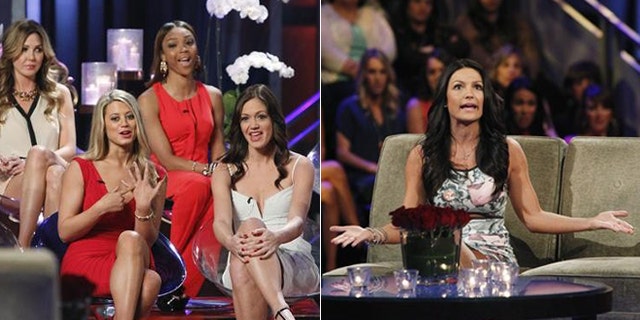 She's baaack.

Tierra LaCausi returned to "The Bachelor" for the "Women Tell All" episode last night to face the gals who felt she was incredibly rude and disrespectful to them.

"For the most part you guys got along really well," host Chris Harrison says to the women before the villainess took the stage. "Do you think it's because you had one common enemy?"

The women immediately light up and begin to trade stories about the season's most-hated female.
Harrison then says that Tierra should have a right to defend herself and she will… because she is backstage!

A hush falls over the crowd.

Tierra walks out on stage to a scattered applause--- and lots of stink eyes.

"I'm nervous," she tells Harrison. "It's obviously hard being here."

Tierra says that the other women were annoyed with her from the get-go because of the first impression rose she received from Bachelor Sean Lowe as soon as she got out of the limo.

"I wanted to throw that rose as soon as I got in that door because I didn't want a target on my back at all," she says.

"I stayed to myself," she continues. "There was definitely a handful of girls that were very rude to me. Every girl in the house talked about other girls."

Everyone rolls their eyes in denial.

Harrison asks Tierra if there is anything she would like to take back or apologize for.

"Off the top of my head no," Tierra says. "There's nothing I feel I did to these girls intentionally. If I said something bad about any girl here, please bring it to my attention."

The girls go crazy, all chiming in about their disbelief.

"You're delusional," Robin Howard says.

The women share their accounts of trying to talk to the villainess in the house and always getting an evil stare in response.

"I apologize to all of you guys," Tierra says. "I wasn't trying to be friends. Can I better myself? Absolutely. Everyone can work on their flaws in life. I came into this scared. Could I have handled it better? Yes, and I apologize."

The drama didn't end there—Tierra is also already engaged….Supposedly.

"We needed the separation," she says in reference to a guy back home. "I did 'The Bachelor,' and thought I could find my love here, and as soon as I got back I rekindled things."

Nobody looks like they believe her.

Other highlights of the special included fan-favorite Desiree Hartsock and self-proclaimed "ultimate reject" AshLee Frazier taking the stage.

Harrison asks Des if she thinks her crazy brother-- who accused Sean of being a playboy during her hometown date -- was the reason she was sent home.

"My brother was very skeptical of the show and the experience," Des says. "He was being protective and he does regret the way he came off because that's not the way that he is. [The way he behaved] certainly didn't help. If my brother hadn't been there, maybe things would have been different."

As the most recent contestant to be booted, AshLee gets the chance to sit down next to Sean to discuss what went wrong.

"I think I would like to know what happened," AshLee says. "I don't get it."

"My fear when you left was that you would leave without closure," Sean says. "From day one, you were my frontrunner. It hurt me to see you leave the way that you did."

AshLee whines that Sean should have come to check on her to see if she was okay.
Well, that's not how the show works…

"I know you're a strong woman," Sean says. "I knew that you'd be okay."

AshLee is not satisfied.

"You said some things that led me to believe I was the one," she says. "How can you change in four days, I really don't understand. Why did you say that you didn't have feelings for the other two women?"

Sean denies it, to which AshLee accuses him of saying it twice.

"I promise I didn't say that," Sean says vehemently. "I didn't and I wouldn't."

An incredibly awkward back-and-forth ensues and FINALLY ends when AshLee says:
"I wish you nothing but the best. You did that, but I don't hold any resentment."

The special wraps up with a sneak peek of next week's finale, which is leaving fans especially curious about one thing: Who wrote the note that is delivered to Sean at the last minute before he proposes to one of the women and what does it say?

"The Bachelor" three-hour finale airs next Monday on ABC.