Taylor Swift Wins CMA Entertainer of the Year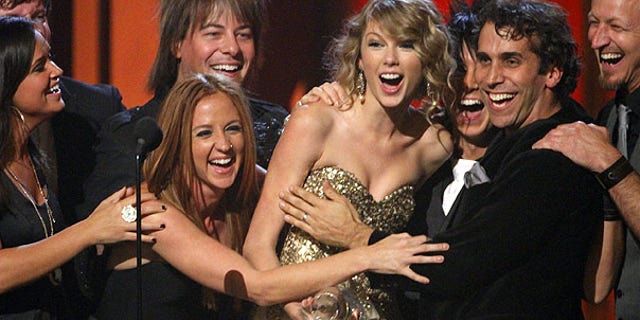 Taylor Swift is the youngest person ever to win the Country Music Association's entertainer of the year award.
Plus she won all four awards for which she was nominated on Wednesday night.
Not bad for a teenager.
"I'll never forget this moment because in this moment everything that I have ever wanted has just happened to me," Swift said through tears at the Sommet Center in Nashville.
SLIDESHOW: Taylor Swift's winning country style.
SLIDESHOW: The Best and Worst Dressed at the CMA Awards.
SLIDESHOW: The night's biggest - and strangest - cowboy hats.
VIDEO: Exclusive interview with Taylor Swift and more stars at the CMA Awards
The 19-year-old crossover sensation snapped Kenny Chesney's stranglehold on the category (he won three straight, and four of the last five) and also ended Carrie Underwood's three-year reign over the female vocalist category.
Chesney presented Swift her trophy, and Swift called her band on stage as fans cheered wildly. Her proud father cried.
"Every single person in that category let me open up for them this year," Swift said. "Thank you all so much. I love you."
Now, they will be opening for her.
LIVESHOTS: Behind the scenes at country music's biggest night.
ON THE SCENE: Hanging out with 'Idol' star Danny Gokey in Nashville.
But Swift was not the only history-making star on display Wednesday night. Darius Rucker became the second African American to win a major individual CMA. The Hootie and the Blowfish frontman won the newcomer award after he sold 1 million copies of his first country album, "Learn to Live." He joins African-American singer Charley Pride, who won entertainer of the year in 1971 and male vocalist in 1971-72.
"First of all, to the fans, thank y'all for accepting me," the jubilant Rucker said. "And I think most importantly, to country radio, you took a chance on a pop singer from Charleston, S.C. Thank you so much for that!"
Swift also won album of the year for "Fearless," the top-selling CD of the year, and video of the year for "Love Story."
"You guys, this album is my diary and so to all the people who voted for me for this is a thank you for saying you love my diary because that's the nicest compliment," Swift said.
Brad Paisley, who led all nominees with seven, won two awards, including his third straight male vocalist of the year.
"This was the best time I've ever had at an awards show," said Paisley.
Lady Antebellum also won two awards, for vocal group and single of the year. The win in the vocal group category ended Rascal Flatts' six-year dominance.
"Rascal Flatts, you've inspired us for such a long time," Lady Antebellum singer Charles Kelly said. "Thank you so much for letting us be up here."
Jamey Johnson, along with James Otto and Lee Thomas Miller, won song of the year for "In Color."
"I never thought you guys would even let me come to things like this," Johnson, the country outlaw with the scruffy beard, joked as the audience laughed.
Swift kicked off the show with a playful version of her song, "Forever & Again," throwing a chair off a raised podium, sliding down a pole and dropping to her knees to the delighted cheers of the crowd.
It was the Zac Brown Band that set the room on fire, though, with its high-rev version of Charlie Daniels' "The Devil Went Down to Georgia."
Co-hosts Paisley and Underwood opened the show with a few new songs of their own, skewering Kanye West for his interruption of Swift's MTV Video Music Awards win -- "Mama don't let your babies grow up to be Kanye" -- and lamenting the break up of Brooks & Dunn.
Later in the show, telecast on ABC, country novelty singer Little Jimmy Dickens interrupted Paisley after Underwood told him that "Welcome to the Future" was one her favorite videos.
"Excuse me sir, excuse me. I'll let you finish later. Now, Brad Paisley, I know you had a nice video, but ... Taylor Swift made the best video in her time. You go girl," the diminutive Dickens said, goofing on West, who famously took the stage during Swift's acceptance speech to say that Beyonce deserved Swift's prize.
Brooks & Dunn, the best-selling duo who announced their split earlier this year, teamed with ZZ Top guitarist Billy Gibbons on a scorching version of "Honky Tonk Stomp" in what was billed as their last performance at show.
But CMA voters weren't moved by sentiment in the vocal duo of the year category, awarding Sugarland the honor for the third straight year.
"We don't usually expect this but we obviously didn't this year," said Jennifer Nettles, half of the duo that extended an invitation to Kix Brooks and Ronnie Dunn to come up and speak to their fans, but they declined.
"Well, I will say thank you for what you've done for us, thank you for what you've done for country music," Nettles said before leaving the stage.
Several tributes were paid to veterans with the show falling on Veterans Day. Underwood saluted service members and Randy Houser wore a POW/MIA hat among other nods.
The Associated Press contributed to this report.