Susan Lucci tears up when asked if she is dating after the death of her husband Helmut Huber: 'I'm not ready'
The 'All My Children' alum said she was 'not ready' to date after losing the 'love of my life'
Susan Lucci became emotional over the prospect of finding new love following the death of her husband Helmut Huber in March 2022.
The 76-year-old actress teared up during an interview with "Good Day New York" Thursday after being asked if she was ready to "get back out there" and start dating again.
"No, I'm not ready," the "All My Children" alum said.
"It's just ten months. And anyway, whatever the time was, I'm not ready, you know?" Lucci added, wiping away a tear.
'ALL MY CHILDREN' STAR SUSAN LUCCI HONORS LATE HUSBAND HELMUT HUBER AT DAYTIME EMMY AWARDS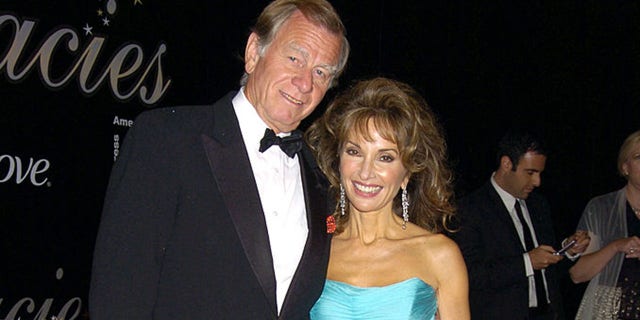 "And everybody's different, you know. But, no. I just miss him. And he's worth missing. He was really, really the love of my life. A very special, big presence, very take charge in a good way. He was caring, he's a caregiver and funny, smart, all those good things."
"Handsome," added host Rosanna Scotto.
"Not to mention, very handsome and that cute accent," Lucci agreed.
Huber died March 28, 2022, on Long Island, New York, at the age of 84. The Austrian-born TV producer and Lucci were married for 52 years and share daughter Liza, 47, and son Andreas, 34.
The pair met in 1969 when they were both working at Long Island's Garden City Hotel, where he was the executive chef and Lucci was an employee while on summer vacation from college. The two tied the knot after three weeks of dating in September of that year.
Scotto asked the "Dancing With the Stars" alum if her friends had been asking about setting her up on dates.
"Yes, even strangers," Lucci said. "I was in Palm Beach in Saks and a woman was saying, 'Oh, I have just the man for you.'
"And thank you, but I'm not … I can't even imagine it at this point."
Following Huber's death, Lucci's representative told Fox News Digital, "Helmut's passing is a tremendous loss for all who knew and loved him. He was an extraordinary husband, father, grandfather and friend. The family kindly asks for privacy during this incredibly difficult time."
A spokesperson for the Lucci family told People magazine he passed peacefully, adding, "A family man, he was a loyal friend and loved them deeply.
"With a roaring sense of humor, larger-than-life personality and a practical problem solver, he lived his life to the fullest. Mr. Huber, who formerly raced motorcycles in Austria, was a first-rate skier and avid golfer, belonging to the Garden City Golf Club and Westhampton Country Club."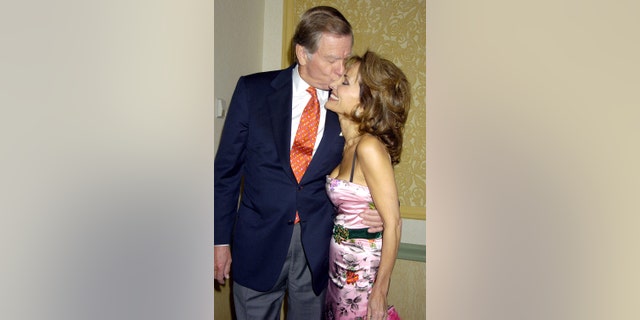 The outlet noted that Huber, born in October 1937, became a U.S. citizen in January 1994. In his lifetime, he was asked to join the Austrian Ski Team. However, he completed his chef's apprenticeship at the Hotel Maria Theresia. Huber later studied at L'Ecole Hoteliere in Lausanne, Switzerland, and graduated at the top of his class.
He arrived in North America at age 21 and embarked on his career in Canada before heading to New York at 23. The outlet shared that Huber improved his English by watching John Wayne and Humphrey Bogart films. He later became Lucci's manager and the CEO of Pine Valley Productions.
In 2020, Lucci told Fox News Digital Huber never left her side.
"I got really lucky because I married somebody who is smart and handsome, and he's very confident, and he has a great sense of humor," she said at the time. "And, fortunately, he's not only been supportive, which is a lovely word. He's been with me, really with me hands-on and right there. He's really been a rock, and I got lucky because how could I know all that going in? I was 22."
During her appearance on "Good Day New York," the Daytime Emmy winner discussed her new heart jewelry collection she recently launched in support of the American Heart Association.
She also opened up about coming close to having a fatal heart attack in 2018 when she discovered she had two blocked cardiac arteries after experiencing chest discomfort.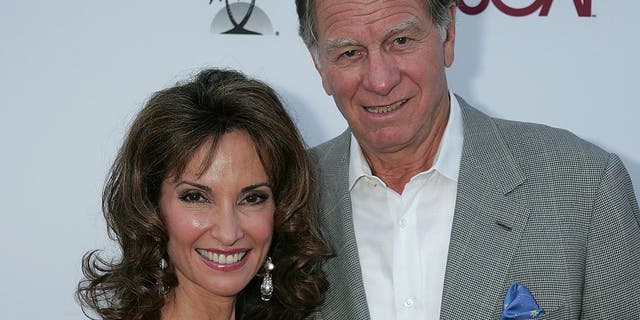 "Like most women, I felt my symptoms would go away," Lucci recalled. "Oh, it'll go away, it'll go away. Then, the third time it came to me, I couldn't ignore it. I had a very big pressure on my chest, like an elephant person pressing on my chest.
"I had heard an interview with a woman a long time ago. I don't even know why I remembered. I had no reason to. But I remember she said that women's symptoms for a heart attack are often different than a man's. And she herself had experienced an elephant pressing on the chest. And so there was no ignoring at that point. And I got so lucky.
"I had a guardian angel on each shoulder. I was out at a boutique, and the woman who was the manager also had a degree in nursing. Talk about good luck. And she said, 'I will drive you. My car's right there. I'll drive you to St Francis,' which is one of the premiere heart hospitals in the country."
CLICK HERE TO SIGN UP FOR THE ENTERTAINMENT NEWSLETTER
Lucci recounted how cardiologist Richard Shlofmitz discovered she had a 90% blockage in her main artery and a 75% blockage in the adjacent artery. She immediately underwent an emergency procedure during which two arterial stents were placed in her heart.
"I went home the next day," she said. "I was told that, had I not come in, I would have had the widowmaker. Ninety-nine percent, I wouldn't have made the night.
"And it was such a wake-up call to me," Lucci added. "I knew how good my luck had been. And from the car ride home, I called my publicist, Jessica, and said, 'Jessica, I cannot keep my good luck for myself. I feel like a magnet is pulling me to tell this story.' So maybe, like, I heard that woman's interview right, someone will hear this now, and it will help them do something to help themselves."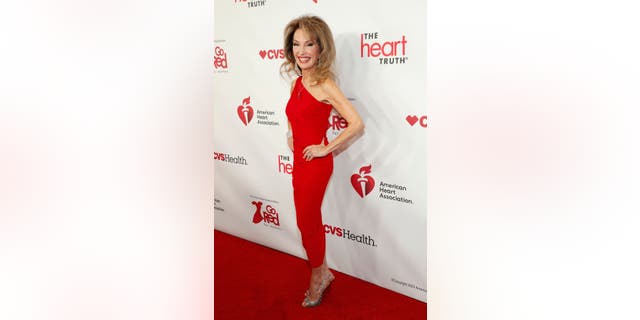 Lucci stressed the importance of prioritizing one's health, noting that many women like her tend to focus on the health and needs of others and loved ones but neglect their own.
The actress revealed she experienced another cardiac scare last year but initially hesitated to tell Huber for about 30 minutes after she began experiencing symptoms.
"I reverted right back to all the things I'd been telling women for three years at that point. 'Put yourself on your to-do list. Take action. Listen to your symptoms. Go to the doctor.' I was avoiding. I went right back to the same. It's our DNA."
CLICK HERE TO GET THE FOX NEWS APP
Lucci added that she also had a sharp pain in her jaw, which she explained was another symptom experienced by women ahead of a heart attack.
She said a large percentage of the sales of her new jewelry collection will be donated to the American Heart Association.
"That's what I wanted to do to say thank you because they gave me the opportunity to get my story out," she noted. "And they continue to. And I just hope it saves even one woman's life."
Fox News Digital's Stephanie Nolasco contributed to this report.