'Suburgatory' honcho says casting Tessa's mom 'tough,' spills on George and Dallas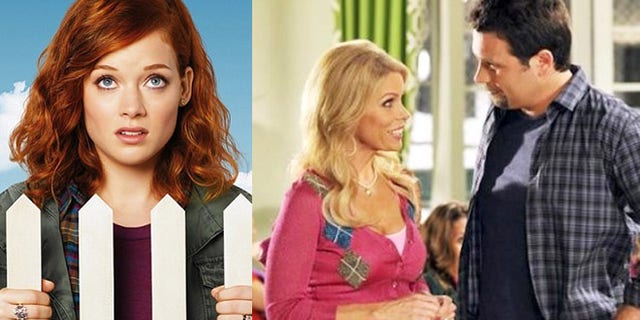 The pressure is on for "Suburgatory" this coming season. On-screen, the family comedy is preparing to introduce the long-gone mom of Tessa (Jane Levy) as well as finally put will-they-or-won't-they couple George (Jeremy Sisto) and Dallas (Cheryl Hines) together. Off-screen, the family comedy is in the hot seat (in a good way) after a last-minute bump on the fall schedule from 8:30/7:30c to the coveted post-"Modern Family" spot of 9:30/8:30c.
"I'm still trying to figure out what I should send [ABC Entertainment President] Paul Lee as a thank you gift," creator and executive producer Emily Kapnek says. "It's not just a huge opportunity, but a good fit. We were a little bit edgy at times for 8:30."
ABC's fall schedule switcheroo: "Suburgatory" will follow "Modern Family"
When "Suburgatory" returns for its second season on Wednesday, Oct. 17, months will have passed since George's girlfriend, Eden (Alicia Silverstone), went into labor with Noah's baby and Tessa came face-to-face with her maternal grandmother. Since then, George has been dumped and Tessa has been spending quality time with her grandma in the Big Apple — a new development that will have big repercussions.
"We get to see in flashbacks her out in the clubs and getting that New York experience. She comes off the train and realizes that she has this renewed interest in her mom, and George tries to be respectful of that," Kapnek says. "George reaches the realization like, 'I've got to step back. She's almost 17. ... And at the same time, I think he's very self-conscious about what the grandmother's version of what happened is."
Jokes Kapnek: "It's really nice, complicated stuff for a half-hour comedy."
Suburgatory scoop: SNL vet Rachel Dratch to lock horns with Sheila Shay
But while George is taking a step back from his role as overbearing Father of the Year to Tessa, he may just take on that same role with someone else's daughter. "We move very quickly into our dating stories with George and Dallas. They make it happen and he winds up being in a very domestic role with Dallas and Dalia while Tessa is exploring and dipping her toe into getting to know her mom a little bit."
Although it may be easy for George and Dallas to dive into dating after a year of stolen glances and that infamous Christmas party kiss beneath the mistletoe, the search for Tessa's mom hasn't been so simple. "The casting's been tough for the mom. I think there's so much build-up on who's this person going to be," Kapnek says. "We're not going to wind up meeting the mom until our Thanksgiving episode. In that Thanksgiving episode, the grandmother has been orchestrating this reunion between Tessa and her mom, and George feels so conflicted about how he wants to behave about it."
Kalinda's husband! Tessa's mom! 4 new TV characters we're excited to meet next season
The appearance from Tessa's mom will not only cause conflict between Tessa and George, but also George and Dallas, the latter who Kapnek suggests may end up playing more of a mediator role between the broken-up family.
"I think that Dallas probably has a lot of empathy for [Tessa's mother] and feels her heart go out to her. It's very hard for George, and it winds up being a little source of friction in their relationship," Kapnek says. "George is like, 'Don't feel sorry for her. This is what she does. She loves to cry everyone a river and make everyone feel bad for her, but she's not a victim.'"
However, this new tension won't last long. "She's going to be around for the holiday episodes," Kapnek says of Tessa's mom. "It's always that 'careful what you wish for' thing with teenagers. ... I think that her mom is someone who would probably be inclined to treat her like an adult and say, 'I'm in Europe. You want to come to Germany?' Tessa has to pause and wonder, 'Am I really ready to take on this role?' and gets a little homesick for Chatswin."
Yes, you read that right. After spending her first year mocking and despising the Red Bull-drinking, country club-attending residents of Chatswin, Tessa's personal "suburgatory" may just inch closer to her heart. "Tessa winds up really choosing Chatswin. Probably midway through our season, she'll warm up to it and realize, for better or for worse, this place is starting to feel like home."
The new season of "Suburgatory" premieres on Wednesday, Oct. 17 at 9:30/8:30c on ABC.
Related Articles on TVGuide.com