Steve Levitan's messy divorce pushes 'Modern Family' into the tabloids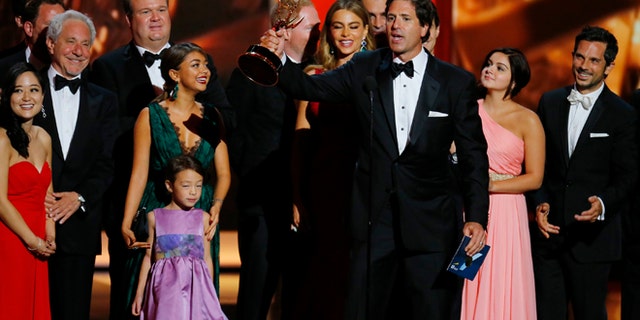 NEWYou can now listen to Fox News articles!
LOS ANGELES – ABC's "Modern Family" was thrust into the tabloids with reports this week of Steve Levitan's divorce, which detailed the show creator's income and accusations of domestic violence.
Krista Levitan filed papers last week that claim her husband subjected her to abuse, harassment and intimidation resulting in a request for a restraining order.
However, Levitan, 53, has denied allegations of abuse in a declaration filed with the Superior Court of California, according to The Wrap.
"I have never assaulted my wife. I have never threatened to assault my wife. These allegations are abusive, false and attempt to smear my reputation."
A judge dismissed Krista Levitan's requet for a restraining order.
Levitan had no comment regarding the case and his agent told FOX411 "the judge's ruling speaks for itself."
The Wrap reported in the court docs Levitan accused his wife of making "false claims."
"Petitioner and I disagreed about the responsibility for our problems and how they might be resolved. Petitioner's reaction to any disagreement has taken the form of accusations of emotional abuse and threats of seeking restraining orders. She threatens me with false claims of domestic violence and protection order as a weapon to get her way."
The two have been married for 23 years and have two daughters and a son. In recent documents obtained by People, it was revealed that the "Modern Family" creator makes $2.4 million a month and puts away $1 million into savings. The family's monthly expenses are also outlined, totaling $1.2 million, which include $11,849 on clothing, $8,602 on domestic help and $6,450 on groceries.
Krista Levitan filed for divorce January 6 citing irreconcilable differences. Now she is asking her husband to pay attorney fees and spousal support. They reportedly have no prenuptial agreement.
On Tuesday, Steve Levintan tweeted a picture his daughters on vacation.
Besides creating "Modern Family"— which has won 21 Emmy's— Levitan has written for "Just Shoot Me!" and "Frasier."
The show has 11 full-time cast members that appear on the show.
ABC had no comment and request for comment from Krista has yet to be returned.