Stars beef up security as more celebrities deal with stalkers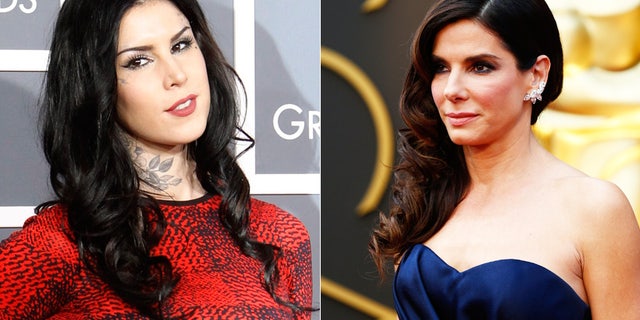 LOS ANGELES – The man found hiding in Sandra Bullock's Hollywood home last month and charged with stalking the Oscar-winning actress allegedly owns an arsenal of weapons, including illegal machine guns. Less than two weeks ago, reality star Kat Von D contacted authorities about a man – against whom she had gotten a restraining order – who allegedly pledged to "go Columbine in Los Angeles" as an act of revenge.
Those incidents are just the tip of the iceberg, security experts and Hollywood insiders say. In a society increasingly obsessed with a famous face, high-profile names are spending billions of dollars a year to beef up their security and stay safe from their over-adoring fans.
"A greater number of celebrities are going around with bodyguards now," a well-placed entertainment industry insider told FOX411. "Many create codes to talk about private concerns with their security professional, using things like initials and pet names to communicate."
Experts say it's not paranoia; it's being prepared for the worst.
Kelly Carlson, star of the former FX series "Nip/Tuck," says she went through hell two years ago when she was stalked by a number of individuals (for hire) as the result of a past relationship.
"My home was broken into multiple times," Carlson said. "The strange part is that they had a key. I found out later that (a building employee) was paid to give my key to someone while I was away.
"I found a copy of my TV remote that was put on my desk, and all sorts of issues with my email and cellphone. The psychological effect and the fear of living alone literally broke me. I had never experienced such stress and fear."
Carlson recalled being mysteriously rear-ended while she was driving at the speed limit in the fast lane. She said she discovered that a security camera she'd installed in her home was being turned off when she was away. After she filed a report with the FBI, Carlson began working with Dan Stanchfield, founder of TrackerDan.com.
For 18 months, Stanchfield, a former Navy SEAL/security expert, coordinated 24-hour security for Carlson, teaching the actress to be proficient with both firearms and knives.
"Getting people to understand the gravity of the threat and the variety of threats that are out there is the biggest challenge," Stanchfield said. "If you are high profile or very wealthy, I would hire a professional to test your security measures to find the weaknesses. Kidnapping is very real."
According to one well-placed Hollywood executive, a growing number of A-listers now talk on landlines, which they believe is safer than a cellphone.
"If its wireless, it is hackable and traceable, period," Stanchfield said. "Even if you turn off your cell, it can still be remotely turned on as a listening/tracking device by others if they have the right equipment.
"If needed, I bring in a computer expert. I did for Kelly, because her email was compromised. If the situation is serious, you also really need a forensic expert to understand the threat potential."
And threat potentials appear to abound in Hollywood:
• Last month, Miley Cyrus obtained a three-year restraining order against a man said to be convinced that the actress/singer was communicating to him through her music.
• In May, a man claiming he was Kim Kardashian's boyfriend was arrested, having been spotted peeking through the windows of her mom Kris Jenner's home.
• In April, Gwyneth Paltrow was granted a restraining order against a man who manipulated his way into her homes in London and Los Angeles.
So it's no surprise that personal protection is a big business among the rich and famous, some of whom will pay millions of dollars every year for round-the-clock private security. According to a recent report submitted to the Department of Justice by the research firm RTI International, the private security business' annual revenue in the United States is up to $34 billion.
Experts, meanwhile, say the threat is increasing due to the popularity of social media.
"Celebrities make themselves vulnerable by posting their locations, photos with their locations and photos with the stuff they buy. They are further vulnerable if their information isn't properly protected, as they are big targets for data breaches and identity theft," said Robert Sicilano, an online security expert at McAfee.
The experts say all of us – not just stars – need to take simple precautions to stay safe.
"My situation had nothing to do with being a public person," Carlson said. "I easily could have had a different outcome if it wasn't for Dan.
"The threat was real, and it wasn't leaving."
Follow @holliesmckay on Twitter.