Source: Michael Jackson's Formerly Reclusive Children Now Spreading Religious Message Door-to-Door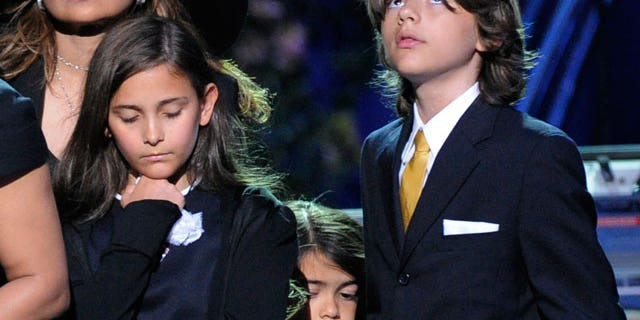 LOS ANGELES – At this time last year, two days before the tragic death of Michael Jackson, his children Prince,13, Paris, 12, and Blanket, 8, would have been barely recognizable to even the most devoted Jackson fan. The King of Pop went to inordinate measures to shield his kids from the harsh spotlight that he grew to loathe – hiding their faces with an array of odd masks and hoodies during their rare public appearances.
While a couple of sneaky pap snaps revealing Prince and Paris' faces were able to slip through the cracks over the years, we never actually saw Blanket (who was infamously dangled over a fourth-floor balcony in Germany by his dad in 2002) uncovered until Jackson's memorial last July.
Now fast forward to 2010, almost one year since MJ's death: Not only are the Jackson children able to step outside sans the masks, apparently they're even able to knock on the doors of strangers' homes.
According to a Jackson insider, the kids (under the guidance of their grandmother and legal guardian, Katherine Jackson) have been doing the standard field service as part of their involvement with the Jehovah's Witnesses, encouraging others to convert.
SLIDESHOW: Michael Jackson's Kids Step in to the Spotlight
"Growing up, Michael did it, too. It's an important part of their faith," said our source. "Nobody even seems to know it is them."
Longtime Jackson family friend and biographer, Stacy Brown, also told us that he "wouldn't be surprised" at all to learn the Jackson youngsters were undertaking field service, despite their star-studded status.
"I am sure it is something Katherine would encourage," Brown said. "Becoming a Jehovah's Witness was something she wanted for all her kids."
A representative for Katherine did not respond for comment.
On the subject of exposure, this week Katherine Jackson reportedly revealed that the three kids (who have been home-schooled) will be attending a private school in Los Angeles at the conclusion of the summer break.
SLIDESHOW: Scenes From the Life and Death of Michael Jackson
But is it all too much, too soon?
"It is definitely a huge step, but it is great for them to be socialized like this," Hollywood image consultant Michael Sands, who has worked with members of the Jackson family in the past, told Pop Tarts. "The President's kids go to school, so do Royals like Prince Harry and Prince William. I am sure the school and Jackson estate will work together to take the necessary safety precautions."
However, being around other children on a daily basis, as well as having been privy to the forms of social communication like the Internet over the past year (Blanket and Paris proved this last month when they made their home video YouTube debuts) means that the kids will likely learn several of the negative parts of their father's disturbing past.
"I believe that Michael did a very good job of slowly enlightening them to these things, and teaching them that this was the way of the world, and preparing them so it shouldn't be too much of a shock," Brown said. "He didn't shield them from what was out there."
Moreover, MJ's mom isn't the only grandparent playing a prominent role in the lives of the Jackson three. We're also told that Joe Jackson spends a great deal of time with his grandchildren, and has developed a strong, "normal" grandfather-to-grandchild bond with Prince, Paris and Blanket.
Surprisingly, despite the disdain Michael felt for his estranged father and former manager, who he claimed was both physically and emotionally abusive, Brown doesn't believe the late King of Pop would be bothered by his beloved children spending time with the man who caused him so much grief.
"I don't think he (Michael) would have much of a problem with it. Prior to Michael's unfortunate death, he was again including Joseph in some of his business affairs. It seemed that Michael-- more and more-- began to seek Joseph's support/backing," Brown said. "I think Michael had grown extremely insecure and feared for his safety, so he called upon Joseph for help."
And even in the year since his death, Jackson cannot escape the family friction, finger-pointing, legal woes and financial issues that plagued him for a good part of his 50 years. But while these things are still very much alive, it seems, for the most part, people have let go of their negative perceptions toward the troubled star.
"Before Michael died you couldn't go a week without him being referred to as 'Wacko Jacko' or a child molester in the media," Brown said. "But you won't see or hear of him being referred to as that anymore. It's been a 360-degree turnaround. He's become a huge hero. "