Snooki & Jionni LaValle Are Engaged, Report Says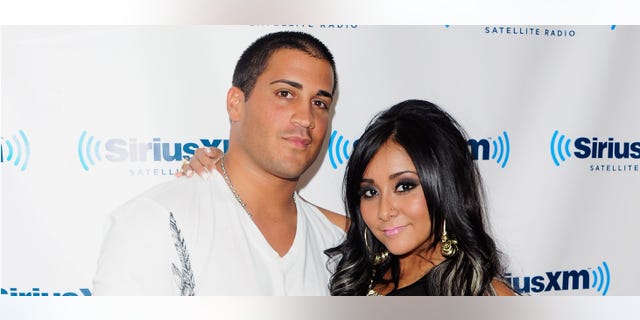 Snooki is not wasting any time in tying the knot!
The rumored pregnant star is engaged to her boyfriend Jionni LaValle, People magazine is reporting.
"I know he's the one so I know the ring's gonna come soon," Snooki told the entertainment publication earlier this year.
Snooki, whose real name is Nicole Polizzi, is Chilean but was adopted by a New Jersey family at a young age. She rose to fame on MTV's reality show the "Jersey Shore" for her partying ways.
The celeb joked with the magazine about wanting a huge rock on her finger to show off.
"He knows it should be big," said Snooki. "If it's small I'm saying no. Like, get another ring!"
Nicole 'Snooki' Polizzi's Boyfriend & Rumored Expectant Father Jionni LaValle
Not everyone on "Jersey Shore" is excited for Snooki's baby news.
On Monday, Snooki's ex Emilio Masella told TMZ that he hopes for Snooki's sake that she loses the baby.
"Not to be rude or anything," Masella begun… "I hope she has a miscarriage."
Masella said he is unsure if LaValle is even the father of Snooki's baby.
"I would def recommend to get a paternity test to see who the father is," said Masella. "I'm sure there are other subjects," adding that Vinny, another "Jersey Shore" cast member, "could easily be the father."
Snooki's Ex Wants the Rumored Pregnant Star To Miscarry
When Polizzi went on Good Morning America earlier this month, the star told Lara Spencer, "I definitely do want kids, but I'm not pregnant . . . Being pregnant should be a real thing and a happy thing, and I'm not."
Since then, Polizzi, who last year lost 20 pounds off of her 4-foot-9 frame by working out, eating healthy and taking a weight-loss supplement, has started filming her new show in Jersey City. Photos taken on the set have shown Polizzi carrying large bags to hide her belly.
Sources said the reality star has already brokered a deal to announce the news on the cover of Us Weekly after she shopped the story to several celebrity magazines.
You can reach Alexandra Gratereaux at:
Alexandra.Gratereaux@foxnewslatino.com or via Twitter: @GalexLatino
Follow us on twitter.com/foxnewslatino
Like us at facebook.com/foxnewslatino